---
Unlike the General Motors concept cars of the period, which made the rounds at the GM Motoramas and various auto shows, Chrysler Corporation's concepts were little seen and remain to this day relatively unknown to most auto enthusiasts.
Nevertheless, I do remember the Chrysler Dart. It received favorable publicity in several car buff magazines and even made the cover of the February 1957 issue of 'Car Life' magazine. It looked absolutely stunning to an impressionable 13 year-old like me.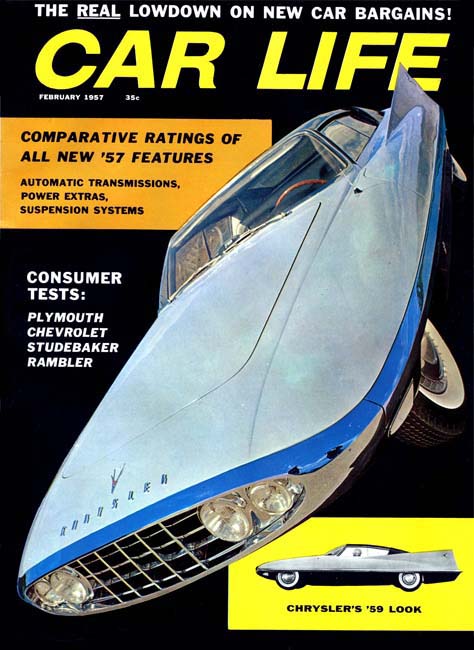 The Dart was built by Italian coachbuilder Ghia in late 1956. It featured dramatic, aerodynamic styling and ginormous fins - styling which foretold the extreme Forward Look of the 1957-59 Chrysler product line.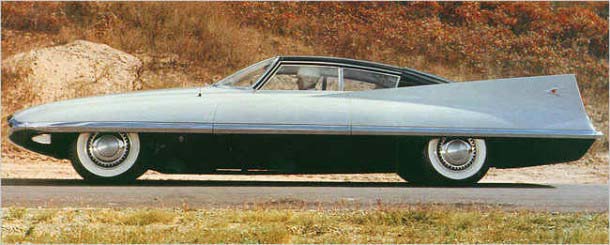 The chassis used for the Dart was a 1956 Chrysler 300 with a special modified engine with two four-barrel carburetors, automatic push-button transmission and chrome detailing in the engine compartment. The Dart is also equipped with power steering, power brakes, power windows, power top, power antenna and air conditioning. The vehicle was of enormous size - just under 21 feet long and extremely wide.
Ronnie Schreiber at TTAC has written about this car and reported that, "according to Virgil Exner Jr., the 1956 Chrysler Dart show car ... was first drawn by his father on the senior Exner's personal drawing board. Some sources also say that it was Ex Sr.'s favorite concept."
With a streamlined body and faired-in wheels, the Dart had a coefficient of drag that would be considered remarkably low for a concept car even today: 0.17. Such low drag allowed for high speed running, high enough to discover stability issues, which were resolved by the application of those large vertical tail fins.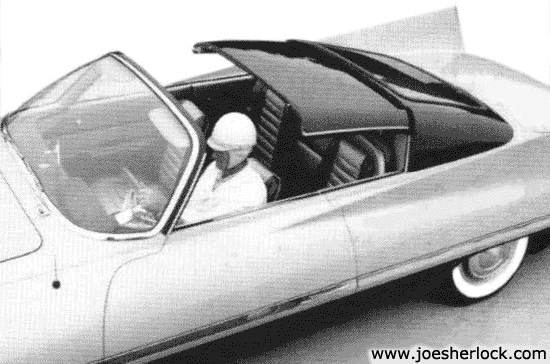 As originally built, the Dart had an innovative electrically-powered retractable steel hardtop roof that had sunroof, landau and convertible options, and could be operated while the car was moving. The doors were also steel but the rest of the body was made of aluminum.
The Dart had a steeply raked windshield that extended fairly deep into the roofline. As with other Exner supervised designs of the era, the A pillars were relatively thin. The grille opening was modified after testing at speed revealed that airflow into the engine compartment was creating lift.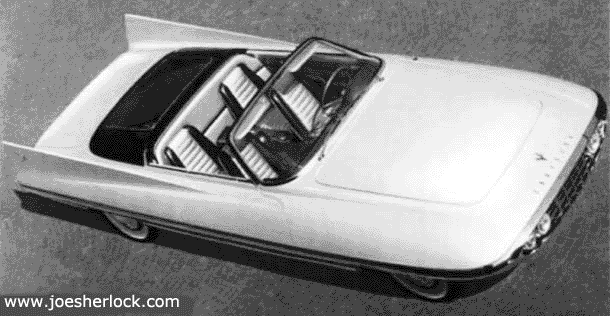 The Dart would eventually put on over 85,000 miles in track testing, which may be a record for concept cars from large automakers.
In 1958, Exner decided to make the Dart look closer to a production car and the vehicle was shipped back to Ghia for revisions. The fins were reduced in size and the radical windshield was replaced with something less raked with a thicker A-pillar.
"The novel retractable roof had proved to be unreliable so it was replaced with a conventional folding convertible fabric top." After the bodywork was revised, the car was repainted Diablo red, renamed the Dart Diablo, given a devil's trident as a logo and was publicly displayed at the 1958 Chicago Auto Show.

In 2013, the 1958 Chrysler Diablo was sold at the Scottsdale auctions for $1,250,000 to a private collector.
While the Diablo version is interesting and more practical, I'm more of a fan of the original, wilder Dart version. (5/30/16)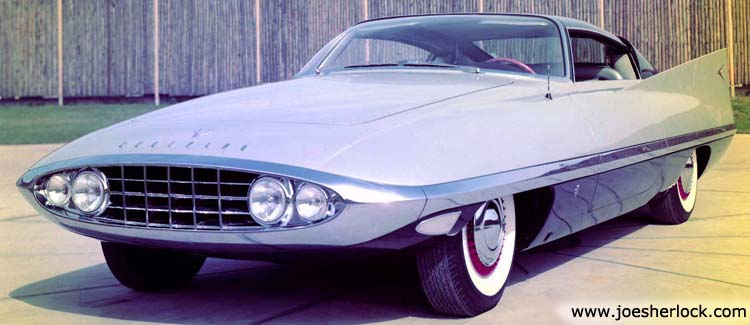 Remember When: 1956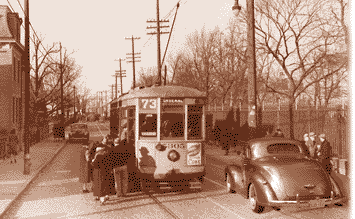 In 1956, cultural icon-to-be Elvis Presley appeared on the national scene with several #1 selling records. Elvis used some of his earnings to buy a '56 Lincoln Premiere coupe (wisteria with a white roof) and, later, a white Continental Mark II.

New products included Raid insecticide, Crest toothpaste and Comet cleanser. Ford Motor Company went public, issuing stock. Midas Muffler and Burger King began franchising. The 'Dear Abby' advice column debuted.

New words for 1956 included brainstorming, brinkmanship, industrial park and tranquilizer. Ike was reelected. Dean Martin and Jerry Lewis split up. Briget Bardot made her film debut in 'And God Created Woman.' 'In God We Trust' became the U.S. motto.

Grace Kelly married Prince Rainier of Monaco. Chrysler and Packard offered pushbutton transmissions; Packard also offered power door locks. The first Volvos (PV444 models, which reminded folks of a shrunken '47 Ford) were imported to the U.S. Ford offered seat belts and padded dashboards as options and dished steering wheels as standard equipment, touting its cars as safer. The public wasn't interested, then-sales manager Lee Iacocca developed the oft-heard axiom, "Safety doesn't sell."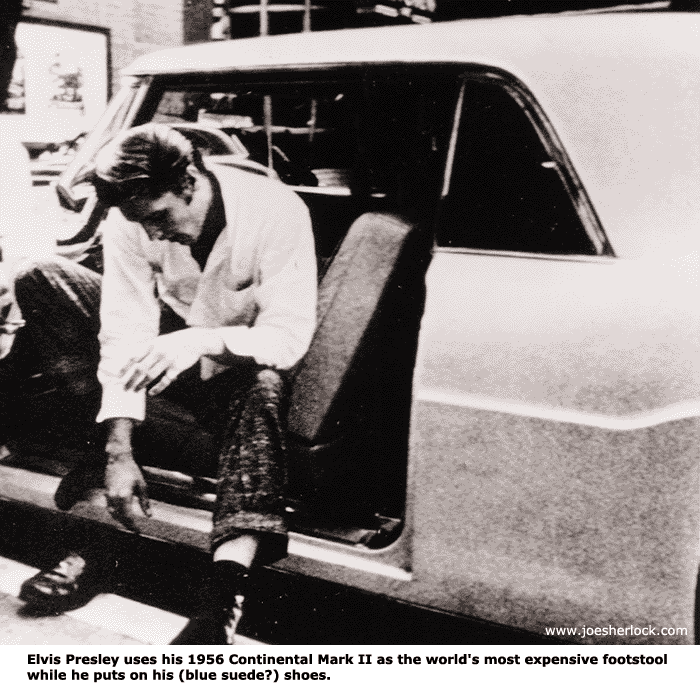 Best-selling songs of 1956 were Elvis' 'Hound Dog' and 'Don't Be Cruel'. Other record hits included Guy Mitchell's 'Singing the Blues', Fats Domino's 'Blueberry Hill', The Platters' 'My Prayer' and 'The Great Pretender', Carl Perkins' 'Blue Suede Shoes', 'The Wayward Wind' by Gogi Grant, Pat Boone's 'I Almost Lost My Mind', Dean Martin's 'Memories Are Made of This', 'Hey Jealous Lover' by Frank Sinatra and Elvis Presley's 'Heartbreak Hotel.'
Top 1956 movies included 'The Ten Commandments', 'Around the World in 80 Days', 'Giant', 'The King and I', 'Love Me Tender' and 'High Society'. In 1956, a movie ticket cost 60¢.
Deaths included actor Bela Lugosi, automobile manufacturer Preston Tucker, bandleader Tommy Dorsey, essayist H.L. Mencken, baseball legend Connie Mack, abstract artist Jason Pollock and comedian Fred Allen.
The Yankees won the World Series over the Brooklyn Dodgers: 4 to 3.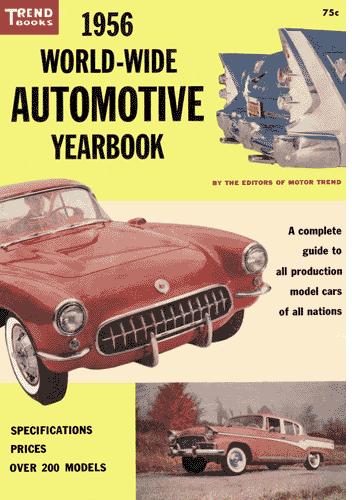 More AutoSketch car drawings can be found here.
---
Other Pages Of Interest
| blog: 'The View Through The Windshield' |
| essays: greatest hits | blog archives | '39 Plymouth | model train layout |
| about me | about the blog | e-mail |
copyright 2015-17 - Joseph M. Sherlock - All applicable rights reserved - Drawing copyright 1994, 2015
---
Disclaimer
The facts presented in this blog are based on my best guesses and my substantially faulty geezer memory. The opinions expressed herein are strictly those of the author and are protected by the U.S. Constitution. Probably.
Spelling, punctuation and syntax errors are cheerfully repaired when I find them; grudgingly fixed when you do.
If I have slandered any brands of automobiles, either expressly or inadvertently, they're most likely crap cars and deserve it. Automobile manufacturers should be aware that they always have the option of trying to change my mind by providing me with vehicles to test drive.
If I have slandered any people or corporations in this blog, either expressly or inadvertently, they should buy me strong drinks (and an expensive meal) and try to prove to me that they're not the jerks I've portrayed them to be. If you're buying, I'm willing to listen.
Don't be shy - try a bribe. It might help.
---
---