Tuesday August 31, 2004
Road Tests: In search of a possible replacement for her aging Lincoln Continental, my wife and I test drove the sporty Lexus GS 300. This sedan is powered by a 3-liter, 220 horsepower straight-six mated to a five-speed automatic with paddle shifters.
The car rode and handled nicely but was not particularly spectacular in any way and lacked power. (A 300 hp V-8 model is available for an $8,000 premium. As my daughter correctly pointed out - that's $4,000 per cylinder!!) The trunk seemed small and the car had neither the steering wheel nor seat move back to facilitate entrance/egress. The salesman quipped, "Lexus isn't big on those bells-and-whistles." Hey, for $40,000-plus, we expect bells and whistles. If we didn't want them, we'd buy a Ford Focus and pocket the $28,000 difference. Lexus may be dead-bang reliable but we found it unexciting and not particularly appealing.
We also looked at an Acura TL - a very nice car. It had lots of 'bells and whistles' (including memory seats that moved back when you removed the key from the ignition) and costs about $8,000 less than the Lexus. It's faster, too - 270 horsepower from a V-6 engine - yet it gets better gas mileage than the Lexus. The TL is the same length as the Lexus but seemed roomier inside.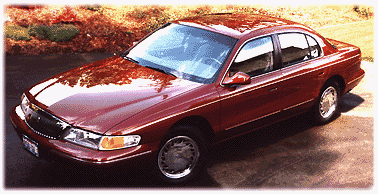 Getting back in her car, my wife decided that the Continental was still pretty darn good. The interior looks like new and, after 86,000 miles, the car remains tight and rattle-free. With lots of bells and whistles - her Lincoln has five temperature settings on its heated seats. (The Lexus had two.)
Next month, we'll get new tires and shocks; it should ride and handle like a new car. With its 260 horsepower V-8, it can outrun the Lexus and still get better gas mileage. The same day, a friend hitched a ride with us and exclaimed, "This car is so luxurious! It's like a limousine." That settled it! We're keeping her '96 Continental! (It's a special-ordered Diamond Anniversary Edition purchased new.) These two 'new car encounters' helped to save us a bunch of money.
Car Politics: Ralph Nader's attempt to land on the presidential ballot in Oregon has hit a snag - fraudulent petition signatures.
Including one from a Republican car guy who (warning: massive irony ahead) reproduces parts for old Corvairs. (from AutoWeek)
Points of View: Author, blogger and recent Republican convert, Roger L. Simon, writes: "Most of my life I rarely talked to Republicans - not seriously anyway. If I did it was without the full knowledge that they were Republicans. I didn't think they would have much to say that would interest me, that they were intellectually bankrupt and probably greedy, possibly even racists."
I'm surprised that a professional writer wouldn't be willing to talk to almost anyone. I enjoy listening to differing points of view - on a variety of subjects - if thoughtfully presented. I have good friends who are my political opposite. We have other common interests and I respect their opinions. Variety is the spice of life, Roger!
North Korea Rerun? If elected U.S. president, John Kerry would offer Iran a deal allowing it to keep its nuclear power plants if it gave up the right to retain bomb-making nuclear fuel, said Kerry's vice presidential running mate. John Edwards told The Washington Post this was a "great bargain."
The following ten words come to mind: North Korea, Bill Clinton, Jimmy Carter, Germany, 1939, Neville Chamberlain.
Quote of the Day is from Michael Graham: "Listening to John Kerry complain about the scrutiny his Vietnam record is getting is like Pamela Anderson complaining about the fact that guys keep staring at her breasts. What the hell did you expect?"
---
Monday August 30, 2004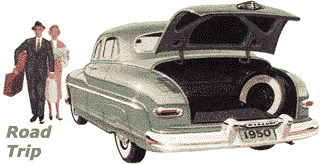 Car Sightings: How about thousands?! On Saturday, we attended the LeMay Open House in Tacoma, Washington. Harold LeMay amassed the largest privately-owned collection of automobiles, motorcycles, trucks, fire engines and related memorabilia in the world. At its peak, the LeMay Collection numbered in excess of 3,000 vehicles and thousands of artifacts.
The collection has shrunk to a couple of thousand cars and trucks but it's still huge. We joined tens of thousands of other car fanatics to attend the once-a-year-only Open House. The Collection features virtually every American make as well as numerous foreign cars. Even a Zimmer Quicksilver - aaahhhh, the '80s - when flash and impractical extravagance were in vogue!
The LeMay Collection is listed in the Guinness Book of World Records as the largest of its kind. Most of the cars are in at least 'museum-quality' condition and contained many eclectic vehicles, including a made-in-England 1952 Woseley police car with two large loudspeakers on the roof (Imagine a Monty Python-esque announcement: "Sir, if you don't pull over right now, we'll be terribly cross!"), a fully-restored '48 Tucker, a 1960 Lloyd, a huge Duesenberg, hundreds of Packards and Cadillacs and sooooo much more.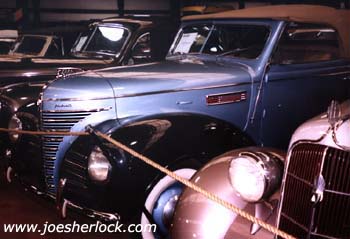 There was even a 1939 Plymouth convertible in very nice condition. Also on display was a concept car I'd never seen before - a styling proposal for an ultra-luxury AMC dual phaeton for the late 1960s. Done by Brooks Stevens, a seemingly bipolar designer, who styled some of the nicest and some of the most awful vehicles ever conceived. This one was in the 'awful' category. But unique.
The open house was held in several buildings in two locations; 1950s-era British double-decker buses were used as shuttles. Harold died a couple of years ago and his collection is being reduced to a more manageable level. A museum will open in 2007 but it will only hold a few hundred cars.
The visitors' parking lot was a car show in itself, featuring everything from a '73 Mercedes ambulance to a group of chopped and lowered custom cars. And a Corvette corral. And a very nice 1959 Borgward Isabella coupe - cream with a red leather interior. I hadn't seen a Borgward in years.
This event was, for me, a once-in-a-lifetime experience.
Tacoma Redux: Tacoma used to be a real dump. Buildings were dingy. Playgrounds were tainted with arsenic-laced dirt from the downtown smelter. It smelled so bad that the Tacoma Dome, built in 1980 or so, was nicknamed the Odor Dome.
The smelter is now closed, the stink has dissipated and the downtown has been revived and gentrified. We parked free a mile away and took the new, fare-free light rail to places of interest. The cars were made by Skoda in Czechoslovakia. They were sleek, smooth and quiet but had the most awful sounding bells I've ever heard. We visited the restored Union Station (free and has some very nice Chihuly glass sculptures inside), the Washington State History Museum - it has a great HO train layout which replicates parts of Tacoma in the 1950s.
We also visited the Museum of Glass which I must sadly report is not worth the money. Instead, walk around the museum's exterior, visit the gift shop and cross over the free Bridge of Glass. Save the $10 admission and put it toward the cost of dining somewhere nice. (See next.)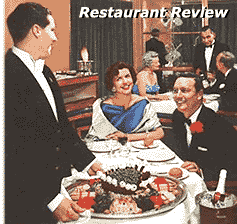 Restaurant Review: We dined at The Cliff House, the finest restaurant in Tacoma, with spectacular views of both Puget Sound and Mt. Rainier. I hadn't been there in 20 years.
I remembered that the road to the elevated cliff on which the establishment sits is quite treacherous, especially in the dark. Particularly when driving a long-wheelbase '77 Dodge Van while half in the bag. (Aaaahhhh, the '80s - those days of navy pinstriped suits, yellow power ties with little red dots, early-middle-aged aggressiveness and multiple bottles of Cabernet Savignon!)
This time we dressed casually, dined quietly on Chateaubriand and sipped Merlot in moderation. And watched the sun go down.
Traffic: Thanks to all who visited from AutoBlog.com over the past few days. AutoBlog is a very informative car site; I check it daily. I'm also jealous over all the cool cars David Thomas gets to test.
---
Wednesday August 25, 2004
Car Sightings: None. It's been pouring rain since Saturday and people are keeping their gems off the road and undercover. Good idea. My '39 Plymouth is hiding in the garage. We need the rain though; it's been a very dry summer.
Last week, a house down the street caught fire. They sent four fire trucks; one to fight the house fire; the rest to hose down the giant cedar trees so the whole neighborhood wouldn't go up in flames. One of the perils of living in the woods.
Seeing Blue: A friend recently asked me about blue-tinted auto glass. I have never seen any in a production car, probably because blue is not very good as an ultraviolet absorber and heat reflector.
Back in 1981 or so, a guy approached my plastics manufacturing company, asking if we would produce tinted-blue Plexiglas windows and windshields for his custom car. The car was a one-off fiberglass creature that he had designed and had built. It was a very impressive-looking, two-seater, mid-engined sports car. And the car was to be finished in metallic blue paint and he wanted to carry the blue theme into the windows. He made the molds; we modified them so they'd work better and we did the heating and forming. All parts were complex, three-dimensional curvilinear shapes, even the side windows.
A couple of months after we completed the work, he came back with photos of the finished car. He was very happy with our work, commenting that we were the only people on the West Coast willing to tackle the job. But we never saw the guy or the car again. A mystery. I wonder where the car is now?
Boom! Investment wizard Ken Fisher - whose track record is excellent - is bullish on the stock market.
Speaking of investment gurus, is anyone else tired of hearing the standard CNBC line that Louis Rukeyser of is "slowly improving" from some unrevealed, obviously catastrophic illness and will "soon be back on his show"? They've been saying this for a year now.
I've watched Lou's shows for over 30 years and wish him well. But, after all this time, you have to wonder if he's not in some Zurich clinic, being kept alive with regular injections of cells from newborn lambs. Or is he stored in a cryogenic capsule beneath Disney World, right next to Walt's head?
Back to School: Columnist and author Thomas Sowell comments: "Whenever people talk glibly of a need to achieve educational "excellence," I think of what an improvement it would be if our public schools could just achieve mediocrity."
James Lileks describes cyberspace to his four year-old daughter: "I had explained the internet the other day: you didn't need a disk to play it. It's like a game that's in the air. I rather like that description, actually, as does she."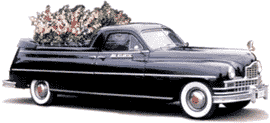 Really Gone: Announcer Al Dvorin, who coined the phrase "Elvis has left the building" has died at age 81.
You gotta wonder what Al had been doing for the last 27 years.
'Band of Senators': Humorous Headline of the Day is from parody site Scrappleface.com: "Kerry Team Lines Up Witnesses to Senate Career."
---
Tuesday August 24, 2004
Hemi Hit: TheCarConnection.com reports: "In July, the Hemi (V-8 engine) was stuffed under the hood of 47 percent of the Chrysler 300 series sedans sold in the U.S. The automaker originally expected something closer to 30 percent. With an approximately $6,000 premium over the car's smaller, 3.5-liter V-6, that provides a significant boost for the bottom line of a company just beginning to show signs of a comeback after several years of deep losses."
I have a friend who is angry that the new Hemi engine does not have true hemispherical combustion chambers. He says that they are actually parabola-shaped and believes that Chrysler should be forced to change all the chrome side badges on cars from 'HEMI' to 'PARA'.
A Different Kind of Idea: Auto writer Jerry Flint offers a very good suggestion: "Designate one (GM) division, Saturn, as your hybrid division. Every Saturn vehicle to be developed from now on will offer a hybrid system, every Saturn, not just the Vue SUV. Remember that original Saturn motto? "A different kind of car." Well, Saturn is sinking away as it turns into just another GM operation. This would make Saturn different again, and it seems like just the thing that would appeal to Saturn customers."
I like this idea; it makes good strategic sense - the hybrid idea would surely appeal to all those eco-minded, wheat grass juice-quaffing Saturn owners.
Free Curly Now! Picture of the Week!
Quote of the Day is from Andrew Ferguson, writing in The Weekly Standard: "The same frustration led directly to the bizarre outcome of this year's primaries, when Democrats nominated a charmless and undistinguished candidate whom no one seemed to like very much and who displays a dazzling lack of the most elementary political skills, such as being able to deliver a speech without boring half his audience into paralytic catatonia."
Read the article; Andrew offers a different perspective on the whole Kerry military thing.
Money Talks: To counter those whiny Liberal claims of sinister high-level Republican funding sources for the Swift Vets, it is important to note that MoveOn.org, the group airing those anti-Bush TV ads, has received over $9 million (!!!) in contributions, compared with a less than $159,000 for Swift Boat Veterans for Truth. Money for MoveOn.org has been provided by Peter Lewis, chairman of insurance giant Progressive Corp. and George Soros, billionaire financier and hedge fund operator.
The largest Swift Vet contributor was Bob Perry, a Texas homebuilder, who gave $100,000. Data from IRS records, released August 15th. Additional information from Thomas Lifson shows an illegal link between the Democratic Party and MoveOn.org. Thank goodness for the Internet; you never read about this stuff in the mainstream media.
Undisputed War Hero Speaks Out: Former Republican Senator Bob Dole said that John Kerry should apologize for past testimony before Congress about alleged atrocities during the Vietnam War and joined Kerry's critics who say he received an early exit from combat for "superficial wounds."
Dole also called on Kerry to release all the records of his service in Vietnam. "One day he's saying that we were shooting civilians, cutting off their ears, cutting off their heads, throwing away his medals or his ribbons," Dole said. "The next day he's standing there, 'I want to be president because I'm a Vietnam veteran.' Maybe he should apologize to all the other 2.5 million veterans who served. He wasn't the only one in Vietnam," said Dole, whose World War II wounds left him without the use of his right arm.
Poor Cherie: Andrew Stuttaford of The National Review doesn't like Prime Minister Tony Blair's wife. "Cherie Blair will support London's 2012 Olympic Bid by becoming an ambassador for the project. Now Cherie Blair combines the charm of Lady Macbeth, the politics of Nadezhada Krupskaya, the PR skills of Leona Helmsley, the warmth of Hillary Rodham and, to wrap it up in one crystal-draped incanting package, the spiritual insight of Shirley Maclaine. London's bid is, therefore, now doomed." Ouch!
What Flavor Are You? I am curry and/or alcohol. Take the test and find out.
---
Monday August 23, 2004
Surfing USA: They are teenagers who get their thrills from the sometimes deadly stunt called car surfing, young people who think that skateboarding is passe and that video games are one-dimensionally dull. They stand on the front hoods or the rear trunks of speeding cars, some gripping thin metal edges near windshields or tire wells, others balancing with their legs as though skateboarding or ocean surfing, their fate in the hands of the driver and the road at speeds of 50 mph.
"Why not do crazy stuff, at least while we're young?" said Tim Cella-Mowatt, 19, who surfed on the trunk of his friend's Lexus last summer. "Once you get old, just walking up the stairs hurts."
Don't worry, Tim. Just keep surfing and you'll never get old .... if ya know what I mean. And ... um ... that end-of-life, bright tunnel of light is the sun reflecting off the big chrome grille of an oncoming Peterbilt.
Job Interview: Widely-respected Wolfgang Bernhard, who helped rescue the Auburn Hills-based Chrysler Group with hot new products, like the 300C, is negotiating for a top product job with General Motors. Many Chrysler employees were surprised by Bernhard's recent falling out with the German wing of DaimlerChrysler, as he was widely credited with getting some of Chrysler's hottest new products to market. Acid test: Hire him and put him in charge of the Saturn Division.
New Name: Rumor has it that New Jersey State Troopers patrolling the Garden State Parkway are now referring to any rear end accident as "a McGreevey."
No Mo' Mo: I have only read a few excerpts of Maureen Dowd's writing (I rarely read the New York Times) and had never seen her on television. I know that many posters on Lucianne.com consider Dowd to be beneath contempt. But I never knew why. On Saturday, I watched Tim Russert's show on CNBC and was exposed to an Hour-O-Mo. All I can say is, "What a bitch!"
Ms. Dowd, who was hawking her latest book, 'Bushworld' - a smug hatchet job on the President, his kin and his administration - is a smart-aleck harpy who believes that a smattering of pop culture references mixed with flippancy signifies high intellect. Think Dennis Miller without a brain. Mo's trite and humorless ... (more >>>)
Quote of the Day is from James Lileks: "In the future, everyone will be hyperlinked for fifteen minutes. And that's a good thing."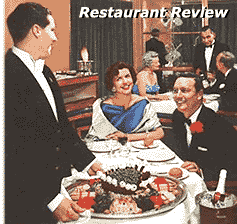 Restaurant Review: Over the weekend, we dined at CJ's Grill, a new local restaurant. Casual dining in a brand-new building with somewhat odd layout and decor. Reasonable prices and friendly staff. Many pickup trucks outside.
We had an initial problem in the Paddock Lounge (a horse-racing themed bar); no one there had never made a Manhattan before and thought it involved orange juice. I sent the opaque, pumpkin-colored mess back and watched as the drink was "researched" in a Mr. Boston bartending book. The second attempt was much better, although the cherry had a peculiar coloration which matched none of the red shades in a 60-crayon Crayola set. Nor any cherries I've ever seen in previous Manhattans that I've imbibed over the last 46 years.
Nevertheless, the overall experience was pretty good. The pleasant house wine was from California - Burlwood Cellars Merlot at $18 per bottle. My steak was of good quality and properly prepared. The warm, fresh bread was excellent. We'll go back again - especially in the winter when the weather is miserable and we just don't want to drive very far. (But we'll pass on pre-dinner cocktails and stick to vino.) CJ's Grill seems to be doing a land office business in decent-restaurant-starved Battle Ground, WA, and will, undoubtedly, succeed. That's a good thing.
---
Saturday August 21, 2004
Old Photos: I've been reading: "Philadelphia Trolleys - Images of Rail." It is primarily a captioned picture book. What I find most interesting in the photos is not the trolleys, El and subway cars but the scenery and decor around them.
A photo of a 1930s-era newsstand at a subway station reminded me that I used to buy all of my car magazines at such a stand under the Margaret-Orthodox stop on the Frankford Elevated line. It was operated by ... (more >>>)
---
Friday August 20, 2004
And The King Was Spinning In His Grave At 8,000 RPM: In honor of Elvis Week ('celebrating' the 27th anniversary of The King's death), Top Fuel champion Clay Millican performed a full-on burnout down Elvis Presley Boulevard in Memphis.
Millican was piloting a slingshot dragster while wearing blue suede shoes. (Source: AutoWeek; not posted on their site, though.)
Its Time Has Come ... And Gone: Avanti Motor Corp., manufacturer of the iconic Avanti automobile, announced today that the company will be sold to the highest bidder in October.
Yes, the Avanti is an icon. An old one. As are the Tucker, Cord and others. But almost no one wants to buy a modern reproduction of an icon; that's why such replication efforts don't succeed.
Anyone remember the Uniroyal Royalex plastic-bodied, Corvair-engined Cord replica of the mid '60s? I didn't think so.
Where's The Prius? Al Gore was cited for speeding as he drove a rented Lincoln Town Car to visit family on the Oregon coast. Gore was issued a $141 ticket for driving 75 mph on state Route 26 in a 55 zone.
How come Eco-Al was driving a big, thirsty Lincoln?
He's Not Corrupt ... Or Gay: Joe Piscopo is toying with run for New Jersey governor. He's got other good qualifications, too - name recognition (in a Trivial Pursuit sort of way), a Garden State native and does a pretty good Sinatra imitation.
I'm Not Corrupt ... Or Gay, Either: I am toying with a run for President. I'll be a single-issue candidate. If you vote for me, I promise to veto all proposed laws. We already have enough laws.
I'll spend my years in office making sure that the laws already on the books are enforced.
Food Fraud: The Palestinian terrorists' hunger strike continues - although some leading terrorists feel that they need not starve as "intensively" as their underlings.
Marwan Barghouti, head of the Tanzim terrorist group who considers himself a potential candidate to succeed Yasser Arafat, was photographed yesterday sneaking a well-balanced meal in his prison cell, while his fellow terrorists have not had a bite since Saturday night.
Israel Prison Service officials, who are closely monitoring the strike to ensure that no one collapses or dies, say that Barghouti is not alone, and that at least ten other top terrorists - leaders of the hunger strike - have taken advantage of their solitary confinement to grab a quick bite. "Once again we see that in Palestinian society, the corrupt leaders send the ordinary people to fight to the death, while they themselves take special privileges," said a prison spokesman.
---
Thursday August 19, 2004
Multiplication: Mini Coopers are springing up all over. Saw four yesterday in a 30 minute period! Cool cars; nice colors.
Big $70,000 Loser: Quote of the Day is from AutoExtremist: "VW has sold exactly 939 Phaetons since the beginning of the year ... the Phaeton will go down as one of the biggest market miscalculations in automotive history."
Old Time Detritus: Fifteen years ago, Battle Ground was just a dinky little town of 3,000 souls just north of Vancouver, Washington. Then it began to grow (15,000 and still growing) as demand for housing in the county increased. New houses and shopping centers were constructed on the 'new' west side of town, leading to the inevitable decline of the east side.
The older, shop-worn part of town has now been declared 'Old Town Battle Ground.' I've seen this scam elsewhere. Why do cities think they can revive a dumpy part of town by putting in a few brick-accented sidewalks/crosswalks and placing metal signs on lightpoles proclaiming the section as 'Old Town?' And how come there's always a tattoo parlor located there?
Oh well. At least the streets have been repaved. And the folks who manufacture those 'Old Town' signs are making some money out of the deal. As well as the bricklayers.
---
Wednesday August 18, 2004
Cadirrak: General Motors said Monday it will start making Cadillacs in China this year. The first CTS sedans are to roll into showrooms by spring. Cadillac will sell imported models while it prepares to assemble cars at the company's Shanghai factory using imported components.
St. Christopher's Return: An Irish academic has uncovered compelling new evidence that challenges the Vatican's controversial downgrading of St. Christopher from his once sanctified status to a mere myth.
Cork University professor, David Woods, believes that new information based on an examination of ancient texts by scholars has strengthened the case for St. Christopher, suggesting that he was, in fact, St. Menas, an early Egyptian martyr. If 'ol Chris is reinstated as the Patron Saint of Travelers, it will mean lots of job creation in the diecasting industry for all those automobile medallions. (Hat tip to Relapsed Catholic.)
All Aboard: A British commuter is tackling lousy train service by starting his own railway between Wiltshire and Paddington station in west London - a distance of 78 miles.
Jimmah: A new book, 'The Real Jimmy Carter: How Our Worst Ex-President Undermines American Foreign Policy, Coddles Dictators, and Created the Party of Clinton and Kerry' By Steven F. Hayward deconstructs the myth of the sanctified man of peace, showing Jimmah as a petulant bumbler.
Comedian Pat Paulsen once quipped, "They wanted to put Carter on Mt. Rushmore, but they didn't have room for two faces." (Another hat tip to Relapsed Catholic.)
Throw Something On The Barbie: Israel declared psychological war on 1,700 hunger-striking Palestinian prisoners today, saying it would barbecue meat outside their cells. Great idea!
Dog Lifts?! ''Plastic surgery is good for dogs. Why shouldn't a dog be beautiful?'' declares the website of Dr. Edgard Brito, a Sao Paulo Brazil vet, who performs canine wrinkle-reduction, eyebrow-correction and even full facelifts.
---
Tuesday August 17, 2004
Mighty Mini: A dark green Mini Cooper was involved in a freakish collision with a Boston Transit Authority police wagon causing the big wagon to plunge into the murky Charles River.
Spellbound As 'An American In Paris': I've been making reservations for our upcoming trip, part of which involves visiting Quebec City. It's been difficult booking a hotel as there is a big convention in town. After calling five different establishments, I have finally found suitable lodging in the old city.
But it's been a pleasant experience; all of the women at the reception desks are very nice. Their delightful French accents remind me of a young Leslie Caron in 'Daddy Long Legs' - circa 1955. Regardless of political differences, it is very hard to dislike anyone speaking such a beautiful, musical language.
Bureaucratic Idiots: SmarTrip is a permanent, rechargeable fare card offered in D.C. by Metro (aka - Washington Metropolitan Transit Authority). This plastic credit card-like device is embedded with a special computer chip that keeps track of the value of the card. It is used to make ridership easier and build business for the WMTA.
So, you'd think they'd want to maker the SmarTrip card as popular as possible. But nooooooooo. (Apologies to the late John Belushi). From Metro's website: "Metro has suspended online SmarTrip card sales. SmarTrip card inventories have dwindled as a result of record card sales in recent weeks." Morons. Print more cards, you idiots.
This is why bureaucracy will never overcome entrepreneurship. And another reason why public transit systems operate at a big loss.
Hot Hare: A rabbit set alight by a bonfire at a British cricket club got its revenge when it ran burning into a hut and set it ablaze destroying costly equipment.
Holy Cleavage! A Christian youth group holds meetings in unconventional place - Hooters.
---
Monday August 16, 2004
Less Appealing: SUVs, which have been berated in recent years as rollover-prone gas hogs, are losing appeal as they stay on dealer lots longer and automakers are forced to drop prices and add incentives as high as $5,000 to move them, the Power Information Network reports.
The number of days SUVs sit on dealer lots before being sold increased 22-percent increase from a year ago. By comparison, dealer inventories for cars and trucks increased only 9-percent increase. Incentives on SUVs, meanwhile, grew 4.7 percent since last year to an average of $3,440. Industrywide, though, incentives during the same period fell 3.9 percent, to about $2,870 per vehicle.
What A Boob: Paris Hilton checks out the new Bentley Continental GT coupe.
Sweet Money: Two armed men robbed the Jelly Belly factory north of San Francisco, making off with cash but none of the jelly beans that were a favorite of the late President Reagan, officials said.
The Jelly Belly people are nice folks with a great business success story. In the 1980s, my manufacturing firm (which I sold in 1989) used to make all of JB's Plexiglas display bins.
Quote of the Day is from Thomas Sowell: "Alaska is much larger than France and Germany - combined. Yet its population is less than one-tenth that of New York City. Keep that in mind the next time you hear some environmentalist hysteria about the danger of "spoiling" Alaska by drilling for oil in an area smaller than Dulles Airport."
Contrasts: Bush and Kerry visited Oregon on Friday. Kerry appeared at Waterfront Park in downtown Portland. Bush spoke at a high school in Beaverton.
Local stations carried both events live.
Bush was a fantastic speaker. Much better than the clips and soundbites seen on the networks - no verbal stumbling or mangling of words. He laid out a logical case for his actions and programs. He had four Oregon entrepreneurs with him on stage - two men, two women. Each one spoke about how the Bush tax policies had helped his/her business. And added jobs.
Here's a memorable Bush quote (as best as I can remember): "You can't be in favor of the rights of patients and doctors to a better health care system ... and then, be in favor of the needs of trial attorneys. You have to make a choice. My opponent made his when he chose his running mate."
More: "I am proud to support our military. Last year, I asked Congress to approve funds for pay increases, body armor and new equipment. This measure had bipartisan support and the bill readily passed the House. In the Senate, only 12 senators opposed it. Two of those opponents are now the Democratic presidential and vice-presidential candidates."
Bush took questions from the audience; Kerry did not.
Theresa Kerry spoke and sounded like a tired Earth Mother. And looked bored, shuffling her feet and rolling her head around when others were speaking. In contrast, Laura Bush sat quietly and smiled placidly throughout George's speech. Class will tell.
A Different Kind Of Moderation: This year's Presidential debate moderators will be Jim Lehrer, Bob Schieffer, Charlie Gibson, and Gwen Ifill.
How lame. Let's add Vince McMahon, Bill O'Reilly, Hulk Hogan, Ed Begley, Jr., Geraldo Rivera, Jesse Ventura and Chris Matthews to the mix for some excitement. And have a WWF-style Moderator Slugfest with metal folding chairs at half-time.
The Real Truth about Leading Economic Indicators is right here.
---
Saturday August 14, 2004
Small Change: James Lileks writes: "Coins live in the dark. (Except for pennies, the lowliest of coins – they bask in the open in dishes in every store.) Maybe it would be worth it just to see what the world looked like as the coin traveled from pocket to drawer or drawer to pocket. Maybe it would be worth it to know the stories of the people who wore these disks smooth. ... my hands had the smell of old metal.
New coins leave no scent. Old coins generously perfume your hands. I can imagine a teller in a Manhattan bank in the 20s, scrubbing the smell of his hands with LUX. He had a date that night and he wanted to impress. Men with money didn't smell of dimes."
Actually, I have a bunch of pennies that live "in the dark." They are 1943 steel pennies manufactured from zinc-plated steel to save copper for ammunition. The material change made 10 millions pounds of copper available. They were only produced for one year.
I collected them as a child because 1943 is the year of my birth. And these pennies were plentiful in those days. You don't see them anymore but they have little collectable value - about 40¢ each. Nevertheless, I keep those '43 pennies in my safe deposit box because they have sentimental value.
Business Tip: Failure is often caused by a combination of bad product and bad salesmanship. An example is The Simpsons' Groundskeeper Willie, running the Haggis Booth at the school fair: "Git yer haggis, right here. Chopped heart n' lungs. Boiled in a wee sheep's stomach. Tastes as good as it sounds. Good for what ails ya .... Arrrrrgh."
---
Friday August 13, 2004

Shiny New Ride: Comedian Jay Leno took delivery of one of the first production 2005 Ford GT supercars, becoming the first person in California to buy the 550-horsepower Ford GT. His is red with white stripes.
Leno is now the owner of 2005 Ford GT chassis number 12, certified by Ford as the second 2005 Ford GT offered for sale to the public.
'Beauty Is In The Eye ...' Department: Al Rozzi, a contributor to Blue Oval News, describes the 2005 Ford Five Hundred, Mercury Montego and Ford Freestyle designs "to be sophisticated and 'true-to-form' ... having a 'sporty elegance'."
A couple of sentences later, Rossi states, "The 2004 Lincoln Town Car is one of the more stylish and tasteful designs among modern automobiles."
Tasteful?! The bulbous, bloated Town Car? Is this guy for real?!
Broken Toys: Toys R Us has been slammed by intense competition from discounters such as Wal-Mart and may sell its toy business to focus on its fast-growing Babies R Us unit. Toys R Us has nearly 700 toy stores in the United States and about 600 abroad.
I remember seeing my first Toys R Us in Michigan in the early '70s. In those days, it was a new and exciting concept and the stores were handsome, new and well-stocked. Lately, every Toys R Us that I've visited is a dump with lots of empty shelves. To prevent shoplifting, the stores have been redesigned in a fortress mode. Neither appealing or welcoming to customers.
Can the chain's problems really be blamed on the likes of Wal-Mart, or is Toys R Us simply dying of neglect?
Big Idiot: A Kansas City bank robber had "Rob Bank" on his To-Do list found by police. He got a jail sentence of 10 years and five months.
Bigger Idiot: A 30 year-old Vancouver, WA man tried out his friend's recipe for "homemade car polish" - acetone and baking soda, heated in a crock pot in his garage. The resultant vapors ignited his clothes; he's listed in serious condition in a hospital burn unit.
The garage suffered minor fire damage.
---
Thursday August 12, 2004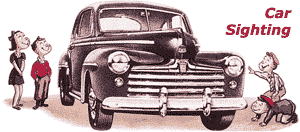 Car Sightings: I saw a cool little Austin Healey bug-eye Sprite yesterday but what I really want in my garage is the Smartruck III.
Today, I parked in a Portland underground garage - the kind that's got solid concrete walls, ceiling and pillars. The large monolithic space magnifies all sound, so if someone is starting their car 200 feet away, you can readily hear the engine cranking. As I was getting my briefcase from the back seat of the Jag, I was startled by headlights. Turns out it was a 2004 Toyota Prius hybrid parking ten feet from me.
The silence was positively eerie.
10K: Yesterday, my daughter's '04 CR-V hit the 10,000 mile mark - exactly nine months to the day of delivery. She loves her Honda - it is quiet, reliable and rides surprisingly well for an SUV.
Devil In The White City: James Lileks is apparent spending part of his vacation reading Erik Larson's 'The Devil In The White City.' It's an excellent choice. I received my copy as a Father's Day present from my daughter in 2003. Erik has a wonderful way with words and paints interesting verbal pictures that make you want to read more.
The book is based on real events at and around the 1893 Exposition in Chicago. It was disturbing for me to learn that the murderer in the book was later hung at Moyamensing Prison in Philadelphia and buried in Holy Cross Cemetery. So, my late parents are now sharing space with a convicted serial killer.
It's a good book, though. Worth a read.
Cleanup In Aisle Five: A dispute over a pushcart at an East Coast Home Depot store escalated into a duel between two middle-aged patrons armed with 2-by-4s, leaving one of them with a wound to his chin and both under arrest.
---
Wednesday August 11, 2004
Expensive Cat: Jaguar may build its Concept Eight show car - a glass-roofed, long wheelbase sedan unveiled at the '04 New York Auto Show - as a limited-edition flagship vehicle priced at more than $100,000.
Jaguar would position the car above its current top-of-the-line Vanden Plas.
Stone Faced: James Lileks on viewing Mt. Rushmore as a child: "We also saw the big stone president heads, but I have no recollection of that. Gigantic faces blasted into the side of a mountain made very little impression on me, but that's not untypical. They don't really make an impression on anyone, I fear. You look at the faces, and think: Yes, those are very large faces. How long do I have to look at them? Can we have pie? Admirable as it is, Mount Rushmore is really the patriotic version of the World's Largest Ball of Twine."
I agree. We visited Mt. Rushmore in 1990. After looking at it for two minutes, it was: "OK. What's Next?!" Maybe they should animate the faces. And have them speak, like the presidential robots at Disneyland. Or run a roller coaster through the mouths.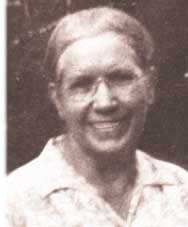 I Am Becoming My Grandmother. The Wellington Fund turned 75 years old in July. Now the nation's oldest and largest balanced mutual fund, it began just before the 1929 stock market crash and the Great Depression that followed. Talk about bad timing.
A young Philadelphia accountant named Walter L. Morgan was its founder and offered a diverse portfolio of common stocks, preferred stocks and high-quality corporate and U.S. government bonds. Despite a rocky (How about 'cliff-like'?) investment climate during the fund's formative years, Morgan's conservatism and balanced approach paid off. Wellington Fund has produced an 8.3-plus percent average annual return since its 1929 inception and has paid an uninterrupted string of 298 quarterly dividends.
Over the past ten years, its overall performance has been just as good as the S&P 500. Yet it is far less risky and does not drop precipitously during stock market contractions.
Wellington isn't very flashy and gets little notice from those investment gurus du jour. But, as I got older, I began to shift some of my investments away from growth mutual funds into Wellington. I have not been disappointed.
But I feel like a geezer ... my grandmother owned Wellington Fund shares in the 1950s. That's OK, though - during her 90-year life, she never ran out of money.
Meanwhile, The Blowhard Is Broke! Trump's casino business is bankrupt. Maybe he should have put some money in Wellington, instead of casinos.
Strange Candidate: Mark Steyn writes: "John Kerry is too strange to be president. I don't mean "strange" in the way of his predecessor. Al Gore, the first Android-American to run for president, was weird. But Kerry's strangeness is of an entirely different order."
---
Tuesday August 10, 2004
Putting Lipstick On A Pig: BMW is restyling the 7-Series flagship sedan. The previous 7-Series was a handsome, expensive-looking car with a muscular stance - a look befitting its performance image and hefty pricetag. (I always thought that the interior looked too plain and frugal, though.)
To me, the current 7-Series is a bad design - lots of visual disharmony. That stick-on bustle-trunk lid is worse-looking than an '82 Caddy Seville. The 'eyebrow' headlights look just plain weird. I hope the next design is more pleasant and cohesive - not just a quickie Mary Kay touch-up of an oinker.
Steerage: Chrysler recalling 681,000 minivans to replace power steering hoses. DaimlerChrysler says there have been 17 "incidents" but no injuries. The 2002-04 V-6 Dodge and Chrysler minivans are involved.
TKO: Bill O'Reilly really cleaned "economist" Paul Krugman's clock on Tim Russert's interview show. Krugman, a New York Times columnist, was so shaken - or enraged - or both - that, at one point, his quivering hands could hardly fit the cap back on his pen.
This report captures some of the hour-long melee ... but you can't really appreciate it unless you watch the video. O'Reilly's style is often too bombastic for me but he was terrific on Russert, giving prophet-of-doom Krugman several well-deserved rhetorical punches in the nose.
Independent Thinkers: Rhodes Cook writes: "Since the waning years of the Reagan administration, or basically since the last periodical cicada mating cycle, the number of "other" voters has proliferated. Since 1987, the Democratic share in the 27 states (plus the District of Columbia) that have registered voters by party throughout this period has plummeted 8 percentage points, from 51 to 43 percent. The Republican share has stayed steady at 33 percent. But the proportion of voters who have not identified themselves with either of the major parties has jumped 8 percentage points, from 16 to 24 percent."
Cook continues: "Through the first half of the 20th century, national politics was dominated first by the Republicans, then - after the onset of the Depression - by the Democrats. One party or the other tended to monopolize power as straight-ticket voting was the norm. ... After World War II, the country and its politics began to change as a large number of voters relocated from small towns and central cities to new, politically rootless suburbs. Independents emerged as a visible factor. ... In terms of registration, the Democrats are on a downward slide, living off the fumes of the New Deal era when they were the nation's majority party. Now, at best, they are the plurality party. Yet, the Republicans have not been able to rush into the vacuum."
I believe that the increasing variety of information sources - print, televised and online - combined with ever-higher education levels of voters has created a nation of people who are - more and more - questioning the whole 'vote-the-party' mentality. More folks now think for themselves. That's a good thing.
Quote of the Day is a prediction from columnist Adam Sparks: "John Kerry will lose this election, and he will do so decisively. The defeat will go down as perhaps the only thing this candidate has ever done decisively."
---
Monday August 9, 2004
Car Sightings: I got my first close-up look at a Dodge Magnum parked next to us at a restaurant. It looked very carved and edgy. Panel fit was good.
My wife didn't like it. "The windows are too small." Indeed. The high beltline and surprisingly low roof give it a 'chopped-top' look; the styling is not for everybody. But it is certainly not ugly and has a distinctive, very-American style which Newsweek describes as "gangster lean." Whatever that means.
On the drive home, I spotted a sleek, black Austin Healey 3000. And a bright yellow '27 Model-T with an open engine compartment (some kinda V-8 in there with chrome valve covers) and '32 Ford grille. Nice.
Didn't We Always Know This? "Specialty auto vehicles spark mainstream sales." 'Halo' vehicles such as the Chevrolet SSR sport truck, Corvette and Dodge Viper do more than generate buzz, they drive sales of mainstream products, a new study by Foresight Research shows.
Jeeeez. Such results have been observed for over 50 years. Every dealership that ever had a dream car or concept car on display always reported increases in both showroom traffic and sales. Create excitement about any brand of anything and you'll get a sales bump. Talk about studying the obvious! I wonder if someone paid real money for this 'survey'?
Once Upon A Time: Tom Walsh of the Detroit Free Press wrote a great article ('A reminder of why glory days have passed by') on why Detroit carmakers lost their way and how they're still wringing their hands about it.
"... walk down memory lane was a painful reminder that GM and the UAW - and yes, Ford and Chrysler bosses - were collectively to blame for Detroit's fall from dominance. Despite impressive progress on productivity and customer satisfaction in recent years, the domestic auto industry still hasn't dug itself out of its competitive hole because Japanese, Korean and European automakers keep improving too."
Stretch Slugfest: A woman in a stretch limo chases and plows into her philandering hubby - also in a limo. It started when the husband, according to police, was ''enjoying the company of an unidentified female."
Two white Lincoln limousines were repeatedly smashing into each other during the ensuing, violent chase.
I still like the old one. Jeremy Lott comments on the remake of the Manchurian Candidate: "The commercial problem for the new Candidate is that, try as he might, director Demme can't make Americans fear corporations in the same way that they once did the Communists. The USSR invaded countries and fed people to the Gulags. Halliburton may occasionally overcharge for gasoline. See the difference?"
Euphemisms: Thomas Sowell wrote a great article titled 'The Left's Vocabulary.' An excerpt: "Crimes committed by bums are covered up by the media, by verbally transforming "the homeless" into "transients" or "drifters" whenever they commit crimes. Thus "the homeless" are the only group you never hear of committing any crimes."
Memory Lapse: John Kerry told the Boston Herald of his vivid memories of a Christmas Eve spent in Cambodia: "I remember spending Christmas Eve of 1968 five miles across the Cambodian border being shot at by our South Vietnamese allies who were drunk and celebrating Christmas. The absurdity of almost being killed by our own allies in a country in which President Nixon claimed there were no American troops was very real ..."
Donald Luskin comments: "Even without minimal investigation, a critical press should have been able to spot the story as a total fabrication: Richard Nixon did not become president of the United States until twenty-six days after John Kerry's Christmas in Cambodia." And the Drudge Report "has learned from the accounts of Swift Boat officers and Kerry's crewmembers that Kerry was never in Cambodia."
---
Saturday August 7, 2004
Scale Detail: Ford Motor Company commissioned a bunch of items for its 100th anniversary celebration in 2003, including some 1:43 scale diecast models (about 4.75 inches long). These were made in China by Minichamps; the models are now available in new colors through model car dealers.
Recently, I purchased several. Each costs $25-40, depending on where you get them but the level of detail and realism is spectacular. (Photos don't do them justice.) They are much better than models from Franklin Mint or Brooklin. I now have a '40 Ford Deluxe woody wagon, '41 Lincoln Continental cabriolet, '50 Mercury, '56 Continental Mark II and '58 Edsel station wagon.
They look right at home in a display case or on any Lionel or O-scale train layout.
---
Friday August 6, 2004
Political Discomfort: I once worked for a boss who was described as "uncomfortable in his own skin." His awkward nervousness and self-conscious, out-of-sync behavior made everyone around him ill-at-ease. His inability to connect with other people resulted in a rash of stupid decisions. He was the worst boss I ever had.
Richard Nixon was uncomfortable in his own skin, too. Period photos tell the story. The scowl. The wringing hands. Eating ketchup-laden cottage cheese at his desk in the oval office. Walking on a California beach wearing shorts, knee-high black dress socks and wing tips. Upper lip sweat. Hunched over a desk, cheerless and glowering, as he proofreads his carefully-edited, attempt-to-rewrite-history memoir.
I want a president who is comfortable with him/herself. John F. Kennedy was that way. (RFK, less so.) Ronald Reagan knew exactly who he was. And was untroubled by it. Same with Bill Clinton. And John McCain, George Bush, Dick Cheney and Joe Lieberman. These people are, in today's lexicon, 'centered' - calm, unanxious and sure of themselves. Al Gore seemed discomfited in 2000 and, in my opinion, now seems even more so. He comes across as unconnected and slightly unhinged.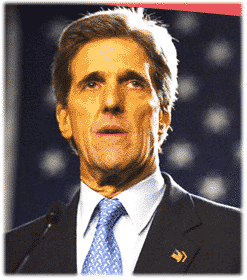 Which brings me to John Kerry. He of that long face, which ... (more >>>)
---
Thursday August 5, 2004
Asian Juggernaut: From AutoExtremist: "Toyota captured 12.0 percent of the U.S. market in July, with sales up 13.7 percent for the month. Toyota is now precariously close to blowing by DaimlerChrysler in this market - permanently."
Pocket Change: Florida judge allows a man to leave jail after posting 12 cents for bail.
Eco-Irony: A small cruise ship catering to eco-tourists was seriously damaged after running aground in the Aleutian Islands. 5,000 gallons of diesel fuel spilled from the ruptured tank, as was some waste water.
The ship takes passengers on cruises lasting a week or more for tours of seal and bird rookeries in the islands.
Headlines from The Onion: "Goth Kid Builds Scary-Ass Birdhouse." Also: "New Snooze Channel Broadcasts Shrill, Electronic Shriek Every Nine Minutes."
---
Wednesday August 4, 2004
Corny Story: An Iowa teenager was charged with failure to maintain control of her car in a freeway crash. She was eating corn on the cob while driving.
Boom! Dan Wiener writes about the business recovery in the Independent Adviser for Vanguard Investors newsletter: "UPS ought to know. The world's largest delivery company told shareholders in July that they see no slowdown whatsoever in shipments. And, on top of a strong U.S. economy they say that foreign economies are picking up. I should note that railway freight companies like CSX and Norfolk Southern also say the economy is cranking."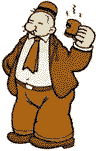 Burgers? Baloney! While Democratic presidential nominee John Kerry and his running mate, John Edwards, and their families were having a 'lite' lunch at Wendy's last Friday - drumming up local support right after the national convention in Boston, their real lunches were waiting on their bus.
A member of the Kerry team called Nikola's Restaurant at the Newburgh (NY) Yacht Club and ordered 19 five-star lunches to go. Management at the restaurant was told the meals would be for the Kerry and Edwards families. The gourmet meals to go included shrimp vindallo, grilled diver sea scallops, prosciutto, wrapped stuffed chicken and steak salad.
Quote of the Day is from Dennis Miller to John Kerry: "John, while we really appreciate your service to our country in Vietnam, I've never seen a boat ride milked this much since Gilligan."
---
Tuesday August 3, 2004
The Heartbeat of Shanghai: The Chevrolet Eqinox SUV - touted in ads as "An American Revolution", is not as American as apple pie.
Its V-6 engine is made in Shanghai, China, wiring harnesses are from the Philippines, fan motors and radios come from Mexico and the vehicle is assembled in Canada - at the GM Suzuki joint venture plant in Ingersoll, Ontario.
Chrome Party: The 26th Annual Meadow Brook Concours d'Elegance in Michigan must have been great. Wish I could have been there - just to see the 1939 Bugatti Type 57C.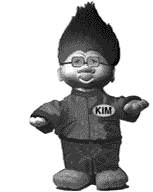 I'm Bringing Cheesy Poofs to the Theater: 'South Park' creators Matt Stone and Trey Parker take on the world in their next movie, starting with the French.
'Team America: World Police' opens with a chase through Paris that results in the inadvertent destruction of the Eiffel Tower and the Louvre. And they make fun of Michael Moore as well as Kin Jong Il. The entire movie is being done with marionettes.
As Eric Cartman of 'South Park' would say, "Screw you guys, I'm goin' to this movie." It opens in October. "Sweet!"
But #@!!* Smiley Faces Make Me Furious! The 'Smiley Plate,' is one of 10 concepts for specialty license plates that Massachusetts signed into law. "We're going to eliminate road rage for all time," say Charles Ball, son of the artist who came up with the now-ubiquitous Smiley Face in 1963.
Fracas Defined: James Lileks enlightens: "A 'fracas' in newspaper headline terms is somewhere between a flap and a melee."
This lawsuit has been brought to you by the letter 'W'. Page Six reports that The W hotel chain is firing off legal letters to political merchandisers, demanding they remove the letter W - as in George W. Bush - from merchandise they sell.
McGovern Redux: "Democrat John Kerry got no poll bounce at all from the Democratic convention and actually lost ground as President Bush moved into a tiny 4-point lead, according to a stunning new Gallup Poll. Gallup said it's the first time since 49-state loser George McGovern in 1972 that a nominee failed to get a convention bounce."
Quote of the Day is from Michael Barone: "The Democratic delegates, almost all selected by the Kerry campaign, came to Boston joined not by love of John Kerry but by hate for George W. Bush - and all they believe he stands for."
---
Monday August 2, 2004
Style Sells: DaimlerChrysler profits soared fivefold with a couple of new, distinctively-styled models. The Chrysler 300 sedan and Dodge Magnum wagon are important contributors to second-quarter profits; Chrysler outearned its U.S. rivals in North America for the period.
In a dramatic turnaround, Chrysler posted a $628 million profit for the second quarter, swinging back from a devastating $1.1 billion loss in the same period last year. Revenues rose 18 percent to $15.9 billion.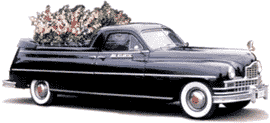 'The Voice' Is Now Silent. Jackson Beck, who voiced of Bluto in Popeye cartoons has died at age 92. He also did the Superman intro: "Look! Up in the sky! It's a bird, it's a plane ... "
He was heard on radio shows such as 'The Cisco Kid', 'Happy Island, 'CBS Radio Mystery Theater' and 'The Man Behind the Gun.' His voice sold a thousand things - from Ex-Lax to Brawny paper towels to G.I. Joe action figures - in television commercials.
Old Beer: Researchers have unearthed what they say may be the oldest known brewery in the Andes, a pre-Incan plant at least 1,000 years old that could produce drinks for hundreds of people at one sitting.
North African Odyssey: Michael Totten of Oregon has interesting & surprising photos of and commentary on his vacation in Tunisia. Tunisia = the complete opposite of the Pacific Northwest. In geography, climate and much else.
Looking at his site made me want to drop everything and go to Tunisia. But, in a couple of months, we'll be heading to Quebec, New Hampshire and a ride on AMTRAK's Acela high-speed train from Boston to D.C. We'll spend most of our Washington visit doing museums and historic sites. And drinking.
Michael returned home from North Africa just in time to watch the DNC-fest in Boston. Michael, a Democrat, writes, "Man. There has got to be some buyer's remorse in the Democratic Party right now. I can still hardly believe they actually picked Kerry."
Kerry Reinterpreted: "Help is on the way.'' really means: "I'm sending my butler." More translations here. Heh-heh.
Osama Ossuary: John Kerry said he would put Osama bin Laden on trial in U.S. courts rather than an international tribunal if the terrorist mastermind is captured while Kerry is president.
Not me. I'd make sure he was killed while 'resisting arrest.' Then I'd have his bones boiled and embedded in Lucite. Afterwards, I'd have them paraded across America in a caisson pulled by six pink pigs. Rotating teams of pigs, of course. Don't want any animals harmed during this production.
If we run out of pigs, maybe Michael Moore would volunteer.
Separated At Birth? Why does John Edwards remind me of Lionel Hutz, the unscrupulous, ambulance-chasing lawyer on The Simpsons?
Hutz operated 'I Can't Believe It's A Law Firm' in the Springfield Shopping Mall. His business card would turn into a sponge when moistened. He tried various marketing slogans over the years including: 'Cases won in 30 minutes or your pizza's free', 'As Seen On TV' and 'Clogging Our Courts Since 1976' The law degree on his wall (from the Knight School of Law) proclaimed that he was a "Doctor of Lawology" and was signed by Sue M. All, Anita Jobb, U.R. Guilty and Al. C. Yancort. Homer Simpson was a frequent client.
Notable Hutz quotes: "Mr. Simpson, the state bar forbids me from promising you a big cash settlement. But just between you and me, I promise you a big cash settlement." "Mr. Simpson, don't you worry. I watched Matlock in a bar last night. The sound wasn't on, but I think I got the gist of it." And my personal favorite: "Mr. Simpson, this is the most blatant case of fraudulent advertising since my suit against the film, 'The Never-Ending Story'."