Palm Desert, California - 2008 (posted 2/1/2008)
---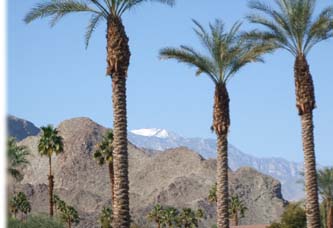 We have returned refreshed and slightly sunburned from a wonderful vacation in Palm Desert, CA - a respite from the rain, storms and general darkness of a Pacific Northwest January. There is something reinvigorating about warmth, blue skies, palm trees and sun in midwinter.
There are numerous trip photos posted here.
Activities/Entertainment: Once again, we attended the Palm Springs Follies. This year, it featured The Four Freshman (who should be called the Four Dumb Geezers - they've been around for 60 years and still haven't made it to Sophomore year). MC Riff Markowitz, who has presided over 3,500 shows, was as funny as ever. There was a dog act, an impersonator comic and a line of lovely chorus girls - ranging in age from 59 to 84 years-old. But most were knockouts. Leila Burgess, Dance Manager, is a former Latin Quarter dancer and looks about 50. She's 72.
The Follies is three hours of razzle-dazzle showcasing the music and dance of the 1930s, '40s and '50s. There were numerous costume changes and a couple of intermissions. We enjoyed it thoroughly.
We also saw Michael Feinstein in concert along with Freda Payne. We wanted more of Feinstein and his renditions from the Great American Songbook (or, as he calls it, 'Rod Stewart's Great American Songbook') and less of Payne. She is apparently known for her 1970 hit, 'Band of Gold' which I don't remember. When I think 'Band of Gold', I recall Don Cherry's 1955 single. Same title; different song.
We didn't think much of Freda's vocal talent. She seemed to be forever straining her voice and was often out of breath. Her song selections for her Ella Fitzgerald tribute were not the ones I'd have chosen.
Buddy Greco at the piano

---
We returned to Buddy Greco's Dinner Club which was better than ever. Buddy was in fine form and the food was exceptional. Hard to believe that Buddy is 81 and got his start in Benny Goodman's band. Buddy and wife Lezlie now seem more comfortable and relaxed; their performances were even more enjoyable than last year. We got to chat with Buddy afterwards.

Speaking of star encounters, I almost got run over by Carol Channing, who blew a stop sign on El Paseo. Later that day, she was on local television. She was standing outside the Palm Desert branch of Washington Mutual which had been robbed. "It's just terrible. I can't get inside to get my money."

For the full effect, try reading those sentences aloud in a mock Carol Channing voice.

We made a few visits to the shops and restaurants on El Paseo in Palm Desert. It's like Rodeo Drive in Beverly Hills. The stores offer courtesy shuttles - bright-colored stretched golf carts decked out with PT Cruiser-like noses - to take you from one place to another.

The Living Desert Zoo & Gardens was on our list of returning attractions. It offers 1,200 acres of desert preserve populated with desert plants. Mountain lions, wolves, bobcats, golden eagles, cheetahs, giraffes, zebras, leopards are shown in a natural setting. There is also a gigantic and spectacular G-scale outdoor model train layout - claimed to be the world's largest. I've posted some photos of it here. We ate lunch at LD's Meercat Cafe; I was less than impressed.

We also visited the Santa Ana mountain visitors center. And Shields Date Farm.

Car Sightings: I have said before that the Palm Springs area has the greatest concentration of luxury automobiles I've ever seen. Reportedly, the area has the highest rate of Rolls Royce registrations per capita in the world.
As close as I'll ever get to an Aston Martin Vantage.

---
Last year, I observed more Mercedes than any other luxury nameplate. This year, the clear winner was Lexus. I saw two Lexi for every Mercedes. In the small parking lot of Sherman's Deli, 50% of the cars had the L emblem. I saw at least 15 LS460s every day; the only one I see around home is mine.

Mercedes is probably the second most popular luxury brand, followed closely by Cadillac, especially the CTS. Toyota has a big presence here with hordes of Avalons and Camrys on the roads. I saw two Avalons for every CTS, although the Avs were thankfully free of the roof desecrations bestowed on several CTS examples - the dreaded faux canvas roof. I even saw one on a Saturn Aura.

The Lincoln brand has almost disappeared - I saw a few MKZs but Town Cars were rare. I bet I saw six Bentley Continentals for every TC. There were quite a few Chrysler 300s hereabouts - many with chrome wheels and/or fake Bentley grilles. There were also a decent number of Caddy DTS sedans - the one GM plans to discontinue. I keep hearing that Toyota is discontinuing the Solara but it seems very popular here.

Honda and Acura brands were not seen too often. I spotted a few Mustangs but only one Ford Fusion and one Mercury Milan during our stay. There were quite a few Priuses to be seen. And BMWs - maybe one for every three Mercedes. But not many Audis.

Almost all the Jaguars I saw were last-gen XJs or XKs. I saw no new XKs and only a couple of current generation XJs. And one X-Type. Saw lots of Porsches though. And a few old cars, including a white 1956 Thunderbird convertible. And a cream-over-saddle brown step-down 1951 Hudson Hornet sedan.

Car Rental: We rented a Mazda3 four-door sedan. It was peppy and handled well. The car was surprisingly fast for a 148 horsepower 4-banger. Gas mileage at 24 mpg was so-so - probably because the Mazda had a 4-speed auto tranny. The quality of the metallic paint was awesome; although the interior had some rattles at 13,000 miles.

I didn't like the dash lighting which glowed Brothel Red at night. Even though the Mazda was a foot longer than a VW Golf, it felt as nimble and compact as a VW when it came to parking and low-speed maneuvering. But the 3 was surprisingly roomy inside. Overall, I was very impressed by this little $14,000 car.

Restaurants: We dined at several places we hadn't tried before, including Bing Crosby, Castelli's, LG's Prime Steakhouse, Cheesecake Factory and others. (Specific comments can be found here.)

We also revisited Ristorante Mama Gina, Kaiser Grille, Pomme Frites and others.

All in all, it was a great Winter vacation.
---
Links
| blog: 'The View Through The Windshield' |
| essays: greatest hits | blog archives | '39 Plymouth | model train layout |
| about me | about the blog | e-mail |
copyright 2008 - Joseph M. Sherlock - All applicable rights reserved
---
Disclaimer
The facts presented in this blog are based on my best guesses and my substantially faulty geezer memory. The opinions expressed herein are strictly those of the author and are protected by the U.S. Constitution. Probably.
Spelling, punctuation and syntax errors are cheerfully repaired when I find them; grudgingly fixed when you do.
If I have slandered any brands of automobiles, either expressly or inadvertently, they're most likely crap cars and deserve it. Automobile manufacturers should be aware that they always have the option of trying to change my mind by providing me with vehicles to test drive.
If I have slandered any people or corporations in this blog, either expressly or inadvertently, they should buy me strong drinks (and an expensive meal) and try to prove to me that they're not the jerks I've portrayed them to be. If you're buying, I'm willing to listen.
Don't be shy - try a bribe. It might help.
---