One hundred years ago, auto shows were the only way to view offerings from the numerous smaller manufacturers. Not much was needed: a row of automotive offerings, a bit of bunting, a small sign and some pamphlets to distribute. By the 1950s, shows had become fancier with rotating turntables, voluptuous spokesmodels and four-color brochures. These auto extravaganzas provided the public with an opportunity to see models in all the different trim and color styles available and gaze upon the dreamy and very futuristic concept cars offered by Detroit.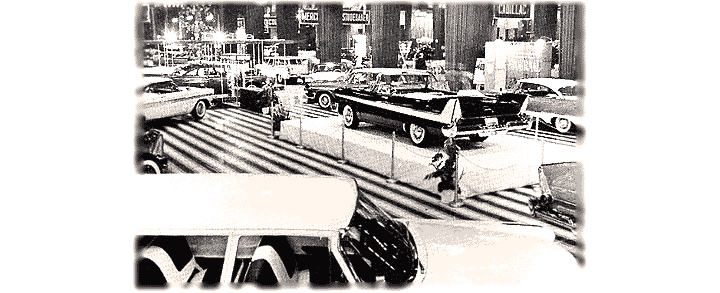 Today, there are fewer manufacturers and vehicles have fewer trim options. Rocketship-like dream cars have been replaced by dull & weird eco-concepts which will get 100 mpg running on pressurized unicorn flatulence.
At today's major shows, there is a 'let's wow the press' mentality; major manufacturers have been known to invest as much as $50 million in their displays.
Which begs the question, "Does that manufacturer get $50 million in free publicity and/or increased sales as a result?" Many manufacturers are answering "no" and scaling back.
Nissan has withdrawn its presence from many auto shows this year. In recent years, Porsche and Ferrari have been very selective about the auto shows where they exhibit. Honda has joined Nissan in pulling out of the Frankfurt show. To save money, the Detroit 2.8 aren't going to the Tokyo auto show in October. Japan's four biggest truck makers are considering skipping the 2009 Tokyo show. Volvo has already said that it would not participate; according to Automotive News, BMW and Mercedes-Benz are "unlikely to participate" as part of an effort to limit expenditures.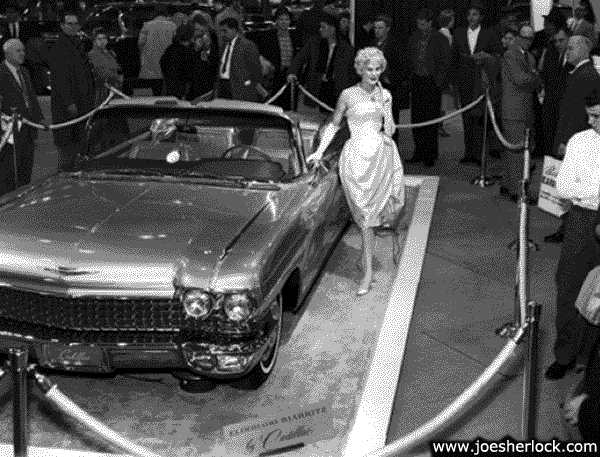 Earlier this year, there were rumors that the Tokyo Show - scheduled for late October in Chiba City - would be canceled. But apparently the show is still on schedule, despite exhibitor cancellations. Meanwhile, the British Motor Show has been scratched for 2010. In Australia, the Sydney show has been canceled, as well. There has been talk that the Detroit Auto Show is in jeopardy due to non-participation and a creaky, aging facility.
I think there are too many "major" shows - Geneva, Paris, Frankfurt, London, Detroit, Chicago, Los Angeles, New York, Shanghai, Tokyo. Car makers are now asking, "Do we need to spend all this money to promote our newest offerings in an age where photos and videos of the debuts are available on the internet even before the show opens?" It's a valid question.
In the U.S., many of the smaller venues are consumer-oriented 'selling shows', where vehicle orders are taken. Almost every decent-sized city has an annual auto show, sponsored primarily by the local car dealer group with some light participation by manufacturers. Dealer reps are there in force, handing out business cards, offering 'show specials', giving show attendees a chance to sit in several model variations and, in some areas, offering test drives. Such shows have proven to be a good return on investment for local dealers. And for manufacturers, since participation expenses are pretty reasonable.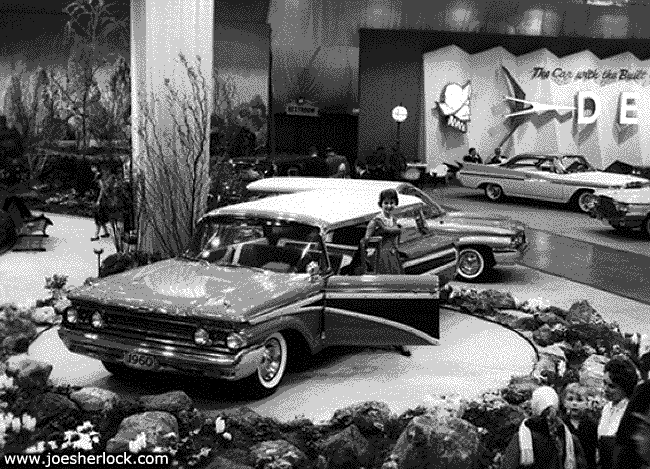 In 2005, when we were looking for my wife's new car, there were no 2005 Toyota Avalons on dealer lots yet. (The redesigned Avalon debuted at the Detroit Auto Show in early January but deliveries didn't begin until March.) We had to go to the Portland Auto Show to see it and sit in it. This also gave us a chance to examine all of the possible candidates in a single day. We made our choice at the show and met dealer reps. Within a week, we had made a deal and placed an order.
The future of auto shows is probably a handful of dazzling international exhibitions combined with many smaller, cost-justifiable regional venues. (posted 3/27/09)
---
Other Pages Of Interest
| blog: 'The View Through The Windshield' |
| greatest hits: index of essays & articles | blog archives | '39 Plymouth |
| model train layout | about me | about the blog | e-mail |
copyright 2009-21 - Joseph M. Sherlock - All applicable rights reserved
---
Disclaimer
The facts presented on this website are based on my best guesses and my substantially faulty geezer memory. The opinions expressed herein are strictly those of the author and are protected by the U.S. Constitution. Probably.
Spelling, punctuation and syntax errors are cheerfully repaired when I find them; grudgingly fixed when you do.
If I have slandered any brands of automobiles, either expressly or inadvertently, they're most likely crap cars and deserve it. Automobile manufacturers should be aware that they always have the option of giving me free cars to try and change my mind.
If I have slandered any people or corporations, either expressly or inadvertently, they should buy me strong drinks (and an expensive meal) and try to prove to me that they're not the jerks I've portrayed them to be. If you're buying, I'm willing to listen.
Don't be shy - try a bribe. It might help.
6672