You Light Up My Life: A Less Than Thorough History Of Auto Headlights
The very earliest vehicle headlamps were acetylene-powered and not very good. Unless the driver kept pressure up with a small handpump located near the steering wheel, the lights would go out.
Electric headlamps debuted in 1898 and, by 1915 or so, most cars had electric lighting systems. Headlights were part of front-end styling and, in the absence of regulations, some curved glass beauties could make a car look quite distinctive. The ill-fated 1938-39 Graham Paige Sharknose is a good example of artistic glass front lamps: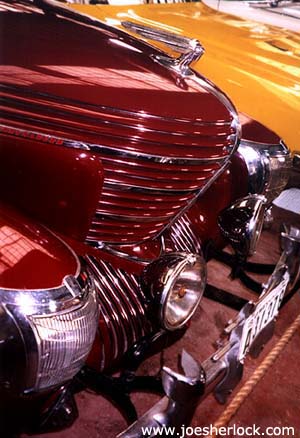 My 1939 Plymouth has square headlights that are not sealed-beam type. The glass lenses are difficult to find as they've been out of production for almost 70 years and were only used for the 1939 model year. But I've got spares in storage.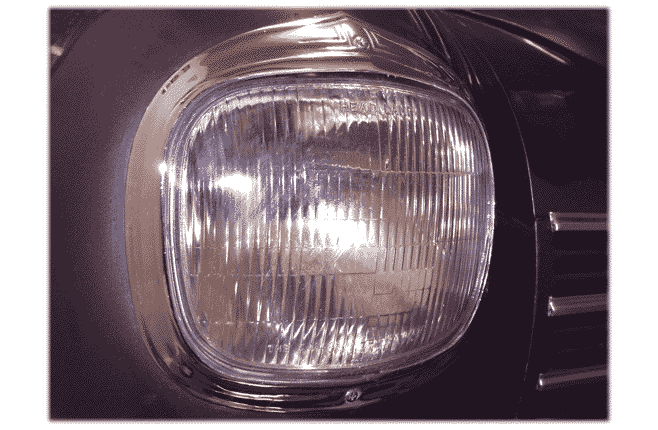 In 1940, a consortium of state motor vehicle administrators standardized upon a system of two seven-inch diameter vacuum sealed beam headlamps. These sealed beam units offered better brightness and aftermarket manufacturers offered conversion kits for earlier cars. The '39 Plymouth I owned as a teenager had such a kit installed.
The two-headlight sealed beam configuration was only system allowed in the U.S. until 1957. At that time, the four-headlamp system debuted on production cars (one high/low and one high-beam). Each glass lens was 5.75 inches in diameter. The system debuted on the '57 Cadillac Eldorado Brougham. Chrysler and Nash offered them on some models in states that permitted the new system. Most American cars had quads by 1958.
In 1967, glass covered sealed beam headlights, such as those on the Volkswagen Beetle, certain Chrysler models and the Jaguar XKE were outlawed, necessitating some front-end restyling to accommodate the new regulations.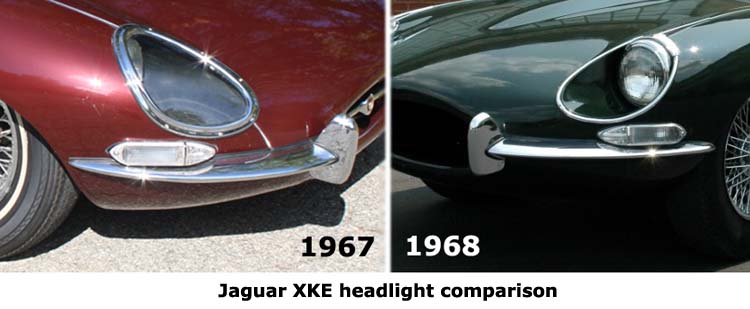 Underdog, my 1963 Beetle, had glass-covered headlights: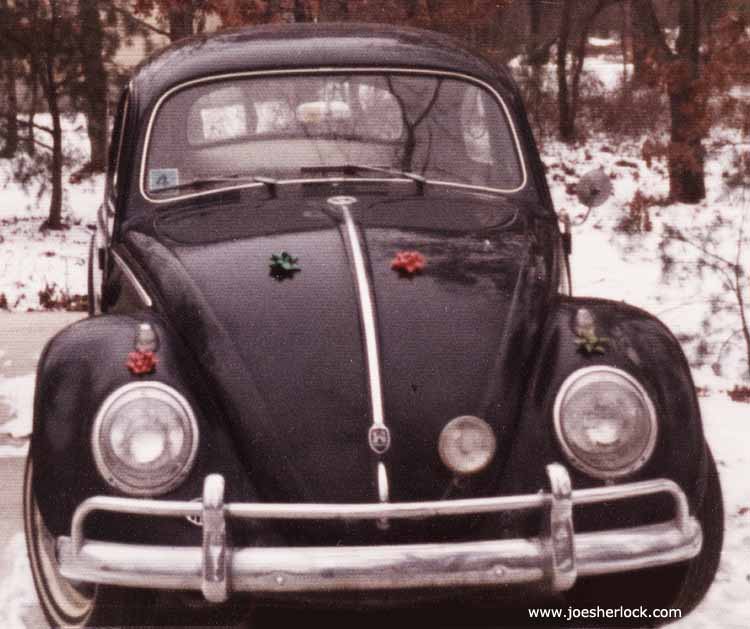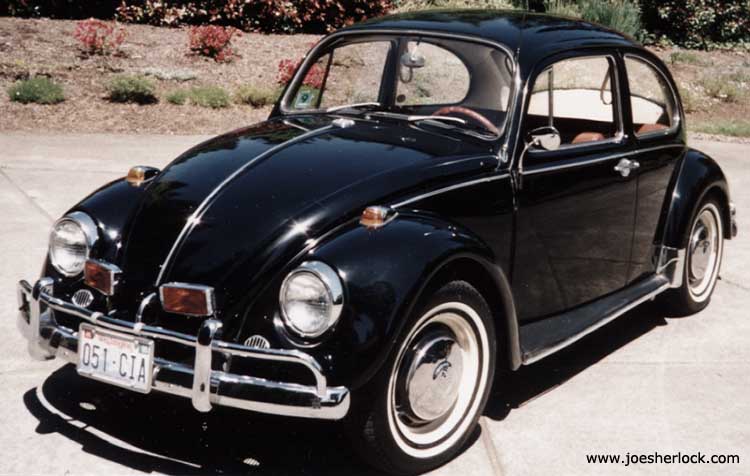 In 1983, regulations were changed to granting a 1981 petition from Ford Motor Company, the 44-year-old U.S. headlamp regulations were amended to allow replaceable-bulb, nonstandard-shape, architectural headlights with aerodynamic lenses that could for the first time be plastic.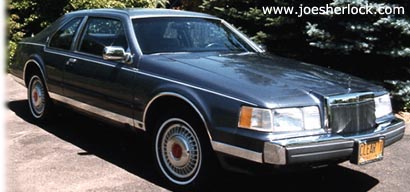 The new regs paved the way the introduction of first U.S.-market car since 1939 with replaceable bulb headlamps – the 1984 Lincoln Mark VII. It was the first American car to have flush, aerodynamic lights. Amost all of today's cars have such flush mounted headlights but in 1984 this was quite unique and gave the Mark VII a distinctive "face."
These shaped American headights were sometimes referred to as "Euro" headlamps, since aerodynamic front lights had been common in Europe for some time.
Today, most automobiles have plastic aero headlamps. Usually these are injection-molded from polycarbonate (Lexan) plastic and topped with a ultraviolet, scratch-resistant coating.
Polycarbonate does not weather as well as acrylic (Plexiglas, Lucite) - it will typically yellow with time and will experience surface haze after five years of outdoor exposure. But polycarbonate has better heat resistance and far superior impact resistance than acrylic, so it generally remains the material of choice for headlights these days.
The applied post-molding coating is often an acrylic/urethane blend and is loaded with UV inhibitors to prevent yellowing. It also provides some scratch resistance to the easily-marred polycarbonate thermoplastic. Unfortunately, the coating will also deteriorate with time, both from sunlight and the heat and ultraviolet rays created by the headlight beam itself.
Many companies offer polishing kits to revitalize hazy, faded lenses.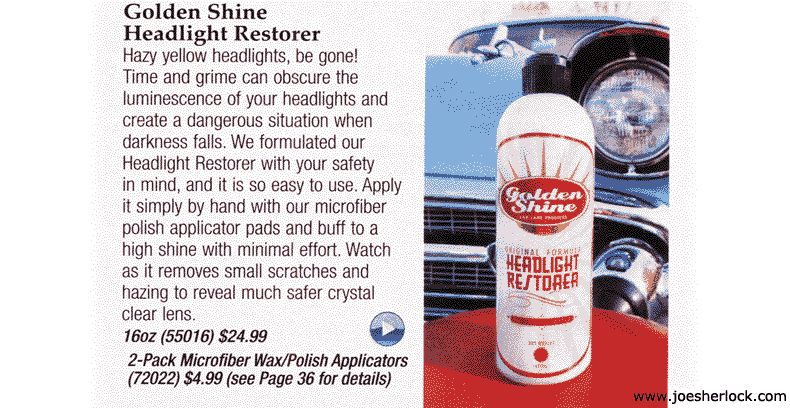 Ironically, this one is posed in front of a 1957 Chevrolet - a vehicle which featured ageless sealed-beam glass headlights that will probably never require polishing. (posted 11/9/12)
---
Other Pages Of Interest
copyright 2012-21 - Joseph M. Sherlock - All applicable rights reserved
---
Disclaimer
The facts presented on this website are based on my best guesses and my substantially faulty geezer memory. The opinions expressed herein are strictly those of the author and are protected by the U.S. Constitution. Probably.
Spelling, punctuation and syntax errors are cheerfully repaired when I find them; grudgingly fixed when you do.
If I have slandered any brands of automobiles, either expressly or inadvertently, they're most likely crap cars and deserve it. Automobile manufacturers should be aware that they always have the option of trying to change my mind by providing me with vehicles to test drive.
If I have slandered any people or corporations, either expressly or inadvertently, they should buy me strong drinks (and an expensive meal) and try to prove to me that they're not the jerks I've portrayed them to be. If you're buying, I'm willing to listen.
Don't be shy - try a bribe. It might help.
---