---

---
Automotive Paint
Mr. Paint: Born in 1908, Earl Scheib never went to college. Instead, he got a job as a gas station attendant changing oil and tires for General Petroleum Co. in the late 1920s. Not long after, he went into business with his own gas station on the corner of Whitworth and Fairfax in Los Angeles. His neighbors soon began asking if he knew anyone who could paint their cars. So, each night, after closing time, Earl would paint cars in the station's lube garage.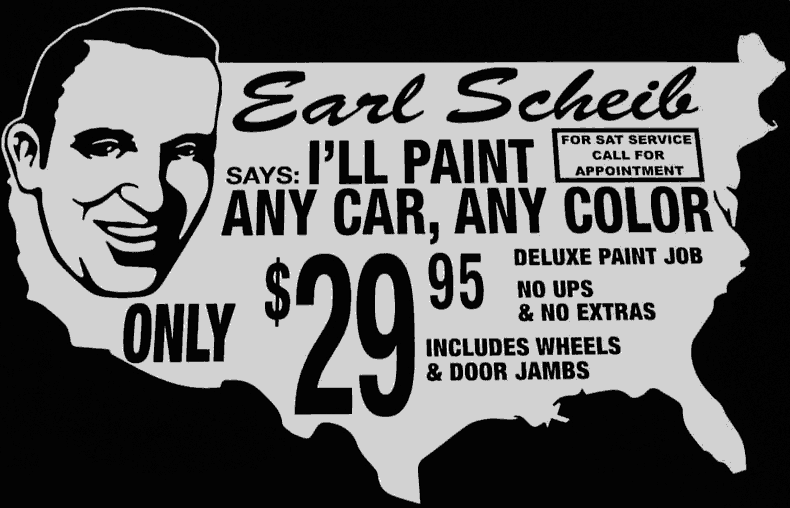 It didn't take long for word of Earl's painting service to spread, and soon there was more paint business than the station could handle. In 1937 Earl sold the gas station and opened the first Earl Scheib Paint and Body. His philosophy was "work hard, be on time, and don't worry about how much you make." It was a belief that underscored the way he ran his business.
Founded by Earl Scheib, the company grew quickly following World War II and by 1975 had branches in Germany and England, all company-owned, with Scheib manufacturing his own paint through a wholly owned subsidiary.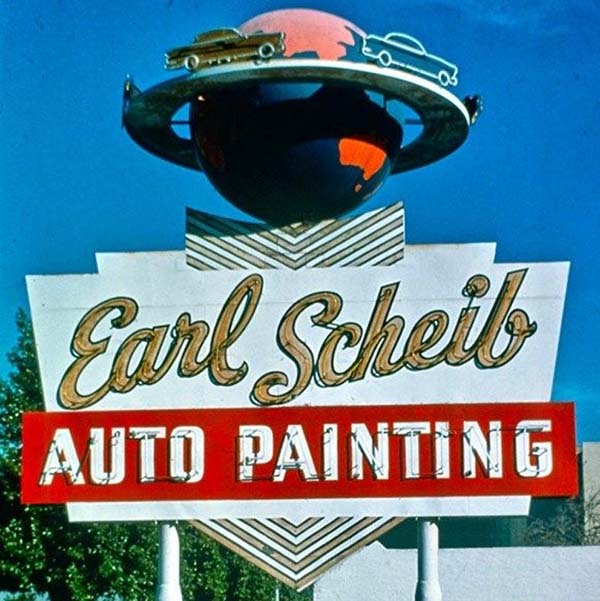 Scheib began to expand nationally in the 1950s, and to raise awareness of his auto painting shops he turned to advertising. Earl Scheib marketed his shops through low-budget television commercials. Appearing on late-night television programs, Scheib soon became a national icon and celebrity, and his oft-heard sales pitch, 'I'm Earl Scheib, and I'll paint any car, any color for $29.95. No ups, no extras,' became an instantly recognizable phrase. Scheib, credited as being the first spokesperson for his own company, handled all advertising and developed and wrote his own television commercials.
Earl Scheib died in 1992. By the late 1990s, the company began closing branches. In mid-2010, the company offered its remaining branches to mangers as franchises, resulting in today's independent Earl Scheib paint centers. (posted 6/9/21, permalink)
---
Twenty-First Century Painting: The Bowling Green, KY factory that assembles the Chevrolet Corvette is spending $439 million to build a new paint shop.
Covering 450,000 square-feet (almost half the size of the entire current production facility), the site will "make painting the 'Vette more efficient and environmentally friendly. The upgrades there include robots that use paint more effectively, technology to eliminate sludge water, LED lighting to improve inspections, and less energy-intensive baking ovens. While the groundbreaking is already complete for the building, full construction is expected to begin this summer and take two years."

It used to be that you could throw together a pretty decent paint booth in a weekend for a few thousand bucks. Not so today ... too many regulations to meet. And the newest coating technology requires more sophisticated techniques and more tightly controlled curing ovens.
The General Motors press release states, "Along with new tooling and robots, the paint shop's state-of-the-art environmental and efficiency enhancements include:
• Dry Scrubber Booth Technology with Limestone Handling System designed to eliminate sludge water and waste

• Light-emitting diode, or LED, lighting for process decks for improved visual inspection as well as energy savings

• State-of-the-art FANUC robots with Versa-bell 3 electrostatic applicators for an extremely smooth finish and maximum transfer efficiency, saving 25% of the paint material used, which also benefits the environment

• Longer, high-efficiency baking ovens for exceptional paint finish and lower energy use."
Progress doesn't come cheap, folks. (posted 6/1/15, permalink)
---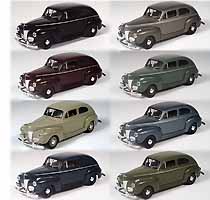 Paint Reflections: I recently purchased several 1:43 scale diecast cars for use on my O-gauge train layout, including a couple of '41 Ford Tudor sedans made by Fleer Collectibles. Fleer offers the models in authentic 1941 shades - black, Capri blue, Cayuga blue, Cotswald gray, Harbor gray, Lockhaven green, Mayfair maroon or Palisade gray.
All of these colors are awfully unexciting by today's standards. People forget that the paint technology of 60-plus years ago was pretty primitive. Most production cars used baked enamel paint. Colors tended to be fairly bland - pastels and earthtones - which were resistant to the elevated heat of the paint curing process and offered fairly decent outdoor weatherability.
Deep colors were limited to lacquered paint jobs - a costly, temperamental process usually used on custom-bodied or low-production vehicles. Wild colors, like purple, lavender, etc. were not generally offered because pigments were expensive and unstable outdoors.
The loudest colors in the '30s and '40s were taxicab yellow, fire engine red and bright green. They weren't very popular car colors and were generally found on convertibles. Driven by loose blondes with Veronica Lake hairstyles (and a predilection for sloe gin fizzes) or roguish, Camel-puffing playboys with David Niven-like pencil mustaches who had a tendency to begin each sentence with, "Say, my good man ..."
Two-toned color schemes didn't become popular until after World War II. Brighter colors began to appear on 'everyday' automobiles around 1950 or so.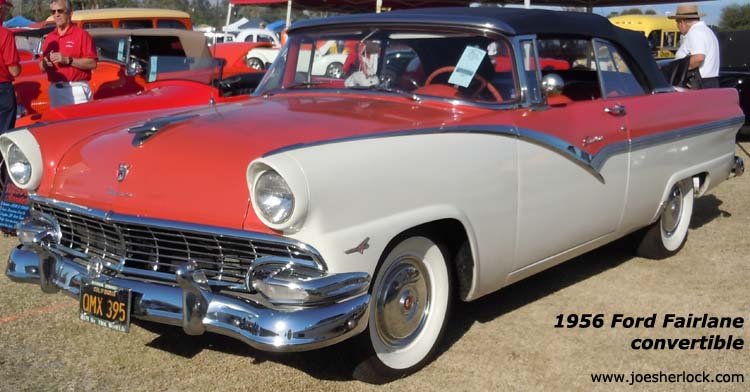 Improved paint technology made such changes possible. The 'foot-deep' clearcoat finishes common on today's cars were introduced in the 1970s on luxury cars. Early clearcoats had problems - paint adhesion, whitening and poor weathering to name a few. But those have been solved.
Twenty years ago, older cars with 'dulled-out' paint were a common sight. Such sightings are much less common today. Now, the cars often wear out before the paint does. (posted 7/24/04, permalink)
---
Coating Pioneer: DuPont is selling its slow-growing car paint business to a private equity firm for $4.9 billion in cash. The auto paint division, with 11,000 employees, is a global supplier of vehicle and industrial coating systems with sales of more than $4 billion or so. In recent times, the auto paint biz had become one of the firm's lowest-margin businesses. DuPont is now focusing on other industries such as food and biofuels, that offer better growth and profit potential.
This is a big deal because it marks the exit of a once-innovative company that revolutionized the auto industry. In 1924, DuPont introduced Duco nitrocellulose lacquer.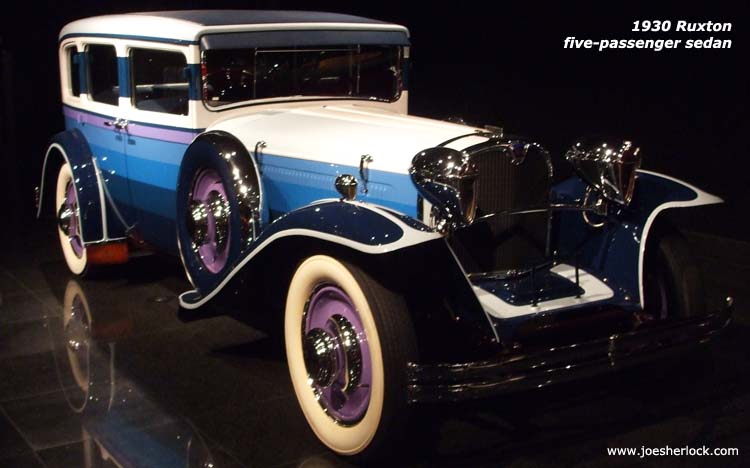 The company's website stated, "The introduction of Duco on the first paint line at General Motors, coupled with its ability to be sprayed rather than hand brushed, reduced painting time from weeks to a mere six hours. Duco caused further euphoria because it was available in a palette of colors - until then black had been the only vehicle color available."
This is why Henry Ford only sold black Model Ts for most of its run. Black was the only paint color which dried reasonably quickly.
In 1929, DuPont introduced Dulux alkyd enamel, offering better durability and fade-resistance than nitrocellulose lacquers.
In 1956, DuPont first offered Lucite acrylic lacquer which offered improved durability, more color depth and better metallic finishes. One of the first cars to offer a Lucite finish was the 1956 Continental Mark II: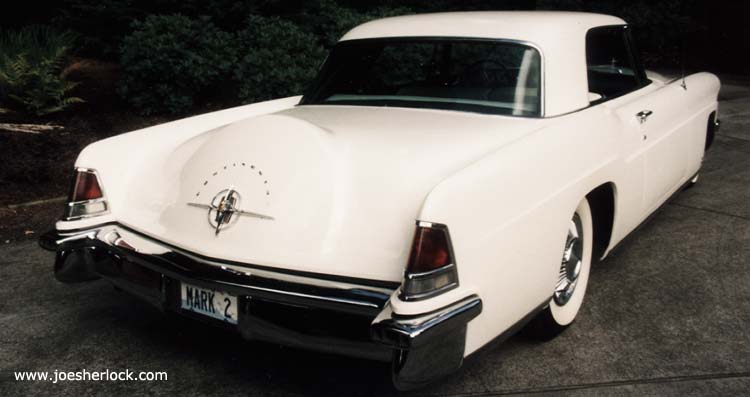 In 1998, 42 years after it left the factory, my 1956 Continental Mark II still wore its original, gleaming Wimbeldon White paint job.
---
Back in the day, DuPont made cars better-looking and better-wearing though continuing technological achievements. Kudos to the scientists and engineers who made such developments possible. (posted 9/4/12, permalink)
---
Other Pages Of Interest
copyright 2004-21 - Joseph M. Sherlock - All applicable rights reserved
---
Disclaimer
The facts presented on this website are based on my best guesses and my substantially faulty geezer memory. The opinions expressed herein are strictly those of the author and are protected by the U.S. Constitution. Probably.
Spelling, punctuation and syntax errors are cheerfully repaired when I find them; grudgingly fixed when you do.
If I have slandered any brands of automobiles, either expressly or inadvertently, they're most likely crap cars and deserve it. Automobile manufacturers should be aware that they always have the option of trying to change my mind by providing me with vehicles to test drive.
If I have slandered any people or corporations, either expressly or inadvertently, they should buy me strong drinks (and an expensive meal) and try to prove to me that they're not the jerks I've portrayed them to be. If you're buying, I'm willing to listen.
Don't be shy - try a bribe. It might help.
---
---