Barrett-Jackson Las Vegas Auction - September, 2013 (posted 10/2/13)
The Barrett-Jackson Las Vegas auction was held in late September at the Mandalay Bay Resort Events Center. While there were no multi-million dollar Duesenbergs or Ferraris offered, there were some interesting cars on the block and a few price surprises:
• A lightly-customized 1950 Ford Tudor with a scalloped paint job crossed the block for $36,000. As a teenager, I could have gotten a black '50 Ford with duals and Glasspacks for $100 but my dad wouldn't let me buy it.
• A 1956 DeSoto Fireflite Sportsman two-door hardtop, featuring the stock 330 cu. in Hemi V8, push-button automatic transmission, equipped with Kelsey Hayes wire wheels and finished in correct Iridescent Grey and Shell Pink sold for $57,000.

To me, this color combination represents the quintessential DeSoto look of the period - a very nice-looking '50s machine. A '55 Fireflite convertible, done in Carnival Red and Surf White, sold for $71,500.

Two years ago, a black and gold 1957 DeSoto Adventurer convertible sold for $247,500 and a 1956 Fireflite convertible brought $368,500.
No one wanted DeSotos when Chrysler made 'em; now they're a hot auction item.
• A 1953 Packard Clipper two-door Club Sedan with Packard's ancient L-head straight-eight motor and three-speed manual transmission, sold for only $23,000.
Ordinary 1953 Packards weren't particularly desirable even when new. Cadillacs were much flashier and more powerful. Unlike Packard, both Lincoln and Cadillac offered modern, powerful overhead-valve V8 engines in '53. Packard's styling had lost its way with the introduction of the bulbous 22nd Series 'bathtub' models first offered in 1948. Packard debuted an all-new body for '51 but the styling was undistinguished.
By the 1950s, only old geezers bought Packards, mainly because the badge reminded them of their youth when Packard was a highly-desirable dream machine (kinda like the situation today with the Lincoln brand). In the prewar era, Packard produced machines that reeked of elegance, monogrammed silver hip flasks and cigarettes in ivory holders: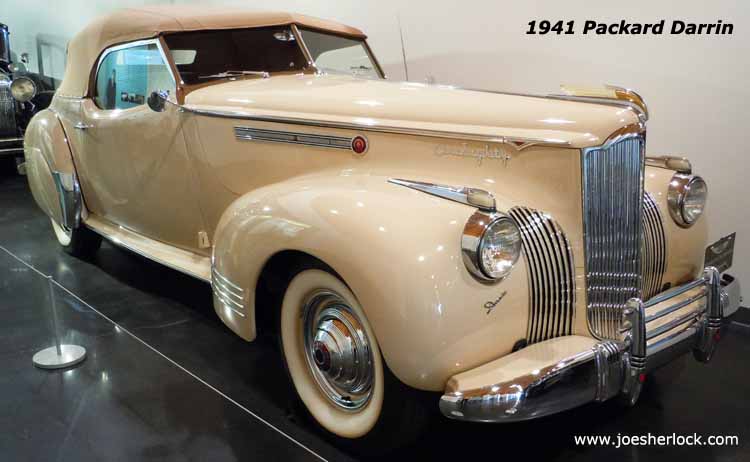 In 1953, Cadillac was the top-selling luxury car, although Packard still managed to sell more than twice as many vehicles as Lincoln. Packard's '55 body reworking and new V8 engine brought some excitement to the line but, by then, sales had dropped so precipitously that the marque could not be rescued.
Later, a light yellow 1953 Packard Caribbean brought the gavel down at $100,000. The Caribbean was a limited production convertible, initially based on Packard's 1952 Pan American showcar. 1953 was the first year of Caribbean production; only 750 examples were made. The Caribbean was originally priced at a steep $5,210 - in 1953, a new Ford Mainline business coupe cost only $1,400 and a top-of-the-line Ford Crestline convertible could be had for $2,000 or so.
My daughter - a Packard fan - has a 1:18 scale model of a red '53 Caribbean:

• The least-desirable of the '55-'57 Chevy model-year trio, a stock, restored 1956 Chevy Bel Air two-door sedan, auctioned at $40,000. Only a few years ago, you could get a '56 convertible for this kind of money, demonstrating that auction prices are on the rise. By comparison, a restored 1957 Chevrolet Bel Air convertible with an unremarkable 4-barrel 283 engine and two-speed Powerglide sold for $205,000 at this auction.
• A restored turquoise and white 1959 Metropolitan convertible gaveled down at an amazing $50,000.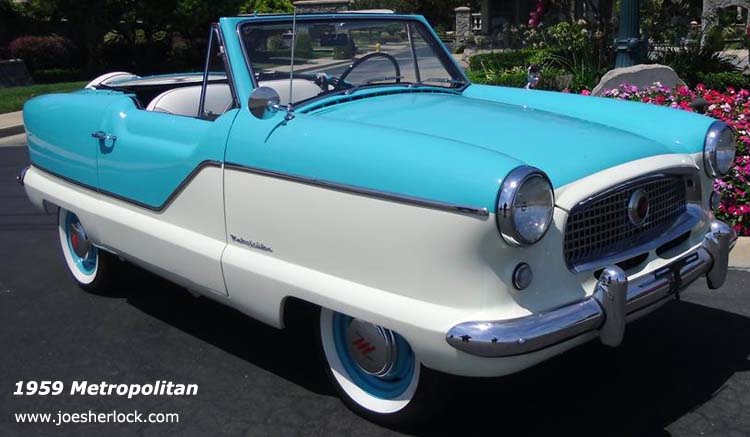 What?! Fifty grand for an underpowered little Nash - has the world gone mad?
• A pale green 1963 Rambler Classic Cross Country Wagon with 6-cylinder engine went for $21,000. That seemed like a lot of money to me for such an ordinary vehicle. Obviously some one else didn't think so.
• A restored, pale yellow 1963 Buick Riviera sold for a mere $18,000, while a '57 Buick Special Riviera two-door went under the hammer for $37,400. In 1957, 'Riviera' simply meant that the car was a hardtop body style. Later, a 1956 white-over-red Buick Special hardtop crossed the block at $50,000.
• A customized burgundy 1984 Aston Martin Lagonda sedan once owned by Evel Knievel and powered by a 502 cu. in. big block Chevy V8 engine brought down the gavel for $26,500. Only 645 Lagondas were built over a 16-year period and were reported to be very troublesome cars with a plethora of mechanical and electronic glitches.
• A two-tone green 1931 Lincoln K cabriolet with LeBaron coachwork and sporting a rumble seat sold for $320,000.
• A gorgeous fire-engine-red, 6-cylinder 1947 Chrysler Windsor convertible with a Tartan plaid interior hammered at a surprisingly reasonable $48,000.
• A professionally-restored dark green 1948 Packard Bathtub Woody wagon sold for $85,000.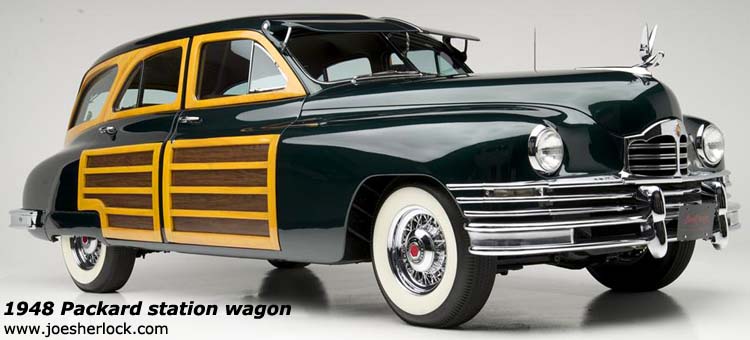 This car, an odd-looking duck lacking the grace of earlier, classic Packards, fetched a high price because 1.) it's rare and 2.) it's a woody.
• A 1954 Chevrolet Corvette in Polo White with the obligatory red interior fetched $65,000.
• An expensively-restored black 1956 Continental Mark II sold for $86,900. This is an unusually high price for a Mark II - but this particular example was a recent restoration and 100-point multiple concours winner.
• A handsome 1957 Chrysler 300 black hardtop powered by its 392 cubic-inch Hemi V8 was sold for $50,000. I'm envious. I always wanted to own a 300C. An original blue 1962 Chrysler Newport two-door hardtop powered by a 361 cu.in. non-Hemi was gaveled down at $25,000. I'd much rather have one '57 300C than two '62 Newports. But that's just me.
• A restored, Turkis green and white 1964 Volkswagen 21-window Microbus sold for an astounding $100,000. A '67 21-window maroon-and white split-window Microbus went for $77,000. There are apparently lots of rich, nostalgic hippies to bid up prices on these old haulers.
• A 1999 silver Series 1 Shelby convertible with the supercharged Oldsmobile engine was auctioned for $112,000. Personally, I'd hold off and buy a new C7 Corvette drop-top when it becomes available early next year. And invest the money saved.
---
Other Pages Of Interest
| blog: 'The View Through The Windshield' |
| greatest hits: various essays & articles | blog archives | '39 Plymouth | model train layout |
| about me | about the blog | e-mail |
copyright 2013 - Joseph M. Sherlock - All applicable rights reserved
---
Disclaimer
The facts presented in this blog are based on my best guesses and my substantially faulty geezer memory. The opinions expressed herein are strictly those of the author and are protected by the U.S. Constitution. Probably.
Spelling, punctuation and syntax errors are cheerfully repaired when I find them; grudgingly fixed when you do.
If I have slandered any brands of automobiles, either expressly or inadvertently, they're most likely crap cars and deserve it. Automobile manufacturers should be aware that they always have the option of trying to change my mind by providing me with vehicles to test drive.
If I have slandered any people or corporations in this blog, either expressly or inadvertently, they should buy me strong drinks (and an expensive meal) and try to prove to me that they're not the jerks I've portrayed them to be. If you're buying, I'm willing to listen.
Don't be shy - try a bribe. It might help.
---