Cascade Concours
Lincoln & Continental Owners Club Western National Meet
Federal Way, WA | August 8-11, 2007
We attended the 2007 Lincoln & Continental Owners Club Western National Meet in Federal Way, Washington (near Seattle). Over 140 Lincoln enthusiasts were enjoying the show and the cars.
There were many activities during the Meet. We visited the LeMay Collection (near Tacoma), listed in the Guinness Book of World Records as the largest privately-owned vehicle collection in the world. Over a lifetime, Harold E. LeMay amassed in excess of 3,000 vehicles - automobiles, motorcycles, trucks, buses and related memorabilia.
---

Nancy LeMay once described her home as a "typical five bedroom home with a 300 car garage!" To Harold, the event was an excuse to have a great time with thousands of fellow auto enthusiasts. He loved the camaraderie and the stories that were shared. Harold especially enjoyed driving around in his double-decker bus.

---

Most of the cars are in at least 'museum-quality' condition and contained many eclectic vehicles, including a made-in-England 1952 Wolseley police car, a fully-restored '48 Tucker, a 1960 Lloyd, a huge Duesenberg, hundreds of Lincolns, Packards, Cadillacs and much more.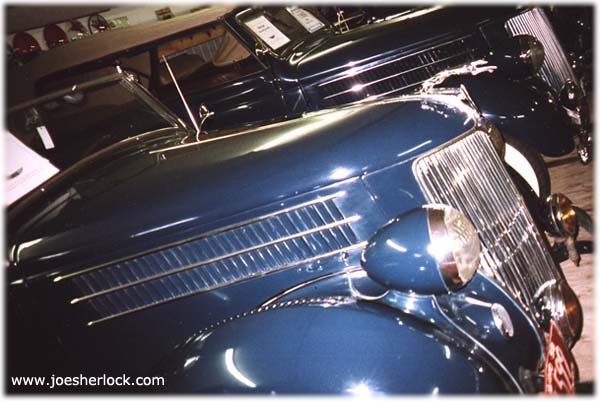 We also took a cruise on the Virginia V, the last of the famed Puget Sound Mosquito Fleet. A tasty catered lunch was served aboard as we sailed Lakes Union and Washington.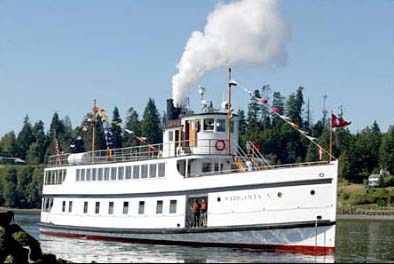 The V's exposed 100+ year-old steam engine was 'open for inspection' and the ship's interior has been fully restored, with glowing wooden decks and sparkling white paint.
On Saturday, over 70 gleaming Lincolns were on the field under bright blue skies. There were several cars from the '30s and early '40s, including a spectacular black 1932 Lincoln KB LeBaron convertible. And an unusual custom 1941 Zephyr-based Town Car with body by Brunn. There were five Continental Mark IIs, a couple of Lehmann Peterson limos as well as a 1986 hearse.
1932 Lincoln KB LeBaron convertible
owned by Gerald Greenfield

1933 Lincoln KA Town Sedan
owned by Gary Steinman

1941 Lincoln Zephyr TownCar - body by Brunn
owned by Todd Humphrey

1941 Lincoln Zephyr three-window coupe
owned by Craig Watjen

1948 Lincoln Continental cabriolet
owned by Gary Steinman

A pair of white Continental Mark IIs
1951 Lincoln Sports Sedan
owned by Burgess Meredith

1952 Lincoln Cosmopolitan Capri coupe
owned by Ron McCreary
A 1952 Lincoln Cosmopolitan hardtop coupe cream over red with Kelsey Hayes wire wheels with custom center emblems incorporating the period Lincoln shield on a red surround which matched the red of the Cosmo's body. It was driven to the Meet from eastern British Columbia. While the majority of the vehicles were from Oregon or Washington, nineteen of the cars traveled from California, four were from B.C., three were from Idaho and one was from Nevada. Best of Show was awarded to a 1957 Lincoln Premiere convertible from Montana - owned by Tom Gerard.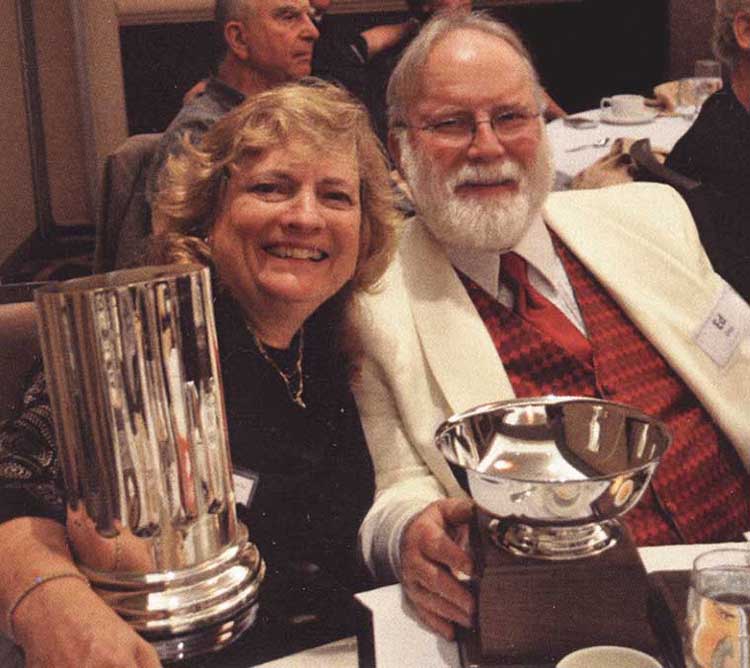 Meet Hosts - Chris and Ed Gray
---
On Sunday, we drove to nearby Bellevue, WA and visited the Craig Watjen's Lincolnshire Museum, a private collection of impressive vehicles - including numerous 1940's-era Lincolns, a Continental Mark II, several Model A Fords as well as other vehicles.

We had a very enjoyable time.
---
Other Pages Of Interest
---
Disclaimer
The facts presented on this website are based on my best guesses and my substantially faulty geezer memory. The opinions expressed herein are strictly those of the author and are protected by the U.S. Constitution. Probably.
Spelling, punctuation and syntax errors are cheerfully repaired when I find them; grudgingly fixed when you do.
If I have slandered any brands of automobiles, either expressly or inadvertently, they're most likely crap cars and deserve it. Automobile manufacturers should be aware that they always have the option of trying to change my mind by providing me with vehicles to test drive.
If I have slandered any people or corporations, either expressly or inadvertently, they should buy me strong drinks (and an expensive meal) and try to prove to me that they're not the jerks I've portrayed them to be. If you're buying, I'm willing to listen.
Don't be shy - try a bribe. It might help.
---