Wednesday June 30, 2004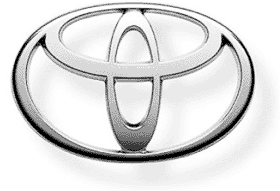 Hyped Hybrid: AutoWeek tested the Toyota Prius hybrid and found it to have mediocre braking and handling due to its very skinny tires.
AW reported gas mileage of 42-43 mpg not the 60-plus bandied about by the EPA. The Wall Street Journal reports that dealers are getting a $5-6,000 Gouge over list price.
For that kind of money, you can buy a lot of gasoline for, say, a conventional Honda Civic which gets pretty good mileage and has very good handling and braking.
Driving Large: A 13-year-old German boy took a joyride in his father's 40-ton truck, driving it for 50 miles before police stopped him. The previous month, he took a fire engine out for a spin.
Book Report: 'Big Russ and Me: Father and Son - Lessons of Life.' Tim Russert, host of NBC's Meet The Press, has penned a tribute to his dad, Big Russ. His father grew up poor, survived a plane crash in World War II and, later, supported his wife and four children by working at two jobs for thirty years. The book offers well-deserved praise from a son to his dad. The problem is ... (more >>>)
Socialism from Democrats: Hillary Clinton told several hundred supporters to expect more taxes if Democrats win in November.
"Many of you are well enough off that ... the tax cuts may have helped you," Sen. Clinton said. "We're saying that for America to get back on track, we're probably going to cut that short and not give it to you. We're going to take things away from you on behalf of the common good." This last sentence sounds like a quote from Lenin. Or Karl Marx.
Pay closer attention, Hillary - America is already "back on track." Or, as Andrew Sullivan said of the Clintons: "They know far better than you do how you should spend your money. Because they are morally better people than you are."
---
Tuesday June 29, 2004
Deere John: One of my car buddies - a former city dweller, who now owns a gentleman's estate with acreage (cue up the 'Green Acres' theme) - has suffered with continuing problems with his John Deere 38 STX tractor.
Purchased new five years ago, the beast has presented almost every problem imaginable, including a bad carburetor, broken bagger, burned-out electrical switches, seat-mounting bracket failure, bad welds, fractured mower blades that punched a hole in the deck and more. His dealer never seems to have parts in stock and they take weeks to arrive. My friend writes: "I service it, I follow the owner's manual religiously - change the oil, filters, grease it and I don't beat it. I had my Gravely tractor for 17 years and never had such problems." He refers to the lemon as his 'John F. Deere.' You can imagine what the 'F' stands for. (If you can't, ask Dick Cheney.)
My friend's latest report: "While mowing, the JFD's hood fell off! Spontaneously - without being hit, bent or otherwise abused. Made of cheap plastic, it fractured right where the mounting screws are. My repair consists of a tight-fitting black rubber strap over the hood, just like the 1950s Austin Healeys had. Now it's easier to remove the whole damn hood to fill the tank with gasoline, check the oil or change the spark plug. I can now hallucinate about early Healeys as I motor about the estate, cutting grass and protecting the Manse against the Barbarian Insects."
I suggested that he write a book like Clinton did - only about his tractor. Title it: 'My Deere Life.' Maybe people will buy it by mistake, thinking it's Slick Willie's tome. He might make enough money to buy a new Gravely.
By the way, as soon as Clinton's massive missive hits the used-book market, I plan to buy a copy. Then I'll shrink wrap it and use it as a wheel chock!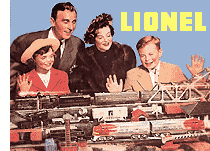 Derailment: Union Pacific is suing model train manufacturers in an attempt to collect royalties for every railroad name in its portfolio, including many long-gone roadnames, like the Denver & Rio Grande and the Missouri-Kansas-Texas (Katy Line).
UP has already filed suit against Lionel (O-gauge) and Athern (HO-gauge), causing much ill will toward Union Pacific from train hobbyists. UP admits that the royalty payments will not cover UP's costs of administration and enforcement.
This stupid move is further proof that there are too many corporate lawyers with not enough to do.
Surprising Employment Fact: Overstock.com is now the biggest employer in Afghanistan with more than 1,500 workers. Prior to Overstock's arrival, the country's largest employer was a brick factory in the Western city of Herat, which had about 400 workers.
---
Monday June 28, 2004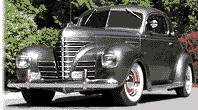 Car Sightings: Lots of great cars were traveling the highways this warm, sunny weekend. Best one spotted - a bright red 1940 Ford Deluxe coupe headed in the opposite direction. Its driver was eyeballing my '39 Plymouth P-8 Deluxe coupe as I waved and gave him a thumbs up. Summer fun!
Happy Anniversary: Were my mom and dad alive today, they'd have been married for 63 years. God bless them.
Poor Service: As I get older and grumpier, I am less tolerant of bad customer service. Last Monday, our morning paper failed to appear. I called the circulation desk and they said, "Oops. Your carrier ran out. We'll deliver a copy with Tuesday's paper." "No you won't," said I. "You'll bring one now." I gave them two hours to either put Monday's paper in my hands or refund the balance of our subscription. A copy mysteriously appeared on our front stoop an hour later.
But the newspaper is now on thin ice with us because they tried to weasel out of their obligation. And ... thanks to television and the internet, we can get along very well without them. One reads that papers are whining about declining circulation. With this kind of service, no wonder it's dropping. Morons.
The same day, I called a roof cleaning service to have our cedar-shake roof pressure-washed and treated. I was asked a lot of questions - almost crossing the line between good info-gathering and nosy boorishness. "We'll call you right back to set up an appointment." They didn't, so I called again three days later. They said, "We'll call back this afternoon to set up an appointment. For sure."
And never did. This firm came highly-recommended by our landscaper but, I not only hired another roof-cleaner, I called the referrer back and recounted my experience.
Now the firm has not only lost my business, they've lost a bountiful source of referrals. Morons.
Business Lesson: The first step in good customer service is to actually do what you say you're going to do. Deliver the paper. Return phone calls. How hard can it be? Too hard for some, apparently. These are probably the same people who complain about how lousy business conditions are and blame George Bush. Morons.
---
Saturday June 26, 2004
My culinary praise of Burgerville yesterday reminded me that America is not a monotonous, sustenance-regimented country - no dietary desert, carpeted wall-to-wall with McDonalds, Pizza Huts and Olive Gardens. Rather, we are a delectably diversified nation, full of tasty, interesting regional mini-chains, run by successful entrepreneurs who carefully supervise a limited number of dining locations.
In Colorado, there is a retro-diner chain: Gunther Toody's.
Gunther Toody was the name of the character in 'Car 54, Where Are You?,' a forgettable 1960s TV series. Gunther, a policeman who played Fred Gwynne's partner, was the one who always said, "Ooooh! Ooooh!!" The same actor played a grape in Fruit-of-the-Loom commercials, reciting the same line: "Ooooh! Ooooh!!" (Talk about typecasting!)
Anyway, the diner was great, the waitresses were 'in-character,' the decor was amusing and '50s and early-'60s songs played in the background. The door to the men's room had 'Men' on the outside, but read 'Women' on the inside, causing a moment of panic as one prepared to leave. My wife reported that the ladies' room was similarly marked but there was a sign over the ladies' room mirror: "He's Not Worth It."
Toody's offered 'Elvis Fries' - French fries with bacon and cheese mixed in, then totally smothered in country gravy. We didn't try them. The food we did order was outstanding - best diner food ever!
While working for Rohm & Haas Co. some thirty years ago, I had a ditzy secretary, Miki. Whenever she was excited or upset she'd exclaim: "Ooooh! Ooooh!!" I used to tell people that she was Gunther Toody's illegitimate daughter.
The Miraculous Power of Dogs: "A Canadian man, driving a car packed with weapons and ammunition, was intent on killing as many people as possible in a Toronto neighborhood but gave up the plan at the last minute when he encountered a friendly dog, police said." That's why I like dogs.
Quote of the Weekend is from John Podhoretz of the New York Post about Clinton's book: "'My Life' is just too long and my life is too short."
---
Friday June 25, 2004
Walla-Walla Madness: If you live in the Pacific Northwest, get thee to a Burgerville with all haste. It's Walla-Walla Days and the battered, fried Walla-Walla onion rings and Walla-Walla Cheeseburgers are pure heaven. My wife and I just dined at the local Burgerville.
We'll go back again before the Walla-Wallas are gone.
Future Problem: Peter Egan, one of Road & Track's best writers, tackles the future dilemma of restoring today's technology-laden cars. The more complex a car becomes, the more difficult and expensive it becomes to put back on the road.
And who will make replacement microchips in 2050 for a 1993 Honda Civic?
Consumer Reports has issued its Annual Car Satisfaction Ratings based on over 226,000 owner responses. CR asked subscribers whether they would buy that model again, considering its price, performance, comfort, and reliability.
Most satisfying models included the Mini Cooper, Toyota Prius and Avalon, Honda Civic and Accord and, in the luxury class, Lexus LS430. Least satisfying cars included Hyundai Accent, Nissan Sentra and Chevrolet Cavalier.
Doting Dad: An Indian steel tycoon reportedly paid $60 million for his daughter's wedding - a six-day bash for 1,500 guests in France's most sumptuous settings, including Versailles.
Cyber-Faith: Experts say use of the Internet for religious purposes may rival that of popular online activities such as dating or shopping.
Good Cancer News: The 'Annual Report to the Nation on the Status of Cancer, 1975-2001,' finds overall observed cancer incidence rates dropped on average one-half percent per year from 1991 to 2001. Death rates from all cancers combined fell 1.1 percent per year from 1993 to 2001.
Quote of the Day is from Shelby Metcalf, basketball coach at Texas A&M, recounting what he told a player who received four Fs and one D: "Son, looks to me like you're spending too much time on one subject."
---
Thursday June 24, 2004
From the 'Hell Freezes Over' file of AutoExtremist.com: "Auto enthusiasts should be thrilled to learn that there will be a BMW minivan in the 2007 model year and that Porsche will have its $100,000-plus "four-door coupe" (using Cayenne running gear) in the market by 2009."
If you've ever attended any of my marketing workshops, you'll recognize these as two textbook examples of 'Brand Dilution.' That's the stage preceding 'Circling the Bowl.'
More from AutoExtremist: "Hummer dealers are offering highly attractive, zero down, 24-month leases to clear out sky-high inventories of the now-stagnant H2." The bloom is off the rose - the big, blocky rose, that is.
Mexi-Hemi: Chrysler planning to boost production of Hemi V8 engines at its Saltillo, Mexico plant.

Minivan Minisales: Toyota dealers have enough Sienna minivans for about 14 days of sales. Ford dealers have a 92-day supply of the Ford Freestar and 245 days worth of the Mercury Monterey. Ouch.
The Oakville, Canada Ford plant that makes those minivans has been shut down at least three weeks this year because of slow sales.
Onion Headline: 'Jeff Gordon Never Gets Tired Of Seeing Face On Cheap Plastic Crap.'
Trust No One; Measure Everything: Steve Antler (aka - Econopundit) writes: "Each year, advertising rates have gone up as the demonstrable effectiveness of display advertising has gone down. I look forward eagerly to the day we can kiss newspaper display advertising goodbye permanently, and devote our full advertising budget to the internet."
I am sympathetic to Steve's viewpoint, although, personally, I would have substituted 'phone book' for 'newspaper' as the advertising arch-villain. For over twenty years, I've been telling clients that they must ruthlessly record results to measure the effectiveness of ads - in any and all media. And never believe the hype of media salespeople.
Make your own decisions; spend money wisely.
Buh-Bye: The venerable Comdex convention, which for nearly 25 years showcased the latest and greatest in high tech in Las Vegas every November, is canceling this year's show. During the tech boom, Comdex lured more than 200,000 people and filled more than 1.2 million square feet.
I remember going there the '80s, when Comdex was bigger than the Consumer Electronics Show, rooms were almost impossible to get; cab waits were two hours to/from the LV airport, women had big hair and wore shoulder pads and all those GM rental cars looked identical.
Felony In Progress: A Democratic group crucial to John Kerry's presidential campaign has paid felons - some convicted of sex offenses, assault and burglary - to conduct door-to-door voter registration drives in at least three election swing states.
Parody Headline: 'SpaceShipOne Pilot Glimpses Edge of Clinton Book Hype.' From Scrappleface: "Mike Melvill, the world's first private-industry astronaut, said today that as SpaceShipOne reached the zenith of its 62-mile high space flight, he caught a glimpse of the upper edge of the hype surrounding former President Bill Clinton's new memoir, My Life."
For Serious Simpsons Fans: The Singsons
---
Wednesday June 23, 2004
'My Life': Monday's Daily Show featured a clip of Bill Clinton on '60 Minutes': "I think if Ken Starr didn't run the investigation, I would have confessed."
Anchor Jon Stewart commented: "Let me get this straight ... if you weren't investigated, then you would have come clean? That's what I love about Clinton - he has the highest integrity when the situation is at its most hypothetical."
Stewart also noted that the weighty book was "heavy enough to tear through NPR canvas tote bags."
Bizarre Headline of the Week: "Cow in police custody linked to headless chicken case."
Two Buck Chuck is the nickname for Charles Shaw wine - a product of a convicted felon (for wine fraud!) named Franzia (from Franzia box wine/dreck fame) - according special segment aired in January on ABC's 20/20.
Charles Shaw is available exclusively at Trader Joe's for $1.99 per bottle - in California. (Around here it costs a dollar more - Three Buck Chuck.) It has tested well against wines costing twenty times as much. I find the Merlot tasty but slightly watery. But for three bucks, it's not bad.
Charles Shaw Wines used to be a very upscale winery. But the real Charles Shaw lost the rights to the name in a nasty divorce; the ex-wife later went broke and Franzia picked up the name cheap at a bankruptcy sale. Needless to say the real Charles Shaw, who appeared on 20/20 and appeared to be a patrician, Napa Valley wine-snob, seemed quite distressed about the use of his name.
Now the San Francisco Chronicle has written about it: "The massive Central Valley facility where Two Buck Chuck is made feels more like an auto plant than a winery. Three hundred refrigerated storage tanks tower four stories high next to Bronco Wine Co.'s parking lot. The adjacent crush pad is equipped with traffic lights at each of seven stations to direct the trucks that work all day and all night during harvest, fetching machine-harvested grapes from around the state. The winery, in Ceres, south of Modesto, produces 10 million cases a year."
---
Tuesday June 22, 2004
Pimp My Ride: "Chrysler executives are wincing at the sight of 1970s-style vinyl roofs on new Chrysler 300s. While every vinyl roof installed sends another Detroit designer into a hyperventilating fit, consumers are keeping the tradition alive and making their own decisions about what's classy and what's not."
Hey, it's a free country.
I'm no fan of vinyl roofs but, in my opinion, many of those "designers" shouldn't be so quick to throw stones. Some of their creations are nothing to write home about. And not everyone likes the Chrysler 300; here's a comment posted on the web: "The new 300 sedan looks just like one of those hard rubber toy cars from the early '50s."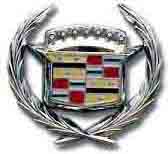 Hot Caddy: Reportedly, Cadillac is planning to make an XLR-V convertible with a supercharged Northstar V-8 engine. It will have 400 horsepower, a unique hood, 10-spoke wheels, high-performance tires and will go on sale as a 2006 or early 2007 model.
Cadillac also wants to enter the so-called 'premium small' segment in Europe to compete against cars such as Audi's A3 and 3-Series BMW but it is not planning to bring such a car to the US.
A Saabillac, perhaps?
V-8 Acura: Honda is developing a new V-8 engine for use in a premium Acura sedan, the new NSX and possibly the MDX. Acura needs a larger sedan with a V-8 engine in order to compete with top-tier luxury manufacturers such as Mercedes-Benz, Lexus and BMW.
Old Clocks: James Lileks writes: "The loss of the ticking clock is one of the fine achievements of modern life; the tick is an anachronism, a throwback, and perhaps it's telling that the only place you ever hear it these days is on '60 Minutes,' a show staffed by the CBS news gerontocracy."
---
Monday June 21, 2004
Thunderbird Surprise: One of my car buddies got an unexpected visit from a local friend-of-a-friend who wanted to show off his new Thunderbird. He reports that the guy paid a $5,000 premium for it. (Surprising, because there's such a glut that new T'Birds are usually discounted $5,000 or more, I'm told. Prices for 2002-3 models are $20-28,000, depending on condition.)
The guy also admitted to having "problems with the car." And hinted that he had his car is for sale.
My buddy's wife rode in it and "thought the seats were poor - no support.
Surprisingly, the T-bird rattled a bit" as well. In January, I sat in one in a showroom. You sit low on flat, unsupportive seats. While there was adequate headroom (barely), my eyes were staring directly at the sun visors. The windshield is cut much too low.
Nice style; bad design. Sad, because of What Might have Been. But Ford mucked it up.
The Rich Are Different. Quote from Daniel Howes (Detroit News): "Ninety percent of the people who pay an average of $235,000 for a Bentley Arnage pay cash."
Positive Thoughts: David Horowitz writes: "As wars go, the conflict in Iraq was (and is) as good as it gets. A three-week military campaign with minimal casualties, 25 million people liberated from one of the most sadistic tyrants of modern times, the establishment of a military and intelligence base in the heart of the terrorist world. The war has had enormous beneficial effects with minimal negative consequences. A terrible tyrant was taken down. The filling of mass graves with 300,000 corpses were stopped. Plastic shredders for human beings were deactivated. Prisons for four to twelve year-olds were closed. A democratic constitution has been drafted. Two-thirds of al-Qaeda's leadership is gone. There hasn't been a terrorist attack in America in more than two and a half years, something no one would have predicted after 9/11. By any objective standard, the Bush war on terror is a triumph."
Common Sense On Terrorism: Frank J. writes in his 6/18 blog: "The different sides on the debate about terror reminds me of a parody article from The Onion book, 'Our Dumb Century.' It was headlined: 'Campaign '80.'""
** Jimmy Carter: "Let's Talk Better Gas Mileage."

** Ronald Reagan: "Kill the Bastards."
** Which Message Will Resonate with Voters? **
Even in parody, Reagan had the right idea. These people want us dead, and we don't need to try and win them over. We need to kill them. Some will say that will only create more bin Laden's. Fine. We'll kill them, too. Believe me, at some point they will run out."
Good Bet: Ladbrokes of London placed odds of 8 to 11 on a Bush victory, meaning the bookies think the Republican president is slightly more likely to win in November.
The Adventures of Admiral Oldsmobile: The opening night of next month's Democratic convention in Boston is set to feature an emotional party tribute to hometown hero Ted Kennedy, who has served in office longer than every other senator but one.
Guess no one at the Democratic National Committee took a close look at the calendar: That July 26 salute to Teddy just happens to coincide with ... the 35th anniversary of Ted Kennedy pleading guilty to leaving the scene of the crime at Chappaquiddick.
Guten Tag, Mein Hair: German women are Europe's most hairy, according to a survey by razor manufacturer Wilkinson. British women are the least hairy. The survey found British girls are the ones who undertake the most hair removal, with more than 93% saying they use razors before wearing skirts and shorts for the summer. Germans fell way behind with just 40% saying they regularly shaved.
Slut Update: Jonah Goldberg writes: "She was in the pages of Playboy, published her own book on sex and kissed Britney Spears in a live stage performance, but Madonna (who now wants to be called Esther) tells ABC News' '20/20' she may be through with propelling her celebrity with sex. What courage! ... A 45-year-old mother of two has decided to stop using sex as a publicity tool. Isn't this a little like Saddam Hussein declaring now that he will abide by all U.N. sanctions?"
---
Saturday June 19, 2004
Father's Day: I'm taking the weekend off to enjoy the company of my children and grandson. You'll find my thoughts about dads posted here.
---
Friday June 18, 2004
My Eternal Gratitude to my wonderful wife who, as of today, has been married to me for 38 years.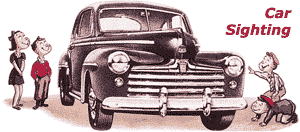 Car Sightings: It's sunny and warm around here and the roads are full of cool cars. Spotted a sharp Prowler roadster in sparkling Orange Pearlcoat. It's a shame about the Prowler; it was supposed to be the halo car for a soon-to-be reinvigorated Plymouth line.
Then the Germans took over the company and axed the brand. So it was renamed the Chrysler Prowler. (The PT Cruiser was originally going to be a Plymouth product, too.)
The original Prowler showcar had a retractable metal hardtop; unfortunately, the production version was soft top only. It could have used a rumbling V-8 engine and better ergonomics, too. Nevertheless, the Prowler is a striking design and the only production hot rod that actually looked like one. Cool car.
Speaking of cool cars, I got my first in-person view of a Cadillac XLR roadster on the road. It does have a retractable hardtop. While I generally don't like Cadillac's new, fiercely-squared-off look, it appears just-plain righteous on this wide, low-slung machine. At almost $80,000, the XLR would be an expensive purchase, though. I don't have a fundamental problem buying high-priced cars; I just want to wait until the Dow passes 20,000. Then I'll visit a Cadillac dealer and give the XLR a test drive.
James Lileks rants about windshield washer fluid. My feelings toward the liquid are generally benign. I buy whatever blue stuff is on sale; all the methanol-containing, non-ammonia brands seem to work equally well for me. It's so easy to do now; just pop the cap and pour it in.
Unlike our 1960s-era Volkswagen Beetles, where one had to depressurize the holding tank, pour in the washer fluid and then repressurize the tank with compressed air. Often, the air pressure would maddeningly disappear before the vessel ran out of fluid. Usually, the blow-molded polyethylene tank would burst every couple of years or so, providing a fairly predictable revenue stream for VW's Parts Department.
Several times a year, I apply Rain-X to the windshields of our cars. It makes the water on the glass 'bead up' and cuts down on wiper blade noise and strain. I've been using Rain-X for 25 years and really like it. Andy Rooney once proclaimed it a "useless product" but what the hell does he know - about anything? A senile, cantankerous old goat.
Although, one of my car buddies claims that Rain-X reacted with his ammonia washer fluid and instantly rendered his windshield opaque. And he also doesn't think much of Rain-X's orange-colored windshield washer fluid, either.
Expensive Hide: A road test of the 2004 Porsche Cayenne S mentions that the "optional leather seat package costs $3,200." Leather optional? On an ultra-luxury SUV?! Has Porsche no shame?! Tester Paul Lienert also reports that the cabin is "not as ritzy as VW Touareg." Which costs a lot less than its uppity Cayenne cousin.
Senile Brands: In Sarasota, Florida, an 89-year-old man stomped on the gas pedal instead of the brake, sending his Cadillac Catera across the street in reverse and into the plate-glass window of a bank building. What makes this incident unique is that the brand of car involved was not a Mercury Grand Marquis or Buick Park Avenue.
Boom! Larry Kudlow writes: "This is a remarkable comeback for the American economy. Owing to the post-tax-cut surge of investment funding for business expansion, 1.4 million new jobs have been created over the past nine months. As a result of new job creation, personal incomes have grown 5.7 percent over the past 12 months. Wage and salary income has increased 4.8 percent. After-tax, after-inflation disposable income has climbed 4.3 percent."
Discounted President: Clinton will be dropping in at a Costco store (in Issaquah, Washington) on June 30 to promote his book.
Dependable: An embarrassing-but-real photograph of Larry King's garbage has been pulled from an 'art exhibit' because it shows a box of Depends adult diapers among the detritus of the 70 year-old talk show host. (hat tip - Page Six)
Slam Dunk: Anchorage will host a series of lectures, workshops and public forums on the subject of bullying.
A one-time fee of $10 gains admittance to all lectures.
Of course, if you beat the living #$@# out of the folks manning the registration table, you could probably get in for free.
Doggone Factual: German designer Hildegard Bergbauer is now producing lederhosen for dogs. She also makes Tyrolean mountain hats and rainwear for canines.
Money Quote - from 'The Daily Show': "The gay and lesbian travel market is estimated to be over $54 billion. That's over 18 billion three-dollar bills."
---
Thursday June 17, 2004
Too Much of a Good Thing: Legendary auto scribe, Jerry Flint, asks: "Is Detroit Power Crazy?" My two cents: I've driven slow cars and fast cars and, to me, anything that takes more than ten seconds to get from 0 to 60 mph is too slow. We now own three cars - all of them will do it in 8 or less.
In the past, I've owned cars that would hit sixty in less than six seconds but my current stable have very adequate acceleration for me. But ... this is America and, if you want to get to 60 in 4 seconds, you're free to do so. But don't whine about the cost if you're only getting 12 mpg on Premium gas.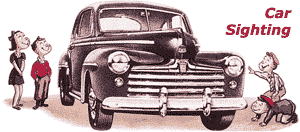 Car Sightings: Saw a silver Ferrari 360 Modena coupe lumbering through Brush Prairie, WA. (It may have been the first one that ever drove through that little burg and is probably worth more than the entire town.) Very low and wide - nice. Ferraris once were so swoopy compared with stodgy contemporary cars that they really stood out. Now that lots of coupes have sleek lines, Ferraris make less of a statement.
I also saw two Volkswagen Things - in two different locations. I hadn't seen a Jeep-like Thing in years. They were terrible cars, I'm told.
At least a couple of them apparently still survive in the Pacific Northwest.
Scrappleface Parody: Rejecting a call from Massachusetts Gov. Mitt Romney to resign from the U.S. Senate, John Forbes Kerry said that missing 87 percent of Senate votes in 2004 has "not diminished my effectiveness in the least. If you examine my 16-year record in the Senate, you'll see that I'm just as effective when I'm not there as I was when I was there."
Onion Headline: "Michael Moore Kicking Self For Not Filming Last 600 Trips To McDonald's." Ha! More like 6,000.
Sounds Like Onion Headline But It's Real: El Paso, Texas Named Sweatiest U.S. City. (That's sweatiest, not sweetest!)
Good Times: The U.S. jobs picture continues to look better, says the Federal Reserve. Potentially worrisome wage pressures and consumer prices appear tame.
Fine Old English: Linguists have traced some of Americans' favorite four-letter words back to the 11th century. In those days, women's breasts were variously referred to as "apple dumplin' shop" and "Cupid's kettle drums!"
---
Wednesday June 16, 2004
Plastic Tires? Amerityre, a Nevada firm, is experimenting with making tires out of polyurethane. Prototypes have now passed some basic federal safety standards. News articles claim that "some questions remain, including the tire's ability to hold traction on wet roads and resist flat-spotting during a sudden stop."
Back in the 1960s, Uniroyal experimented with urethane tires. They had zero traction in the rain and, if they picked up the slightest amount of road oil, they would slip and spin until they burned up.
I don't expect to see urethane tires on the road anytime soon.
Free-Fall: Depreciation is a fact of life for any new car owner, but purchasers of the super-luxury Rolls-Royce Phantom could be in for a shock - it sheds value at a rate of $1,700 every week. The Phantom loses more than half its $460,000-dollar purchase price in three years.
Origin Unimportant: A new study by Marketing Support Inc., a brand-marketing agency, reports that 72 percent of U.S. shoppers don't check to see where products are made before they buy them, and 57 percent say that even if they knew a product was not made in the United States, it would have little or no effect on their purchasing decision.
Capitalism Works: "North America is turning out more millionaires than the rest of the world combined. The US and Canada added more millionaires last year than Europe, Asia, Latin America, and the Middle East, combined. Europe's number of millionaires barely increased which can partly "be attributed to the more restrictive European income-tax policies which impeded personal wealth accumulation." (hat tip - Instapundit.)
United What?! A book by three current and former U.N. employees about peacekeeping operations portrays wild parties with alcohol and drugs, and convicts and mental-asylum inmates passing as soldiers.
Drink A Toast: A regular but moderate alcohol intake - a drink a day for women and two drinks a day for men - is a good deal better for your health than being a teetotaler, research has confirmed.
---
Tuesday June 15, 2004
Yo! Yo! MTV! Pimp My Head! NY Post gossip columnist Cindy Adams reports that, while covering the Reagan funeral in D.C.,"Sam Donaldson told the hair and makeup people his toupee needed extra reinforcement. He heard there were 45 mph wind gusts on the roof."
Food Fight! In an article titled 'They're Coming for Your Shrimp,' Neil Hrab writes: "H.L. Mencken famously defined Puritanism as "the haunting fear that someone, somewhere, may be happy." Yesterday's puritans worried about their neighbors enjoying alcohol or gambling too much. Today's neo-Puritan activists fear that someone, somewhere, may be enjoying ... a plate of shrimp."
What's next? Making Sea Monkeys (aka - brine shrimp) an endangered species?!
Book Report: 'The End of Detroit: How the Big Three Lost Their Grip on the American Car Market' by Micheline Maynard. Soon to be available in paperback; I got the hardcover edition as a Christmas present.
This excellent book discusses all of the things my friends and I always complain about - American cars are used to be great; now they're getting beaten in every way and in almost every market by ultra-reliable Japanese vehicles. Of course ... (more >>>)
Spiritual Hunger: A number of articles have been written on whether the Catholic Church should/would withhold Communion from those who do not wholly support its views. A recent example is from the Associated Press: "Bishops disagree on whether Catholic lawmakers at odds with church teaching should receive the sacrament. They've sparked a national debate on the issue as a Catholic who supports abortion rights - John Kerry - is poised to become the Democratic nominee for president."
Last Sunday was the Catholic feast day of Corpus Christi; the Gospel reading was about the miracle of loaves and fishes. In the story, Jesus fed an audience of hungry people. He didn't ask them to take an oath or pass a 'litmus test.' That they showed up to hear Him preach was, apparently, good enough for Jesus.
In an era of declining Catholicism in the U.S. - instead of driving people away - shouldn't the Bishops simply follow the role of the Savior and welcome the spiritually hungry into God's House and pray that the miracle of His Grace will fill their emptiness?
Winner - State-the-Obvious Award: Angry Men Shouldn't Drink. Men with high levels of trait anger and low levels of anger control should not drink alcohol, says a study in the June issue of Alcoholism: Clinical and Experimental Research.
---
Monday June 14, 2004
Too Many Choices? AutoPacific is predicting an American car market that has so many different models it's "atomized." AutoPacific projects that, by 2009, U.S. car buyers will be able to choose from 274 different individual nameplates. In 1947, the choice was limited to 33 nameplates.
Car Sighting: Spotted a silver Porsche Cayenne SUV over the weekend. It has a very awkward-looking and inappropriate front end - the equivalent putting a Freightliner grille on a Mazda Miata. The turbo model costs over $90,000.
George Kacher, a well-known European journalist, offers this assessment of it: "Teaching a bear how to dance does not automatically qualify it for the lead role in Swan Lake. The Cayenne is a great 4WD and a disappointing Porsche."
My advice: Buy a VW Toureg or Honda Pilot and put the rest in a no-load mutual fund.
Mo' Hemi: Chrysler plans to offer a bigger Hemi V-8 engine: "The automaker is expected to build a higher-output, 6.1-liter Hemi to join the current 5.7-liter model, now available in Dodge pickups and SUVs as well as the Chrysler 300 Series sedan. As many as half of buyers choose the Hemi in those vehicles."
Freudian Four-Wheel Drift: My Adobe spell-checker keeps trying to change Hemi to Homo.
Car Quote: Speaking about California's tough push for fuel and environmental regulations, Ford chairman Bill Ford remarked: "In California, people used to write songs about T-Birds and Corvettes. Today, they write regulations."
Ho-Hum Department: Segway, The Little Human Transporter That Couldn't, is trying to revive sales by offering a second color - Midnight Blue - that the company says "radiates cool."
Two Worries: There are many things in life to be concerned about. Right now I'm worried about two possible events which would have enormous consequences: a China crash and the fall of the House of Saud. About the former, Chris Lingle writes: "China's high economic growth rates are based upon flows of cheap credit and growing public-sector borrowing that has prompted an investment bubble and instability in prices. Economic euphoria seems to induce people to forget that busts follow booms in the way that night follows day."
Meanwhile, the overthrow of the Saudi regime remains Al-Qaeda's number one priority. After all, the terrorist organization was set up by Osama Bin Laden in an attempt to rid the country of American military personnel stationed in the kingdom.
Robert Baer, a former CIA field director and author of The Fall of the House of Saud, had said: "Saudi oil is controlled by an increasingly bankrupt, criminal, dysfunctional and out-of-touch royal family that is hated by the people it rules. If an election were held today (in Saudi Arabia) Osama bin Laden would be elected in a landslide."
---
Saturday June 12, 2004
Final Thoughts on the Funeral: Never let it be said that America doesn't know how to do funerals. We gave Ronnie a great sendoff. The pageantry outdid the British, the clockwork precision surpassed the Germans and the intricacies and small memorable gestures trumped the Japanese. The National Cathedral was as stunningly elegant as anything seen on the other side of the Atlantic. And the week's televised images were chock full of American symbols - long, black Cadillacs, massive Lincoln Town Cars and a gigantic Boeing 747. All made in the good 'ol USA.
The eulogies were well done. I personally liked Margaret Thatcher's the best: "With the lever of patriotism, he lifted up the world." Baroness, you knocked the ball out of the park with that one! I also enjoyed former Canadian Prime Minister Brian Mulroney remarks as well. Especially his Irish humor. At the graveside service in California, Reagan's three children spoke with warmth and surprising eloquence.
America is a vast and diversified country. The funeral procession began Friday morning in East Coast drizzle, traveling formally through old, historic streets while passing stone and granite buildings. It concluded in sunny Southern California, an informal land of freeways, rolling hills and Spanish tiled roofs. The grand finale was God's Best Sunset over the Pacific.
It has been said that Ronald Reagan brought style back into the Presidency. Appropriately, he has now been sent off in style.
Final Rides: Watching the proceedings, I couldn't help but notice the black Cadillac hearses. Over the last 50 years or so, most hearses have been made from Cadillacs - in no small part, because Cadillac offers a special 'commercial vehicle platforms' to coachbuilders. The hearses in Reagan's funeral were probably made by either Superior or Eagle Coach. (I couldn't read the builder's chrome signature aft of the rear doors.)
Today's hearses present a challenge to the designer - how to take a modern, low-slung, aerodynamic vehicle and turn it into a tall box without making the whole thing look silly. (Hearses have high rooflines partly because of tradition and partly because some funeral directors want to stuff large floral arrangements in the same space as the casket for the ride to the cemetery.) The designers did a decent job on the current Cadillac design - officially known as the B9Q version of the Cadillac De Ville - a front-wheel driver with the Northstar V-8 engine. The De Ville model was redesigned in 2000 and the current Presidential armored limo is also based on it.
I think the best-looking hearses of all time are the ones based on the tall cars of the late 1930s, particularly Packards and LaSalles.
Final Quote: A well-known historian once said that you can't begin to write history for 40 to 50 years after an event - the details, consequences and context aren't really complete until that much time has passed.
Proof of this is the moronic remark made by 'noted' historian Arthur Schlesinger (who should have known better) in May, 1988: "A few years from now, I believe, Reaganism will seem a weird and improbable memory, a strange interlude of national hallucination, rather as the McCarthyism of the early 1950s and the youth rebellion of the late 1960s appear to us today."
Arthur couldn't have been more wrong. (hat tip - Andrew Sullivan)
Final Signs: Three of the many sad and terrible events are signifying that the end of the world is nigh: Ronald Reagan has died. Ray Charles has died. And 'Garfield: The Movie' is in theaters everywhere!
---
Friday June 11, 2004
Saab-No-More: Anita and Paul Lienert tested the Saab 9-2X wagon. It's not very Saab-like. " ... be prepared for compromises on this Japanese-built compact that is largely a derivative of the Subaru Impreza wagon. In fact, it has been derisively dubbed "Saab-aru," much to the chagrin of officials of the well-known European brand that is now owned by General Motors. It's more Subaru than Saab, though, so maybe it should be called Subar-aab."
For more on Saab, see my blog-posting on 5/27/04.
Definition of Irony: Credit-counseling company AmeriDebt, charged by federal regulators with using deceptive marketing to bilk hundreds of thousands of customers, has now filed for bankruptcy.
More Irony: On Wednesday, my wife and I watched the very moving ceremony at the Capital Rotunda. When the a capella group sang 'America the Beautiful' and got to the more obscure third verse, I said jokingly to my wife, "I don't know all the words; I only know the Ray Charles' version."
The very next day, sadly, Ray Charles was gone, too. A great performer. I particularly liked his 1950s blues songs like 'I Got A Woman.' Best Ray Charles story - apparently, he used to put the moves on the ladies in his backup group, The Raylettes. When interviewed, one remarked, "To be a Raylette, you've got to Let Ray."
By the way, Ray Charles performed 'America the Beautiful' at the 1984 Republican National Convention - and had the whole joint rockin'. Farewell, Mr. Charles, and God bless.
Ironic Headline: "Lawyer says Saddam tortured." Probably not enough.
Headline from TheOnion.com: 'Kerry Names 1969 Version Of Himself As Running Mate.' "Ending months of speculation, presidential hopeful Sen. John Kerry announced Tuesday that he has selected the young, vibrant, recently decorated war hero John Kerry as his running mate."
Economist Larry Kudlow explains how Ronald Reagan fixed an ailing America.
'The True Source of Islamic Terrorism' is the title of an insightful article posted at The American Thinker. My take is that when a culture reaches its peak in the first millennium and, in lieu of fixing the root causes of its decline, decides to nurse a 800 year-old grudges instead, that culture deserves nothing but contempt.
Consider this - last night we slept on sheets made in Israel. Purchased at Costco. It's interesting that Israel has always had a manufacturing economy while most of the Middle East makes almost nothing - they let foreigners pump their oil (for a price) and they do a little agriculture - figs, cotton and opium, I think. In contrast, Israel has built an economy based on something real. Legal. And exportable. Good for them!
Leaders from around the world are gathering in Washington for President Reagan's funeral on Friday. French President Jacques Chirac has been in Georgia all week for the G-8 summit, but says he is not staying for Friday's funeral. I guess he had to fly home to surrender to someone.
C-Span showed archival footage of Lyndon Johnson's 1973 funeral yesterday. A little-known fact - it was a very bloody ceremony. Sixteen people were badly slashed by the wide lapels on men's suits.
---
Thursday June 10, 2004
Fuso You! Those box-like Mitsubishi Fuso vans seem to be everywhere around here. Usually painted white. Delivering appliances. Or pallets of paint cans. Spewing diesel fumes as they dart in and out of traffic. They're so ubiquitous, they blend with the background, like a KFC, Arby's or fire hydrants. Now we learn that these things may be death traps!
Fuso commercial vehicles made by Mitsubishi Motors "are riddled with up to 93 more defects, which have already led to a number of traffic-accident injuries. Among the worst potential problems are fuel tanks and drive shafts detaching, parking brakes failing and steering wheels not working." Holy cow! Better give 'em lots of room on the road.
Old car prices are on the rise. Because the economy is improving, of course. At the Barrett-Jackson auction in February 2004, a '53 Corvette sold for over $210,000. And a custom, based on a '38 Lincoln Zephyr coupe, garnered $432,000. This seems crazy until you consider that last month Christie's auctioned Jackson Pollock's drip painting "No. 12, 1949" for $11.6 million and Sotheby's auctioned Picasso's "Boy With a Pipe" for a record $104.2 million.

Speaking of custom cars, I've been thinking about a custom car I used to see in my Northeast Philadelphia neighborhood when I was 10 years-old or so.
The car was a customized early-'50s red Cadillac convertible and was a rolling advertisement for the owner of Sam's Auto Body. It had vanity plates (a rare sight in those days): SAMS CAR. The rear of the car was like the GM LeSabre showcar with the center jet pod made from the bullet nose of a '50 Studebaker. At the time, I thought it was the world's coolest car. I wonder whatever happened to it? (permalink)
Quote of the Day - from the late Groucho Marx: "She got her good looks from her father. He's a plastic surgeon."
---
Wednesday June 9, 2004
Legendery Auto Guru ... (and one of the best car writers around) Jerry Flint writes: "In order to win back market share, Detroit needs better designs - and better quality and customer service." Amen, Jerry. Read the whole article.
Car Sightings: I didn't expect much as it was raining (sometimes hard) today, but I spotted a young Miss piloting a bronze and white 1959 Rambler Custom.
This car may have been manufactured even before her parents were born. Passed a petite Mercedes 230 SL two-seater with black soft top - vintage 1968 or so - on the I-5 freeway. Nice.
Ronald Reagan's profound and 'provocative' reach - as told by Natan Sharansky (Jerusalem Post): "In 1983, I was confined to an eight-by-ten-foot prison cell on the border of Siberia. My Soviet jailers gave me the privilege of reading the latest copy of Pravda. Splashed across the front page was a condemnation of President Ronald Reagan for having the temerity to call the Soviet Union an "evil empire." Tapping on walls and talking through toilets, word of Reagan's "provocation" quickly spread throughout the prison. We dissidents were ecstatic. Finally, the leader of the free world had spoken the truth - a truth that burned inside the heart of each and every one of us."
Amazing story. (Hat tip to Steve Antler, Econopundit.)
Coincidence or What? Ronald Reagan and Arnold Schwarzenegger - two former Hollywood actors - both beat incumbent Democratic governors with colors in their name: Pat Brown and Gray Davis.
---
Tuesday June 8, 2004

A 2005 Ford GT retro supercar broke the 200-mph barrier during testing at Nardo, Italy. The 550 horsepower, supercharged V-8-powered, mid-engined supercar hit 205 mph on the track. Production of the swoopy GT will start this summer.
it is priced at $150,000 but Dealer Gouging will undoubtedly add a substantial premium.
Car Sighting: Saw a jet black Hummer H2 lumbering down the road. It had chrome brush bars and chrome wheels. Still ugly.
Chrome on a Hummer does as much good as lipstick on a pig.
I wrote about Ronald Reagan ... on Saturday and mentioned the high inflation of the Carter Era. Here are some specifics. In 1978, the consumer price index went up 9%. In 1979, it went up 13.3%. In 1980, Carter's last year in office, 12.5%. In 1981, it dropped to 8.9% and averaged 3.6% for the remaining seven years of the Reagan presidency. Inflationary expectations, combined with monetary tightening by the Federal Reserve, caused interest rates to hit the highest levels in U.S. history.
By mid-1980, the prime rate was over 20 percent. Unsecured personal loans were actually cheaper at Household Finance Corporation than small business loans were at my local banks in those days. Reagan quickly put a stop to this madness. God bless him.
Market Boom! Kenneth L. Fisher writes: "Anticipating uncertainty, investors sour on stocks in the late spring of an election year, then turn bullish later. There's going to be a summer rally. While 2004's stock market has started off bleakly, abundant reason exists for optimism here and now. Stand your ground. Buy stocks. ... We're going to see a summer rally and positive continuation to year-end."
Quote of the Day is from the late, great Ronald Reagan: "A liberal's idea of getting tough on crime is to give out longer suspended sentences."
---
Monday June 7, 2004
Cruiser on Fire: The Associated Press reports: "DaimlerChrysler is recalling 438,391 PT Cruisers because fires can start under the hood, the National Highway Traffic Safety Administration said Friday. PT Cruisers from the 2001-2005 model years are involved in the recall." Apparently, a power-steering hose might rub against the cover of a transmission part, causing a leak of fluid that can catch fire.
James Lileks rants about overly-complex remote controls: "Today's remotes have more buttons than a Prussian lancer's dress uniform! Why, in my day remotes were the size of heirloom Bibles, and they had one button: on!"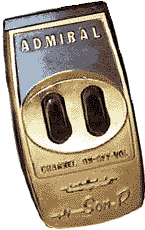 I first saw a remote control in 1960 at the home of my friend, Marty, in Philadelphia. His dad was a well-to-do psychiatrist and the family always had the latest cars and gadgets. Including an Admiral color television with a Son-R (sonar) remote control.
The handheld controller, with gold-tone finish and ivory buttons, could turn the television off or on, change any of the three available channels and adjust the volume to four different settings.
As creative, mischievous teenagers, we quickly found that a brass-finish, fabricated wire LP record album holder could, if the album separators were 'strummed' properly, create the sound necessary to change the channel and would override the signal from the Son-R.
We used this scientific discovery to torment Marty's younger sister whenever she had control of the remote. "Mom! Tell them to stop strumming the record rack! They're driving me nuts!"
Stock Boom: The Vanguard Advisor, an investment newsletter (paid subscription), commented: "The recent letter from the managers at Vanguard Asset Allocation, up 0.8% this year, is also quite bullish, ending with the note that, "now is still a great time to be aggressive with stocks." The fund's 80%/20% allocation to stocks over bonds is higher than its neutral benchmark of 65%/35% but not as aggressive as it was late last year when the managers had 90% of assets in equities.
The same issue had an interview with investment muse Abby Joseph Cohen who said, "We've moved back into a period in which we can expect more normal returns - let's call them low double-digit, which is certainly a lot better than a 1% cash return. We believe the best returns for calendar 2004 will probably be Japan and then the U.S."
Ken Fisher and Larry Kudlow are more optimistic, suggesting a further 20% rise in stocks. I hope so. I'm ready for a 12,000 Dow. Again.
Job Boom: The good times are back! The Associated Press reports: "Hiring surges in U.S. ... 1.1 million new jobs so far this year."
Too-Cutsey Name: "Around Wall Street, the talk is that the U.S. economy is not too hot, not too cool, but just right - the fabled 'Goldilocks' economy that means corporate profits can continue to grow, while inflation stays tame." Bad name choice; Goldilocks was eaten by a bear!
This reminds me of 'Open MRI' - another misleading moniker. Last year, I had one; it is far less 'open' than it sounds. I guess I had expected 'open' to mean resting in a hammock in a sunny, tranquil meadow, not laying on a metal table with a giant steel casting hanging over me - six inches from my nose.
Next time I'll gobble some Vicodin beforehand.
What are they drinking at that party, anyway? Well-known commentator and radio host Hugh Hewitt writes: "The Democratic Party has come unhinged. Yesterday, a gathering of liberal activists cheered George Soros' assertion that the prison abuse scandal was the equivalent of the attacks of 9/11, and that the war in Iraq had turned the United States into the equivalent of the perpetrators of those attacks."
Quote of the Day is from friend and fellow member of the Acrylic Fabrication Fraternity, Bill Gift: "If at first you don't succeed, then skydiving is not for you."
---
Ronald W. Reagan (1911-2004)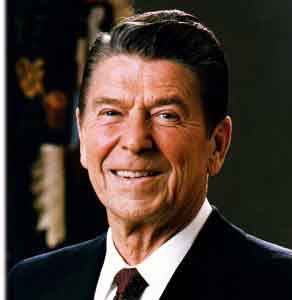 Requiescat In Pace. Ronald Reagan has died at age 93. He deserves our prayers of gratitude. My view is that President Reagan saved America.
By the end of the Carter Era, our country was devastated. Our currency was so devalued it was a joke. The stock market was back at the same levels of 14 years before. Inflation was out of control - business loan interest rates were well-above 20%.
Business conditions were stagnant and had been so for over five years with the gum-mint micromanaging (a Jimmy Carter trademark) in an attempt to keep the ship from sinking.
As a small business owner, I remember coming home from work exhausted after a 10-plus-hour, hot-as-hell, July 1979 day at my then-struggling manufacturing business, arriving just in time for the 6:00 pm Pacific time Oval Office lecture from a stern-faced Jimmy Carter - the one where he told us that everything was our fault (including the infamous 'Misery Index' - the sum of inflation rate and unemployment rate) because we had a Bad Attitude. At that moment, I became a Republican. And Ronald Reagan subsequently got my vote.
As President, Ronald Reagan and his staff moved quickly to fix America's mess. His initial moves threw this country into a steep recession (probably overdue anyway), but we recovered in the typical 18 months. By that time, inflation rates had fallen - and stayed down. The stock market took off in a recovery which continued (with the occasional hiccup) for the remainder of the 20th Century. ...(more >>>)
An appropriate quote for this sad day: "It is foolish and wrong to mourn the men who died. Rather we should thank God that such men lived." Gen. George S. Patton
---
Saturday June 5, 2004
I recently got a new cell phone. My old one, an Oki-made GTE model from 1994 - a dull black brick, was on its last legs, kept alive with parts scrounged from my daughter's old GTE. My new one is a small, sleek, rounded Motorola in silver and gray which emits an eerie blue light when activated.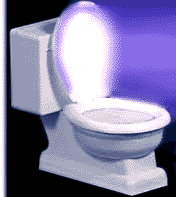 The blue light is identical to the light emitted by those germ-free toilet seats found in certain gas stations in the late 1940s-early '50s. The horseshoe-shaped seats were spring-loaded and retracted into a UFO-like, white-enameled sheetmetal cocoon when not in use - where they were exposed to a bright blue UV-lamp which "killed all germs."
The light leaked out the corners of the shroud, emitting a scary, toilet seat-shaped, ghostly blue glow. I was quite frightened of these devices as a small child and would refuse to use the toilet to the great annoyance of my parents: "Well, you said you had to 'go' and we made a special stop for you. Now you won't go?! Well, mister, you can just suffer and hold it until we get home." Which was fine with me; there were no blue toilet-ghosts in our home bathroom.
I was reminded of those toilet-ghosts every time I had to make copies of drawings on an Ozalid blueprinting machine when I was working as a mechanical engineer; a similar, strange blue light emitted from somewhere in the bowels of the copier.
The charger for my new phone is just a cord with a tiny little box at one end. My old phone had a docking station that looked like it was sized for jump-starting Soviet tanks. The phone company deactivated my old phone remotely (How the hell do they do that?!) and said that I should toss the old phone and charger - part of our throwaway culture. I didn't. Instead I gently committed their inert remains to the Special Drawer of Obsolete Electronic Items in my roll-top desk. The Drawer is starting to get full, however. Another useless collection which my wife will throw out after I'm dead. Shaking her head and muttering, "Why, in heaven's name, did he keep all this junk?"
Quote of the Weekend: Apathy and denial are two of the best qualities in lowering stress.
---
Friday June 4, 2004
As much as I seem to complain about today's cars, it's getting harder and harder to buy a really bad car in the U.S. these days. Daewoo and Yugo are out of business as brands; Fiat and Renault are no longer imported. Hyundai, Nissan and Kia are reportedly much improved. And even the godawful (but soon to be discontinued) Chevrolet Cavalier is better than its predecessor, the dreaded Chevette.
And even-better vehicles are probably headed our way.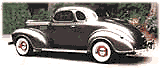 Feels like summer: It was sunny and 80 degrees today. Saw a freshly washed, silver Chrysler 300 with chrome wheels. Spectacular. The weather was similar yesterday when I had to go to FedEx, so I took my '39 Plymouth coupe.
There's something strange about using a 65-year-old vehicle to transport a document which would soon be traveling at 600+ mph aboard a modern jet plane. And tracked electronically.
Emmett Tyrell sings the praises of rail travel, especially the new Acela train.
I hope to ride on this baby someday. I always enjoyed traveling the same route in the old Metroliner, except when it broke down. Which, sadly, was often. The Acela is reliable ... and even cooler-looking than the Aerotrain.
'Improved' software and systems: Yesterday, I was carping about this very thing. On this very blog. Now, James Lileks laments the changeover at his workplace, "In came the new system, which we all love so much it's hard to keep employees from breaking into song right at their desks, several times a day. Well, not songs. More like yodeling. With one note instead of many. Technically, a scream, if you must."
Disney may sell its 335 retail stores to Children's Place Retail Stores. The Disney Stores have been a drag on Disney's earnings in recent quarters. "Analysts, who estimate the stores lose as much as $50 million a year, said the stores have suffered because Disney sold hundreds of licenses for its famed characters, flooding the market with merchandise that other retailers will often sell at a cheaper price than the company's own stores."
In other words, Disney is being run by morons. Knowlingly, my spell-check program keeps trying to change 'Disney' to 'Dismay'.
Page Six reports that the buzz is that Disney CEO Michael Eisner - they refer to him as "the Disney despot" - plans to step down at the end of the summer. He should.
I'm glad I sold my stock a few years ago. I wish I had done so in 1992 or thereabouts.
Boom! Economist Larry Kudlow writes: "The much-maligned factory sector is booming. Not rising. Not improving. Booming. New factory hiring has jumped to a 31-year high, the best since 1973. Of more than 400 industrial firms surveyed, 36 percent added workers in May, while just 7 percent had fewer workers."
Econopundit has a very interesting graph from US Bureau of Labor Statistics showing that, over a 40-plus year period, there is no correlation between 'outsourcing' (imports as a percent of GDP) and unemployment rate.
I must admit I got sucked in (if you'll pardon the pun) by all of the Giant Sucking Sound stories, but it appears that making stuff/doing things outside the U.S. does not have the dreaded effects that have been so loudly proclaimed by pundits. And various candidates for public office.
Life in Contemporary America is capsuled by the wise and witty Peggy Noonan: "If you smoke a cigarette on a beach in modern America you are harming the innocent. If you have a baby scraped from your womb, you are protecting your freedom. If you sell a pack of cigarettes to a 12-year-old boy you can be jailed, fined and sent to Guantanamo Bay with the other killers. If you sell a pack of contraceptives to a 12-year-old boy in modern America, you are socially responsible citizen."
A tip of the fedora to Dave Leggett at just-auto.com who gave this blog a very nice review. Thanks, Dave.
Be sure to visit Dave's blog - he offers a great perspective on the world auto market.
---
Thursday June 3, 2004
AutoExtremist.com reports: "According to The Wall Street Journal, the Center for Automotive Research at the University of Applied Sciences in Gelsenkirchen claims to have conducted the most comprehensive quality study ever done in Germany, and the results say that vehicles made by Porsche had 15.7 problems per 1,000 cars last year, with Porsche cars breaking down twice as often as the Japanese mass-market automobiles made by Mazda, which had the top rating in the study."
For the kind of Deutschesmarks they cost, Porsches should be flawless.
Decontented Minis coming? Dave Leggett reports: "Profit margins on the Mini are so razor thin (Deutsche Bank reckons Mini made not much more than $60 million profit last year on a turnover estimated at $3.4 billion – and that's with the Mini Cowley plant ... at full tilt) that BMW is said to be drawing up plans to make the next one substantially cheaper to build. That implies - at the very least - that something is not quite right on the pricing or spec of the current Mini."
Car sighting: I spotted a new Cadillac CTS - in a very hideous orange color - Metallic Rotting Pumpkin. For a while, I was traveling behind it. The dual exhaust pipes are impressively huge. The rear styling is ... 'striking' ... as in when a not-very-pretty woman gets a trendy hairdo and dresses expensively. (Think Barbra Streisand in the 1960s.)
When the Caddy slowed down to turn, I passed it and got a glimpse of the front end with the black, horizontally-slatted grille finished in a barbecue matte black. Revolting. (Think of a 1960s Ruth Buzzy after, say, a terribly disfiguring industrial accident.) Since GM is making lots of hay about how they're performance-testing the CTS at the Nürbergring in Germany, perhaps I should describe the car as 'Bütt-ügli!'
Boom!: "Top executives project a strengthening U.S. economy over the next six months with gains in employment, capital spending, and sales, according to a survey released Wednesday by the Business Roundtable."
Professional Managers of Your Money ... that's what mutual funds are supposed to be, right? In the balance sheet of the Oppenheimer Capital Income Fund, under the 'Liabilities' section, there's this entry ... Bank Overdraft - $1,547,622.
Hat tip to FundAlarm for this and the next item.
According to a Merrill Lynch 'Retirement Preparedness Survey', 56% of Americans will rely on personal savings or a contributory pension plan (such as a 401-k) as their primary source of retirement income ... the average survey respondent had accumulated only $51,000 for retirement, even though he or she was already 46 years old and earned $55,000 a year. "Upon retirement, survey respondents expect to withdraw a stunning 21% of their savings each year, but not to worry ... respondents expect their assets to grow by an average 22% per year, which would actually leave a surplus of 1% per year during retirement - just enough to buy a continuing supply of hallucinogens."
Having $46K in retirement funds is not, in itself alarming, as long as people keep working for another 20 years and keep adding to it. But, sadly, many won't do so and will spend their retirement years dining on cans of Alpo.
Responding to a threatened lawsuit from the ACLU, Los Angeles County agreed to remove a small cross from its seal. The cross symbolized the role of the missions in early California. The ACLU said it was a religious symbol. Hmmm ... so are angels. Does this mean that the ACLU will now demand that 'Los Angeles' rename itself?
In the Dallas Morning News, Rod Dreher asked, "Are the news media giving Americans an accurate picture of what's really going on in Iraq?"
Rod continues: "Not according to the American people, who say they've seen too many photos of Abu Ghraib prison abuses. A CBS News poll released on May 24 revealed that 61 percent of those polled believe the news media are spending too much time on the Abu Ghraib story. This jibes with what some of us on the editorial board have been hearing more and more: that average Americans believe the news media are obsessed with bad news from Iraq and aren't paying enough attention to the good things going on there. We decided to search photo wire service archives for the past month, looking for images of U.S. soldiers engaged in helping Iraqis instead of shooting at them." They were startled to discover that only one suitable photo had been on the wires in recent weeks. "This newspaper's photo department told me that if news photographers aren't shooting those pictures, it's because media back home aren't interested in those stories. Which justifies the reader complaints we've been hearing, does it not?"
Mac OS X is really great, says ex-Microsoft loyalist Jeff Reifman (who worked for Microsoft for 8 years as a technology manager): "... in the first five minutes on my new Mac, I was surfing the Internet, sending e-mail, and ripping a CD. OS X has been a breath of badly needed fresh air after Windows."
I couldn't agree more. I've had an iMac for three months now and I love it. My only complaints - the current versions of Adobe software are too complex and non-intuitive, compared with earlier versions. And the Dummies books aren't as helpful as they used to be.
Or, maybe I'm just getting older.
Headline from TheOnion.com: 'New 40-Gigabite iHOP Breakfast Platter Holds Up To 10,000 Pancakes'.
---
Wednesday June 2, 2004
And you think we've got it bad: From the UK ... "Petrol soared above £1 a litre ($6.98 per gallon) in some areas yesterday as retailers reacted to a surge in the oil price after terrorist attacks in Saudi Arabia. The AA said it knew of one garage in Blackpool charging £1.09 for a litre of unleaded fuel ($7.60/gal.). A Total station in Chelsea was charging 99.9p for unleaded and £1.12 for super unleaded ($7.81/gallon)." Wow! That's almost eight bucks a gallon.
Mercedes quality has been falling lately but this is a new low: "Mercedes-Benz is preparing to conduct the biggest product recall in its history - a development compounding its recent rash of quality problems. The recall is particularly sensitive for the revered automaker because it involves the Sensotronic advanced braking system that the German automaker introduced three years ago on E-Class and SL cars as a failsafe advancement "nothing short of a revolution."
A total of 680,000 Mercedes cars are being recalled worldwide, of which about 180,000 are in the U.S., according to the Wall Street Journal last week. The system's hydraulic tank can develop bubbles that cause braking failure, says the automaker, however no complaints have come from the U.S.
The brake recall could cost Mercedes about $30 million.
Iraq Perspective: Andrew Sullivan has written: "If someone had said in February 2003, that by June 2004, Saddam Hussein would have been removed from power and captured; that a diverse new government, including Shiites, Sunnis and Kurds, would be installed; that elections would be scheduled for January 2005; and that the liberation of a devastated country of 25 million in which everyone owns an AK-47 had been accomplished with an army of around 140,000 with a total casualty rate (including accidents and friendly fire) of around 800; that no oil fields had been set aflame; no WMDs had been used; no mass refugee crises had emerged; and no civil war had broken out... well, I think you would come to the conclusion that the war had been an extraordinary success. And you'd be right."
Hanging in the Wrong Place: "In the Vietnamese Communist War Remnants Museum (formerly known as the "War Crimes Museum") in Ho Chi Minh City (Saigon), a photograph of John Kerry hangs in a room dedicated to the anti-war activists who helped the Vietnamese Communists win the Vietnam War. The photograph shows then-Massachusetts Lieutenant Governor Kerry being greeted by the General Secretary of the Communist Party of Vietnam, Comrade Do Muoi."
Burning Question of the Day: If a pig loses its voice, is it disgruntled?
---
Tuesday June 1, 2004:
Book Report: I just finished 'The Last Good Time' by Jonathan Van Meter - a book about Skinny D'Amato, his 500 Club and Atlantic City. I learned many things - Atlantic City was founded in 1854 when a rail line was constructed from Camden, New Jersey to Atlantic City.
The first permanent boardwalk was built in 1883; the wicker rolling chairs on the boardwalk were leftovers from the 1876 Philadelphia Centennial Exposition. John Phillips Sousa played for 20 summers on Steeplechase Pier, beginning in 1903. In 1900, Philadelphia had 1 saloon per 1,000 people; New York had 5; Atlantic City had 14.55!! In those days, Atlantic City bars could be open 24 hours per day!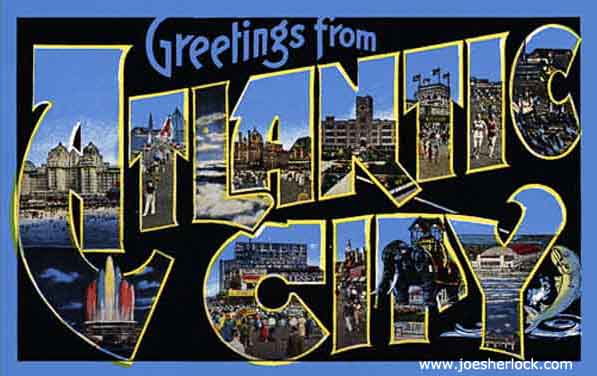 Since - as a teen - I spent many summers in Brigantine (just next door to Atlantic City), the book ... (more >>>)
David Letterman (now a winning Indy 500 car owner) offers the Top Ten 'Least Exciting Drudge Report Headlines.' My favorite: "UN Sanctions Al-Qaeda For Abusing 'U after Q' Rule." Runner-up: "Michael Moore Marries Giant Doughnut."
Gangsta rapper Snoop Dogg wants one of the new, hard-to-get Chrysler 300 sedans. Last week, he called Dieter Zetsche, CEO of DaimlerChrysler AG's Chrysler Group, asking, "What I gotta do to get that brand new 300 up outta you?"
For my opinion on the 300, see my May 19th blog.
Mark your calendars, please. The annual Forest Grove Concours d'Elegance, a spectacular car show which benefits the Rotary Club will be held at Pacific University in Forest Grove, Oregon on July 18th. IMHO, this is the best car show in the Pacific Northwest.
Written over fifty years ago: "At the present time, the hatred of the Muslim countries against the West is becoming a hatred against Christianity itself. Although the statesmen have not yet taken it into account, there is still grave danger that the temporal power of Islam may return, and with it, the menace that it may shake off a West which has ceased to be Christian, and affirm itself as a great anti-Christian world power."
The author is the prescient and well-spoken Bishop Fulton J. Sheen in 1952; some of you fellow geezers may remember his informative and entertaining television show and 'chalk talks' from the same era. (Hat tips to Kathy Shaidle and Mark Shea for this reference.)
More evidence the End of the World is nigh: 'It's Hip to Hear' is the new slogan for Energizer's hearing aid batteries. The spokesperson - 1980s rocker-chick Pat Benatar!
Full Moon in New York: According to Page Six of the New York Post, a guy walked up to designer Calvin Klein at the tony restaurant, Matsuri (in Chelsea's Maritime Hotel), and started praising his underwear. Seconds later, the fellow dropped his pants, said, "Here's your Calvin Klein's" - and then mooned him.