The Nebbishes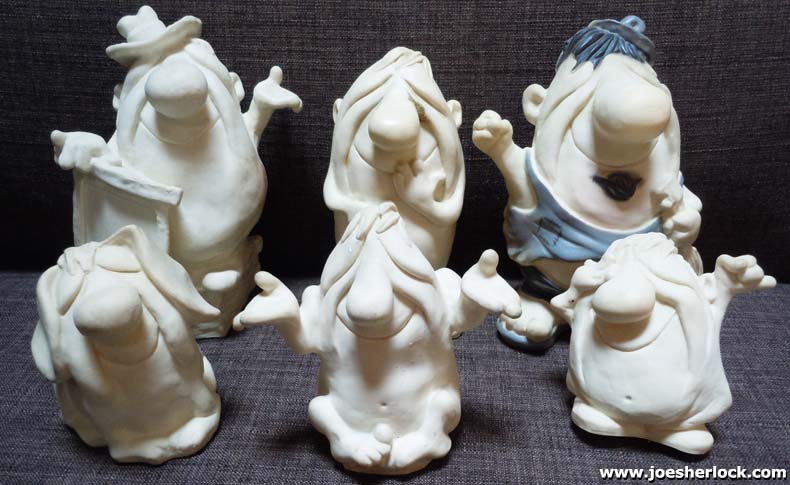 Those who have watched 'Mad Men' think that cool, sophisticated America began in the 1960s. Not so. America had embraced the cool, witty, lifestyle well before Don Draper made his appearance.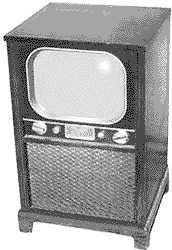 Early post-WWII television got much of its entertainment from former radio shows and the remains of vaudeville. But, as TV became more popular (7,464,000 TV sets were sold in 1950), new shows appeared which were the antithesis of old vaudeville standbys such as physical comedy, musical farces, juggling acts, etc.
In contrast to Milton Berle, Red Skelton, Red Buttons and other old-style comics, there was Steve Allen's 'Tonight Show' which debuted in 1954. It featured Louis Nye's many characters on Allen's 'Man on the Street' skits, including pretentious country-club braggart Gordon Hathaway, with his catchphrase, "Hi-ho, Steverino!"
Much of the period's humor was topical, social satire or observational wit. Comedians such as Stan Freburg, Mort Sahl, Shelley Berman, Jack Paar and comic writer Jack Douglas got their start in the 1950s.
Ernie Kovacs had a morning Philadelphia television show in the early 1950s, featuring experimental and often spontaneous comedy. I remember watching his show while getting ready for school. When rain was in the weather forecast, Kovacs would sometimes get on a ladder and pour water down on the staff member reading the report. Goats were auditioned for a local theater performance. In one outdoor skit, he looked into a construction pit, saying it was deep enough to see to China, when a man in Chinese clothing popped up, said a few words in the language, and ran off.
Even music was cool in the early 1950s as cool jazz - with relaxed tempos and lighter tone - began to replace the bebop of the 1940s. The Modern Jazz Quartet began in 1952.
Comedians Bob Elliott & Ray Goulding often satirized the medium in which they were performing, such as conducting radio or television interviews, with off-the-wall dialogue presented in a generally deadpan style as though it were a serious broadcast.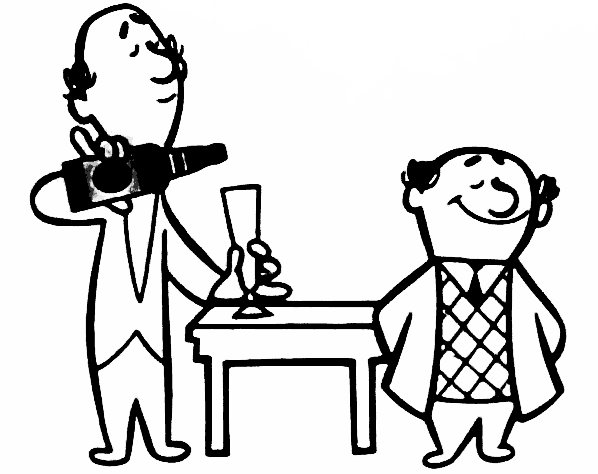 Bob and Ray also voiced Bert and Harry Piel in the Piel's Beer television commercials of the mid-1950s. Bert and Harry were simply-sketched animated characters. Many mid-'50s commercials featured such simplified pen-and-ink animations.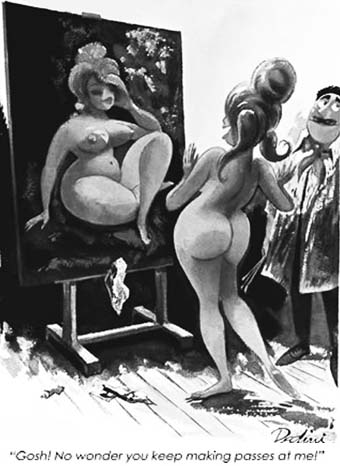 The trend was seen in print media as well. Numerous cartoons found in Playboy - especially those penned by Jack Cole, Gahan Wilson, Phil Interlandi, Erich Sokol, Will Elder (of Little Annie Fanny fame) - carried a witty, satirical theme as did the content of MAD magazine, which was born in 1952. Many of these cartoons were simplified, almost-scribbled sketches with minimal backgrouunds.
Fittingly, Herbert Gardner's Nebbish cartoons appeared in the early 1950s. The Nebbishes were white, blob-like creatures who expressed their attitude toward existence in pithy sentences. The most famous of these showed two slacker Nebbishes relaxing with feet on a table and the line, "Next week we've got to get organized!"

By 1954, Gardner's cartoons had become so popular that he contracted with Bernad Creations of Yonkers, New York to produce the characters on studio cards (tall, narrow humorous greeting cards - popular during the '50s), matchbook covers, glasses, barware (including cocktail napkins), wall decorations, white statuettes made of soft vinyl and many other items.
Ed Grant of Media Funhouse wrote, "Gardner's initial ambition was to be a sculptor and so, upon graduating college, he worked at a toy company making Nativity scenes (a soul-numbing job shared by the lead character in his play 'The Goodbye People'). He began creating mini-sculptures of these goofy-looking schlemiel figures."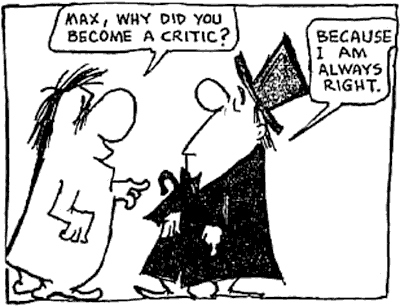 Later, Gardner produced The Nebbishes comic strip, which was distributed by the McNaught Syndicate, an American newspaper syndicate, from January 4, 1959 to January 29, 1961.
In the 1960s, Gardner moved on to writing plays and film scripts. Gardner is best known for his 1962 play, 'A Thousand Clowns', which ran for 428 performances. Both the 1962 play and the 1965 movie starred Jason Robards, Jr. as Murray Burns, a charming, unemployed children's show writer, who is forced to choose between social conformity and the probable loss of custody of his 11-year-old nephew to the Child Welfare Bureau. The Robards character was in part based on Gardner's friend at that time, humorist Jean Shepherd.
Gardner's biggest commercial success was the 1985 play, 'I'm Not Rappaport', which ran for two years, won the Tony Award for Best Play and became the basis for a 1996 movie. Gardner died in 2003 at age 68.
I purchased one of the white, rubbery Nebbish statuettes in 1960 or so at Garwood Mills, a no-frills discount department store at the North end of Atlantic City. The store specialized in close-outs and overruns. Locals gave it the nickname Garbage Mills. The store closed in 1976. My Garwood Mills Nebbish came in a box and was a smiling fellow with a hand over his mouth: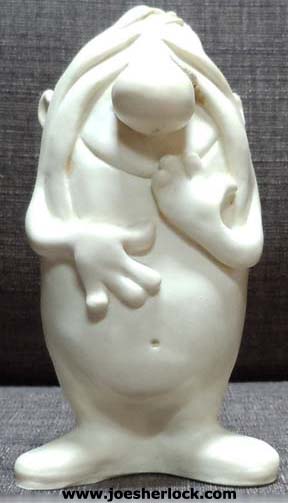 The box had a see-through acetate top and had artwork printed on the sides: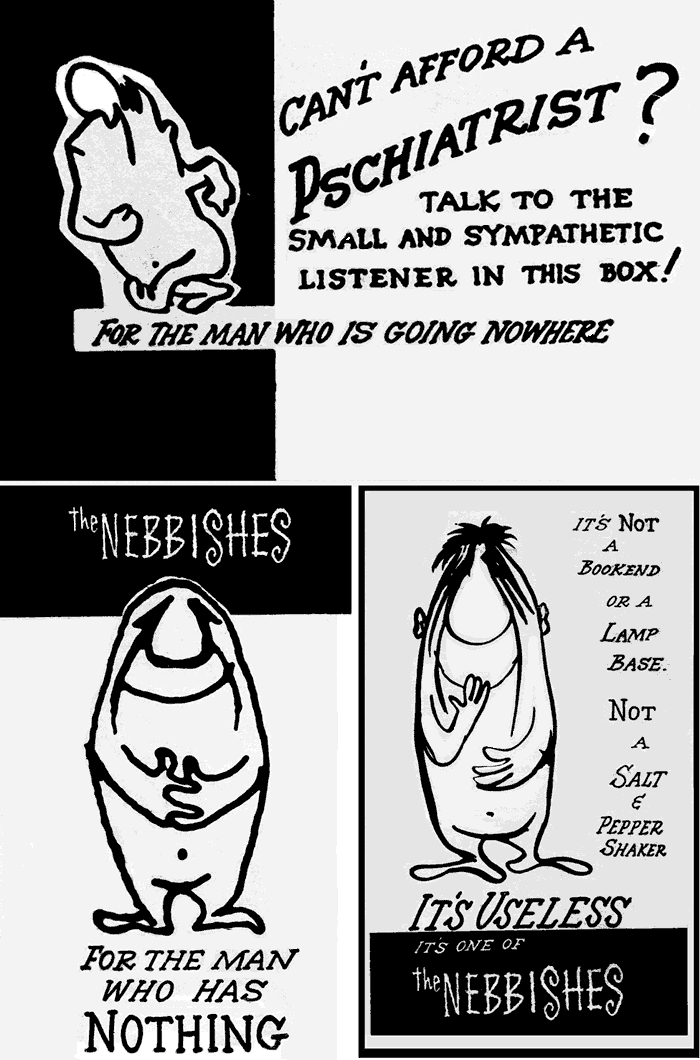 In 1966, I bought an unboxed leftover assortment of eleven additional Nebbishes directly from Bernad Creations. The figures included a beatnik with a beret, goatee and banjo. The tallest Neb statuette in my collection is the lecturer (with hat) at podium - 6 inches tall. The smallest is the baby - 3.5 inches in height. There is even a Nebbish dog: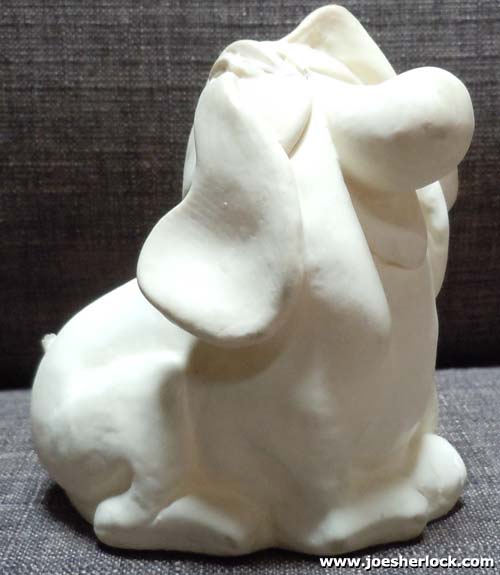 The Nebbishes have moved across the country with us, residing in five states, including their New York birthplace. My little collection is not complete - there were other figures produced, including a female Nebbish:
It has been over 65 years since the Nebbish figurines were introduced. They are mildly collectible and can sometimes be found on eBay. Mine are in relatively good shape and it is comforting, especially after a tough day, to see their carefree, happy smiles. (posted 7/2/20)
---
Other Pages Of Interest
| blog: 'The View Through The Windshield' |
| greatest hits: index of essays & articles | blog archives | '39 Plymouth |
| model train layout | about me | about the blog | e-mail |
copyright 2020 - Joseph M. Sherlock - All applicable rights reserved
---
Disclaimer
The facts presented on this website are based on my best guesses and my substantially faulty geezer memory. The opinions expressed herein are strictly those of the author and are protected by the U.S. Constitution. Probably.
If I have slandered any brands of automobiles, either expressly or inadvertently, they're most likely crap cars and deserve it. Automobile manufacturers should be aware that they always have the option of trying to change my mind by providing me with vehicles to test drive. I'll dutifully report my road test impressions on this car blog.
If I have slandered any people or corporations, either expressly or inadvertently, they should buy me strong drinks (and an expensive meal) and try to prove to me that they're not the jerks I've portrayed them to be. If you're buying, I'm willing to listen.