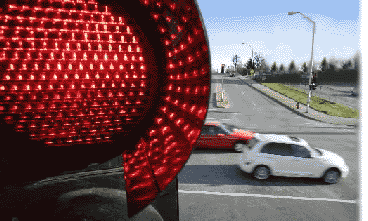 Stoplight Lotto - you know all about it. Because you've played the game, just as I have. Probably all your driving life. Traffic is light. You're approaching a stoplight. There is only one stopped vehicle in each lane. Which one do you get behind? You make your decision based on whom you think will accelerate faster to reach/exceed the speed limit when the light turns green.
This involves a lot of stereotyping, of course. About cars and the people who drive them. At this point, if you're a sensitive, virtue-signaling type, you may want to stop reading this article before it offends your sensibilities to such an extent that you're tempted to go perform seppuku in the nearest gender-neutral bathroom. Unless you feel such an act represents excessive cultural appropriation.
It may not seem politically correct but everyone I know plays stoplight lottery when behind the wheel. All the time. Personally, I don't use the word "stereotyping" in describing game strategy; I prefer the phrase "drawing on my enormous database of real-world driving experiences."
Sometimes, your stereotypical choice doesn't live up to expectations. Last week, I had to choose between a young guy in an F-150 and a mommy in a Honda Odyssey. The minivan-mom took off like a bat out of hell. Must have been late for soccer practice. Or pilates. I ended up stuck behind the poky pickup; the driver was obviously a stoner. (No, he wasn't on a cell phone.) Bad bet on my part.
Every stoplight is a new lotto game. Place your wager ...
Easy bets:
• Young, wiry black guy in nice older Caddy with chrome dubs versus gray-haired woman with Coke-bottle glasses an obsesivelly cared-for older Corolla.

• Motorcycle versus beat-up Chevy Sonic with space-saver spare on left front.
You win either way:
• Grungy, middle-aged fat dude in primered '77 Corvette versus multi-pierced, community-college kid in ratty, semi-slammed '05 Civic with fart-can muffler; both are staring at each other while revving engines.
Tough calls:
• Lincoln Town Car with handicapped plates versus loaded Mack dump truck.

• Elderly woman in Buick versus casket-carrying Cadillac hearse.

• Geek with Bluetooth-in-ear yapping away in a Kia Rio while waving his arms wildly versus blonde twenty-something in a Jeep Compass doing her makeup.

• Old, bearded guy in VW bus versus Ford Fusion with 'Student Driver' signs.

• Unkempt first-generation Prius versus school bus.
You lose regardless:
• Tractor with side brush cutter doing road shoulder work versus five Asians in beat-up compact four-door sedan.
Ready, Set, Go ....