---
2014 Scottsdale Auto Auction Madness
(
posted 1/21/14
)

As usual, the various Arizona vehicle auctions were full of aging white dudes with buckets of cash bidding up car prices toward the stratosphere. Ferraris were at the top of the auction food chain this year. A 1958 Ferrari 250 GT California LWB Spyder sold for a whopping $8,800,000 at RM Auctions, while a 1958 Ferrari 250 GT Cabriolet gaveled down for $6,160,000 at Gooding & Co.
Other automobiles rounding out RM Auctions top-sellers included a 1961 Porsche 718 RS 61 Spyder, which sold for $2,750,000; a '63 Ferrari 250 GT/L 'Lusso' by Scaglietti, which sold for $2,447,500; a 1966 Ferrari 275 GTB by Scaglietti, which sold for $1,815,000; a '66 Ferrari 275 GTS by Pininfarina, which sold for $1,485,000; a 1958 Mercedes-Benz 300 SL Roadster which sold for $1,045,000 and a 1938 Bugatti Type 57 Stelvio Cabriolet by Gangloff, which sold for $962,500. A 1930 Duesenberg Model J 'Disappearing Top' Convertible sold for $2,200,000 (including buyer's fees) at RM Auctions.
A black, somewhat rough, unrestored 1956 Mercedes-Benz 300SL gullwing coupe sold for $1,897,500, including buyer's fees, at the Gooding and Company auction in Scottsdale. Meanwhile, a nicely-restored silver 300 SL gullwing sold at Barrett-Jackson for $1,900,000. And RM sold a 1956 Mercedes-Benz 300 SL Gullwing for $1,292,500. Go figure.
Other pricey cars from the Gooding sale included a 1956 Ferrari 410 Superamerica Series 1 Coupe, which sold for $3.3 million; a 1961 Ferrari 250 GT Coupe Speciale, which sold for $2.365 million; a '59 Mercedes-Benz 300 SL Roadster, which sold for $1,430,000; a 1985 Ferrari 288 GTO, which sold for $1.4 million; a '71 Ferrari 365 GTB/4 Daytona, which sold for $649,000 and a 1952 Cunningham C-3 Coupe, which sold for $550,000. A '71 pagoda-roofed white Mercedes-Benz 280 SL sold for $143,000. It looked just like the one my friend Marty used to own.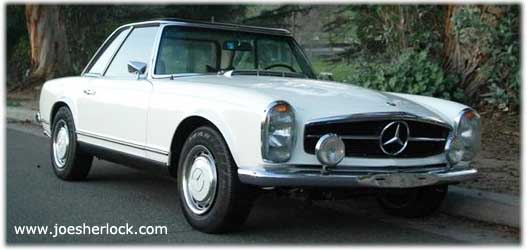 Gooding also sold a 1966 white Sunbeam Tiger - the model with the 260 cu.in. Ford V8 - for $77,000; my good friend Bill had a dark green one as his daily driver in the early 1970s. A 1954 cream-colored Hudson Italia - one of only 25 built and bodied by Touring of Italy - gaveled down at $330,000.

A white over pale green 1962 VW 23-window Microbus sold for $140,250 at Gooding, while a '66 red and white one went for $100,000 at the Barrett-Jackson auction.
Barrett-Jackson's auction was televised. I recorded the four days of programming and watched most of it on super fast-forward because .... well ... how many overrestored Camaros, Shelby Mustangs, various Chevelles and other muscle cars can one bear to watch, anyway?
Barrett-Jackson moved quite a few Corvettes at Scottsdale; a 1971 dark green ZR2 with the 454 cu.in. V8 fetched $450,000. A red 1967 Chevy Corvette L88 coupe was sold for a staggering $3.5 million (plus an additional 10% in fees) - a record price for a Corvette. Chevrolet sold just 20 L88s in 1967. Asteroid, a 1963 coupe, customized by George Barris and wearing a gold metalflake finish, went under the hammer at $170,000. A red '70 ZR1 gaveled down at $200,000. A 1968 blue convertible with the L88 engine and 13,000 original miles sold for $800,000.

A 1957 black over gold DeSoto Adventurer convertible once owned by Richard Carpenter went for $250,000. Three years ago, an identical DeSoto Adventurer convert sold for $247,500, so being owned by one of The Carpenters musical duo didn't seem to command a premium. Another celebrity car, a jet-black Bugatti Veyron owned by Simon Cowell, went under the hammer for $1,250,000.
Another Barrett-Jackson offering, a white 1970 Plymouth Hemi Superbird hardtop with a black vinyl roof and big ugly basket-handle rear wing, sold for $500,000. A '63 Shelby Cooper Monaco King Cobra race car hammered down at $1.65 million, while a 1929 maroon and black Duesenberg SJ Le Baron dual-cowl phaeton went for $1,300,000.
A black '37 Cord 812 convertible sold for $150,000. This seemed like a bargain, considering that a 1955 restored Ford F-100 pickup truck in black pulled $200,000. A black 1950 Ford Country Squire woody wagon fetched $130,000, while a '56 Ford red and white Fairlane convertible gaveled for $76,000.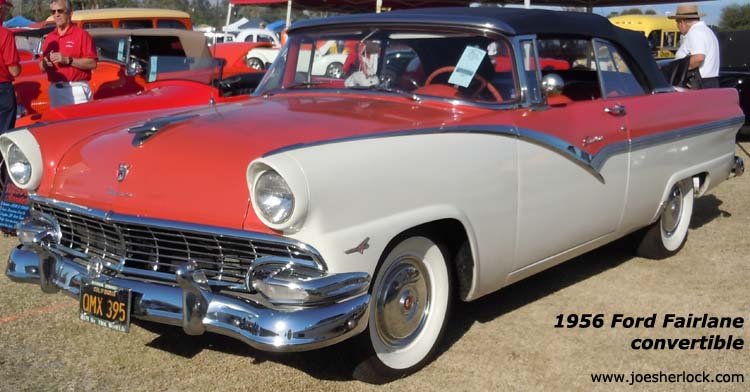 A screaming-yellow Mustang-based 1968 Shelby GT500KR convertible sold for $280,000, while a more subdued yellow 1940 Buick Skylark convert went for $185,000. Yellow sells.
A black 1956 Continental Mark II with factory A/C but with a slightly modified engine sold for $90,000. It was claimed that this car was the model for the 2013 Pebble Beach poster.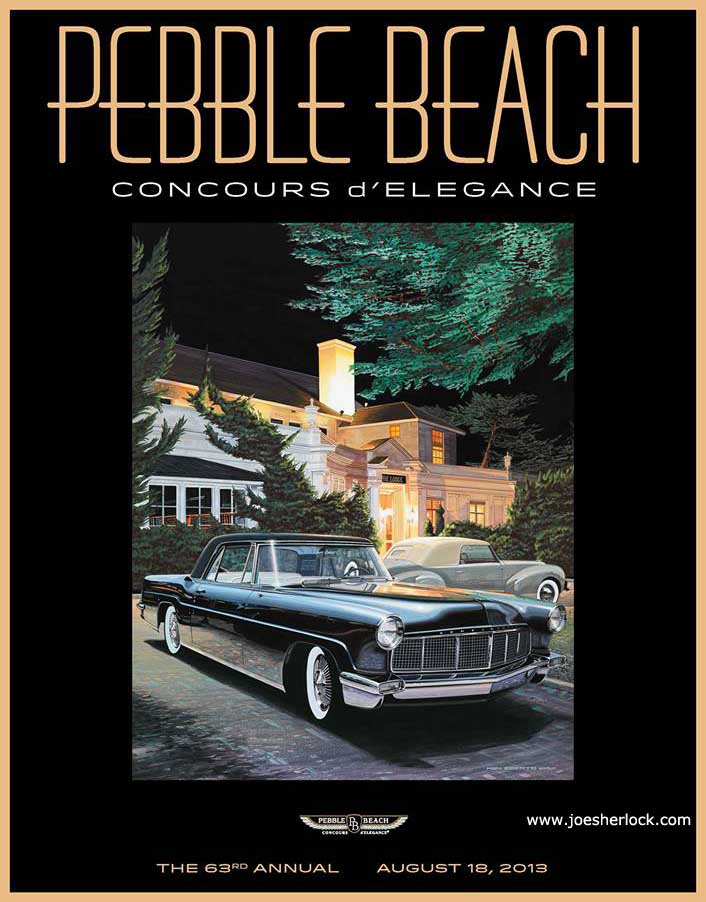 Bonhams sold a factory-supercharged black 1957 Studebaker Golden Hawk with manual transmission for $107,800, including buyer's premium. I'm amazed at how these old Golden Hawks have climbed in value over the past decade.
This year, there weren't too many bargains at the Arizona auctionfest. Times are quite good, I suppose.
---
Other Pages Of Interest
| blog: 'The View Through The Windshield' |
| greatest hits: various essays & articles | blog archives | '39 Plymouth | model train layout |
| about me | about the blog | e-mail |
copyright 2014 - Joseph M. Sherlock - All applicable rights reserved
---
Disclaimer
The facts presented in this blog are based on my best guesses and my substantially faulty geezer memory. The opinions expressed herein are strictly those of the author and are protected by the U.S. Constitution. Probably.
Spelling, punctuation and syntax errors are cheerfully repaired when I find them; grudgingly fixed when you do.
If I have slandered any brands of automobiles, either expressly or inadvertently, they're most likely crap cars and deserve it. Automobile manufacturers should be aware that they always have the option of trying to change my mind by providing me with vehicles to test drive.
If I have slandered any people or corporations in this blog, either expressly or inadvertently, they should buy me strong drinks (and an expensive meal) and try to prove to me that they're not the jerks I've portrayed them to be. If you're buying, I'm willing to listen.
Don't be shy - try a bribe. It might help.
---
---