Les Schwab, founder of Les Schwab Tire Stores, has died at age 89. The beefy man with the cowboy hat was an icon in most of the West.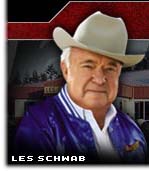 Born on a hardscrabble homestead near Bend, Oregon, he grew up in a two-room shack at a nearby logging camp, where he attended grade school in a converted boxcar with "crooked windows cut in the side." When Les was orphaned at age 15, he rented a room at a boarding house for $15 a month and delivered newspapers while struggling to finish high school.
After graduation, he married his high-school sweetheart and continued selling newspapers. He borrowed $11,000 from his brother-in-law in 1952, sold his house and borrowed on his life-insurance policy to purchase O.K. Rubber Welders, a small tire and retreading shop.
Even though he knew nothing about tires and had no formal business training, by the end of his first year in business, Schwab had increased sales fivefold to $150,000. By 1955, he had opened four more stores.
Today, the company has 410 retail tire stores across the Western U.S., employs 7,700 and generates $1.6 billion in sales, selling 6 million truck and car tires. Les Schwab Tires is privately held, adds 20 new stores a year and pays for them in cash.
How did this remarkable success happen? Les Schwab formulated an ironclad policy that 'the customer rules' and built a culture within every employee and every store which embraced this philosophy. The company's own website states that each store provides "Sudden Service: You come in, we come running. We're proud to offer fast, friendly service. We hand torque your lug nuts and wash your tires and wheels." And they really do ... I've patronized several different locations and employees jog over to greet you with a smile. I've never met a surly employee at Les Schwab. That's why we're loyal, repeat customers. So are most of our friends.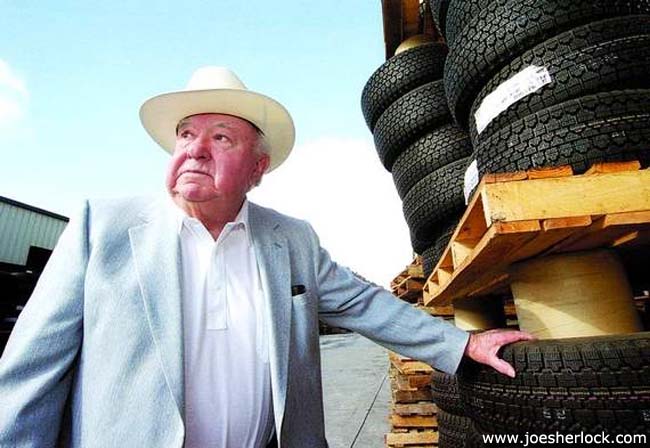 About 15 years ago, I read Les Schwab's entertaining autobiography written in 1986, 'Pride in Performance: Keep It Going'. (Warren Buffet had put this book on the Berkshire Hathaway 'Must Read' list, by the way.) In the book, Schwab details some of his dealings with the major tire manufacturers and his disgust with some of their underhanded tactics. (In the '50s-'60s, rubber companies had a generally unsavory reputation.) Les Schwab quickly moved to private branding, soon owned his own tire molds and had tires made to his exact specs in Japan and, later, Korea.
Schwab avoided some of the rubbery underhandedness which had migrated to the retail end of the tire business, offering instead fair deals, after-sale service (free rotation, free flat repair, etc.) and clean, well-lit premises.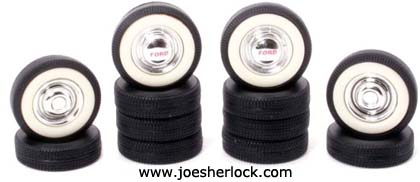 Most tire shops are manned by people in dirty gray overalls with black smears and streaks all over the front from handling those black rubber tires. I don't know how they do it but Schwab staffers always appear in clean jumpsuits; they're whiter than Edgar Winter in a snowstorm.
The real genius of Les Schwab is that he built a multi-state retail powerhouse using the simple and obvious-in-hindsight 'Take Care Of Your Customers and Take Care Of Employees' philosophy. The company actually does what every company ought to do.
Of course, corporate America claims to espouse the same philosophy as Les Schwab but falls down on the details and execution: "We're not making enough money so let's charge more to fix a flat - make it a Profit Center." Or, "That guy's a really good manager but he makes too much money. Replace him with a cheaper body." Ten years ago, I was told that a store manager at Les Schwab makes $150,000+ per year. That's because the company has a profit-sharing program for all workers - 55% of all profits go back to employees.
Let's not forget that, while the rest of corporate America is always issuing debt paper or running to banks in order to fund expansion, Les Schwab is so profitable that it can fund growth out of its own pocket. Even though the majority of Schwab's profit goes into the pockets of its workers. Customer service pays.
Until about a decade ago, Les Schwab appeared in nearly every commercial for his company, making him one of the best-known faces in the West. In 1963, he started the "Free Beef" promotion to boost sales during the slow winter months and assist the Central Oregon ranching industry. Customers who buy four tires can still get $15 in free beef.
Say "Les Schwab" to anyone who has lived in the West for a while and they'll probably reply in a gruff, husky mock-Les baritone, "Free Beef!"
Shortly before his death, Les Schwab was still active in his company, reviewing financials and pounding out a monthly column for the employee newsletter on his battered 1943 Royal typewriter.
The night after his death, we celebrated his life by cooking filets on the grill in Les' honor: "Free Beef!"
Rest in peace, Les. (posted 5/21/07)
2020 Update: Les Schwab Tire Centers is being sold to The Meritage Group, a hedge fund in California, ending local family ownership of one of the Pacific Northwest's best-known businesses.