---

---
Sarah Palin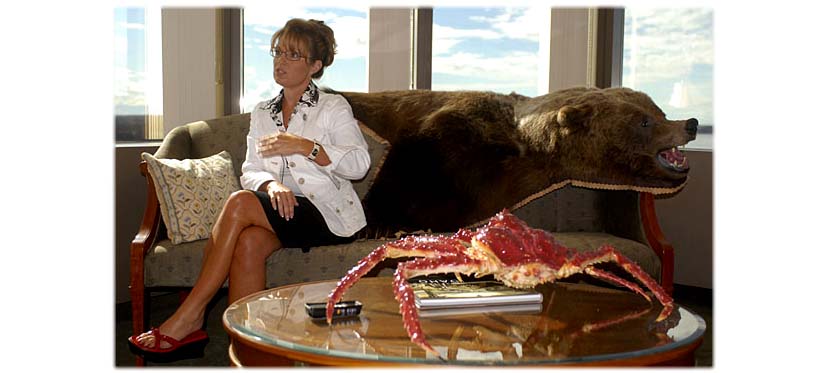 ---
She's Right: Republican Sarah Palin said last week that an explosion of government spending and debt under President Barack Obama and his fellow Democrats had put the United States on "the road to ruin."
Palin said Obama had revived the era of big government, and she ridiculed the infrastructure spending and investment he outlined in his recent State of the Union speech.
"The only thing these investments will get us is a bullet train to bankruptcy," Palin said in a speech at the Ronald Reagan Ranch Center in Santa Barbara, California, part of two days of festivities marking the late president's 100th birthday.
A 30 minute video of her speech is posted here. (permalink, posted 2/8/11)
---
Book Review: 'Going Rogue: An American Life' by Sarah Palin
The author paints an intimate portrait of growing up in the wilds of Alaska, her political endeavors (local, state and national) and the joys and frustrations of trying to balance family life and a high-profile elected office. She explains who she is and defines clearly what she stands for. Her story is compelling and her words ... (more >>>)
---
Going Rogue: Sarah Palin's new book rocketed to the number one spot on Amazon based on preorders alone. Once it was released, the book quickly sold out of its initial print run and achieved sales of 300,000 its first day.
Yet liberal intellectuals disdain Ms. Palin and decry conservatives as ignorant troglodytes.
So ... these great thinkers must be voracious readers themselves, right? Here's how some of their political heroes' books are doing:
• Nancy Pelosi's 'Know Your Power', released April 2009, ranks #85,750 on Amazon.

• Barbara Boxer's 'Blind Trust', released July 2009, ranks #687,029.

• Harry Reid's 'The Good Fight: From Searchlight to Washington', released May 2009, #1,474,817.
I can't recall the exact number but I'm almost positive that my first business book got a higher ranking than either Boxer's or Reid's tomes.
Over at Ace, Russ from Winterset has actually read 'Going Rogue' and offers a comprehensive review.
I'm hoping to get Sarah's book as a Christmas gift. (permalink, posted 11/30/09)
---
Whither Sarah? Let's begin with some praise for Sarah Palin: She knocked the endless coverage of Michael Jackson right off the air for a while. Thank God.
The repeated baseless ethics complaints against her have been costly to defend - estimated at $500,000 or more. The Palin family (unlike Gore, the Bushes, the Clintons, the Kennedys, etc.) is not particularly wealthy.
Giving up the governorship removes her from further expensive and frivolous ethics attacks and provides her with the opportunity to make some serious money. She has a book deal and, while book promotion will mean traveling, she can still spend a lot of time at home with her family. Book deals, combined with lucrative speaking gigs, can create wealth quickly - just ask Al Gore. She also gets time to develop more polish and build a war chest to hire national political advisers of her own choosing.
The major media, politicians and pundits reacted quickly to Palin's announcement. By last Friday night, most had written her off. Newsweek famously "wrote off" Ronald Reagan in 1971. And again - after the 1976 campaign, Newsweek offered: "The concluding line of Reagan's convention speech - 'There is no substitute for victory' - could also turn out to be a epitaph for his own political career." California Democratic State Senator George Moscone said, "When a guy's built on celluloid, he goes up fast but he burns out quickly."
Steven Hayward of NRO recalled that John Coyne wrote in National Review that "Reagan seems somewhat out of step with the new political stirrings, a man very much of the Sixties. ... For a decade he has been a central symbol of everything that is best in what we call the conservative movement, and if his approach and his ideas are obsolete, then so are those many of us who believe in him. And it's never much fun to be a middle-aged anachronism."
So, don't count Sarah out. (permalink, posted 7/6/09)
---
Who Is That Woman? Sarah Palin seems so familiar to me. After much thought, I've finally figured out who she is. She represents every upbeat, can-do person with whom I've ever interacted in my life.
I've met Sarahs, male and female, in the workplace, at church and in volunteer organizations. Sarahs are the Get 'Er Done people. They are down-to-earth people who use phrases like, "I'm on it", "I'll call you when it's complete", "I'll have it wrapped up by tomorrow" or "I'll do it today." Sarahs never whine or play ain't-it-awful games. Sarahs aren't much for gossip or small talk. Sarahs seek fast simple and logical solutions to problems. And Sarahs never make suggestions unless they're willing to help in the implementation.
Last week, I found out that a volunteer organization was running out of brochures. I offered to get it reprinted; I had handled the first printing and had the artwork in my possession. Someone - call her Emily - butted in: "Why don't you use (another printer)? I bet they'll be much cheaper." I had serious doubts about that but tried to have an open mind. So I replied, "OK, Emily. Since you live near that printer, drop off a brochure and get us a quote." Within 24 hours, Emily e-mailed me, "I'm too busy to do it. I have a family situation I've been dealing with." Ahhhh ... but not too busy to suggest it, eh Emily? And, jeez, how long would it have taken to get a #$@!* quote anyway? (No problem though. I simply went back to Plan A and brochures are rolling off the printing presses as I write this.)
Emily is no Sarah. Emilys like to make suggestions, write memos, interview facilitators, have studies done (by someone else, preferably with someone else's money) and send people out on inspection and/or fact-finding trips. Or hold meetings.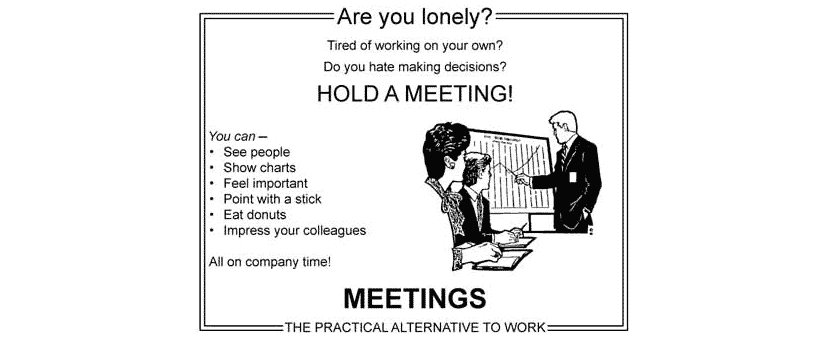 Like Sarahs, Emilys come in both male and female persuasions. But Sarahs deliver. And most Sarahs go on to spectacular success in whatever field they choose. I think Sarah Palin is destined for greatness. (permalink, posted 9/17/08)
---
Shake, Baby, Shake: Paul Mirengoff has observed: "At the Democratic convention, Obama and Biden remained on the stage with their families, basking in the glow of mass adulation. After several minutes of this, the two candidates and their wives came forward for what I called "one more bow - before they ascend to the heavens."
Thursday night, McCain looked rather uncomfortable on stage during the celebration. Before long, he descended into the crowd to shake hands. Only then did he look at ease.
The contrast could not have been clearer, and I think it tells us a good deal about the two presidential candidates."
I noticed that Sarah Palin was out there signing autographs for at least five minutes after McCain left the stage. Star Power. (permalink, posted 9/8/08)
---
Music Of Your Life: Jim Treacher has written that "the Wilson sisters sent a cease and desist to McCain/Palin because they used 'Barracuda' by Heart at the end of the RNC. It makes sense: For a rock musician, affiliation with a Republican campaign could be a career-ender. Whoops, too late!" Treacher titled the piece: 'When that song came out, McCain was only 90.'
Hey, since Barack seems to flit around on his positions and 'ol Joe Biden can't seem to be taught any new tricks, I wonder if Ann and Nancy will let the Dems use 'Dog and Butterfly' as theme music? (permalink, posted 9/8/08)
---
Sarah Compared: Barry Warsch, lifelong Democrat, former Florida Democrat executive committee member, notes that a woman running for office with five kids is a bad mother, according to the media.
But a man who ran for national office with ten kids at home (including a six month-old and a pregnant wife), became a hero, a martyr, and an icon to which all dreams of what liberalism might have been were attached for a generation. Was Robert F. Kennedy ever vilified for ignoring his family? Did anyone sneer at his failure to abort or use contraception? No and no. (permalink, posted 9/8/08)
---
Better, Equal, Lesser? Don Luskin has weighed in on McCain's choice of Palin: "But doesn't it take a real man to pick a subordinate who outshines you? Who was it who said, 'A-players pick A-players. B-players pick C-players?'" (permalink, posted 9/8/08)
---
Another Difference: Barack Obama attended a Muslim school in Indonesia. Sarah Palin attended a Mooselim school in Alaska. (permalink, posted 9/8/08)
---
The Little Town Mayor Thing: In berating Sarah Palin, the Democrats have made much of the "former mayor of a town of 9,000." As if we'd want a mayor of a big town ... like Detroit mayor Kwame Kilpatrick, currently under indictment and out on bail. Or former D.C. Mayor and crack addict, Marion Barry. Or former Philadelphia losers mayors Wilson Goode or John Street. Or former mayor Dick Murphy of San Diego.
In 2005, Time named the worst mayors in America. All were from big cities. (permalink, posted 9/4/08)
---
To Those ... who are attacking Sarah Palin personally, I submit the words of another great female leader, Margaret Thatcher: "When they attack one personally it means they haven't a single political argument left." (permalink, posted 9/4/08)
---
Lady Sarah: Wondering if Palin's tough enough? In high school, because of her fierce competitiveness while playing basketball, she was known as Sarah Barracuda. "She briefly worked as a sports reporter for local Anchorage television stations while also working as a commercial fisherman with her husband, Todd, her high school sweetheart. One summer when she was working on Todd's fishing boat, the boat collided with a tender while she was holding onto the railing; Palin broke several fingers."
Owwwww. She's tough enough for me. But does she know any good sea shanties? (permalink, posted 9/2/08)
---
"The Hostess With The Moosest": Mark Steyn weighs in on Sarah Palin: "What other country in the developed world produces beauty queens who hunt caribou and serve up a terrific moose stew? ... And for the gun-totin' Miss Wasilla then to go on to become Governor while having five kids makes it an even more uniquely American story. Next to her resume, a guy who's done nothing but serve in the phony-baloney job of "community organizer" and write multiple autobiographies looks like just another creepily self-absorbed lifelong member of the full-time political class that infests every advanced democracy."
More: "Governor Palin has what the British Labour Party politician Denis Healy likes to call a "hinterland" - a life beyond politics. Whenever Senator Obama attempts anything non-political (such as bowling), he comes over like a visiting dignitary to a foreign country getting shanghaied into some impenetrable local folk ritual. Sarah Palin isn't just on the right side of the issues intellectually. She won't need the usual stage-managed "hunting" trip to reassure gun owners: she's lived the Second Amendment all her life. ... Energy? Unlike Biden and Obama, she's been to ANWR and, like most Alaskans, supports drilling there." (permalink, posted 9/2/08)
---
---
Has Anyone Else ... pointed out that Sarah Palin has more years of experience than Barack Obama because, in the summer, the days are much longer in Alaska than in Illinois or D.C.? (And, in the winter, everyone in Alaska works at night which makes it seem even longer.) (permalink, posted 9/2/08)
---
Little Known Facts ... about Sarah Palin: There are hundreds posted here. I've selected several for your amusement:
• Sarah Palin drives a Zamboni.

• Sarah Palin knows 280 words for snow.

• Sarah Palin uses her DVR to record 'Ice Truckers'.

• Sarah Palin has visited all seven of McCain's houses.

• Sarah Palin thinks your kids have stupid first names.

• Sarah Palin always orders the Bambi Platter at Denny's.

• Sarah Palin uses whale blubber to heat the governor's mansion.

• Sarah Palin can catch salmon swimming upstream with her teeth.

• Sarah Palin is so hot she melts the ice on Alaskan roads on her way to work.

• Every day, Sarah Palin clicks her heels and says, "There's no place like Nome."
(permalink, posted 9/2/08)
---
Here's A Great Hypothetical Scenario: Gail Collins writes: "If she's only on the ticket to try to get disaffected Clinton supporters to cross over, it's a bad choice. Joe Biden may already be practicing his drop-dead line for the vice-presidential debate: 'I know Hillary Clinton. Hillary Clinton is a friend of mine, and governor, you're no Hillary Clinton.'"
Kathryn Jean Lopez offers this answer: "To which Palin could reply: 'There you go again. Plagiarizing.'"
I love it. (permalink, posted 9/2/08)
---
Go Sarah! McCain's choice of Sarah Palin for VP is strategically brilliant. Her resume shows more experience/accomplishments than Obama's, yet she's younger than Barack. And, as a woman, she may appeal to some disappointed Hillary supporters.
Tactically, she'll have to make her own way, able to defend herself against the DNC diss-machine and hold her own against Biden in the debates. I have a feeling she'll do just fine.
The Obama campaign reacted immediately and churlishly: "Today, John McCain put the former mayor of a town of 9,000 with zero foreign policy experience a heartbeat away from the presidency. Governor Palin shares John McCain's commitment to overturning Roe v. Wade, the agenda of Big Oil and continuing George Bush's failed economic policies - that's not the change we need, it's just more of the same."
This petty response means Obama's people are rattled. They should be. After all, Obama was a junior Senator from a state for about sixteen months before he decided he was experienced enough to be president. On the other hand, Sarah Palin has been the chief executive of a state for nearly two years.
I've seen Sarah on televised interviews (Kudlow, Beck). She's articulate, clear-thinking, succinct ... and hot. The camera loves her.
The Democrats talk about diversity ... but the Republican ticket lives it. The McCains have an adopted daughter, a baby Cindy McCain rescued from an orphanage in Bangladesh. Bridget, now 17 and healthy, had been born with a cleft palate and other medical issues and was abandoned. Bridget's skin is darker than any of the Obama family. The Republicans now have a female VP pick, whose husband is a Yup'ik Eskimo - a Native American.
And the Palins have a baby with Down syndrome. Prenatal tests had indicated the condition but ending the pregnancy was never an option for the Palins. "We've both been very vocal about being pro-life," Palin told the Associated Press, speaking of herself and her husband, Todd. "We understand that every innocent life has wonderful potential."
The day after the birth, the Palins released the following statement: "Trig is beautiful and already adored by us. We knew through early testing he would face special challenges, and we feel privileged that God would entrust us with this gift and allow us unspeakable joy as he entered our lives. We have faith that every baby is created for good purpose and has potential to make this world a better place. We are truly blessed."
Governor Palin served as mayor of Wasilla, Alaska from 1999 to 2002. She was elected as President of the Alaska Conference of Mayors. She was elected as Governor of Alaska in 2006. She likes to hunt moose and loves to eat mooseburgers. She's also a life member of the NRA and a former beauty queen.
Fred Barnes has written, "Her rise is a great (and rare) story of how adherence to principle - especially to transparency and accountability in government - can produce political success."
During the Democratic convention, there was an undercurrent among the speakers that "we'll make things better because things are really awful right now." We heard that the economy is falling apart, despite the fact that Real GDP grew by 3.3% in the second quarter. And - oh my - no one is getting any health care. Someone quipped that, in the various DNC videos, there were more sick people than an entire season of 'Grey's Anatomy'.
Well, it's alright. Denver is now - thankfully - over.
The party of 'Life Sucks' just ended .. the party of 'Life' has just begun. (permalink, posted 8/29/08)
---
Other Pages Of Interest
| blog: 'The View Through The Windshield' |
| greatest hits: index of essays & articles | blog archives | '39 Plymouth |
| model train layout | about me | about the blog | e-mail |
copyright 2008-18 - Joseph M. Sherlock - All applicable rights reserved
---
Disclaimer
The facts presented in this blog are based on my best guesses and my substantially faulty geezer memory. The opinions expressed herein are strictly those of the author and are protected by the U.S. Constitution. Probably.
If I have slandered any brands of automobiles, either expressly or inadvertently, they're most likely crap cars and deserve it. Automobile manufacturers should be aware that they always have the option of trying to change my mind by providing me with vehicles to test drive. I'll dutifully report my road test impressions on this car blog.
If I have slandered any people or corporations in this blog, either expressly or inadvertently, they should buy me strong drinks (and an expensive meal) and try to prove to me that they're not the jerks I've portrayed them to be. If you're buying, I'm willing to listen.
---
---