The Jeep was invented by American Bantam. But the little car company didn't have the resources to produce the quantities required for World War II, so most of the Jeep contracts went to Ford and Willys.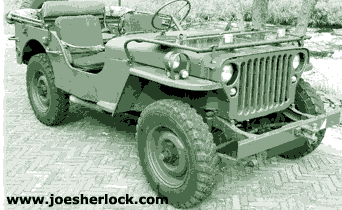 After the war, Willys decided to produce a civilian model, despite the tens of thousands of surplus military Jeeps which were available at cheap prices. The civilian CJ-2A was a success and made more money for Willys than its undistinguished line of passenger cars.
Kaiser bought Willys in 1953, continued making the Jeep even after it stopped making passenger cars. In 1970, American Motors purchased Kaiser's money-losing Jeep operations and improved the product and profits. In 1987, Chrysler bought AMC and its Jeep operations. Then Chrysler was bought by Daimler-Benz in 1998. Chrysler was sold to Cerberus in 2007, went bankrupt in 2009 and was acquired at a fire-sale price by Fiat.
Despite shaky finances, multiple owners, gross mismanagement and neglect over many decades, Jeep refused to die. Its sales improved almost every year and it is now the best-selling and probably most profitable offering in the Fiat-Chrysler stable.
Nevertheless, Fiat, the latest owner, seems determined to kill Jeep by choking off development money for new models. Fiat Chrysler Automobiles CEO Sergio Marchionne plans to use the money to develop a full line of Alfa Romeo vehicles which he believes is the future of the company. He sees China as a big potential market for Alfa Romeo and expects to sell over 400,000 Alfas worldwide by 2018. Fewer than 80,000 units were sold last year. In November 2015, only 44 Alfas found buyers in the U.S.
Alfa Romeo? Are you kidding? Alfa began life as a race car in 1911. It continued as a specialty manufacturer and, while it had an admirable racing record, it struggled to make a profit on its road cars. Fiat bought it in 1986. Alfa is a household word in Italy but has little presence elsewhere. Alfa was one of many European specialty cars imported to the U.S. in the postwar era. It competed against Lancia, Lotus, MG, Jaguar, Porsche, Jensen, Borgward, Austin Healey and was priced at fairly high levels - the '59 Alfa Romeo Giulietta Sprint coupe sold for $3,800; the Super Spider sold for $3,686.
In 1959, over 668,000 foreign (mostly European cars) were imported into the U.S. 150,000 were Volkswagens. In the mid-1950s, Volkswagen was the top selling foreign marque, with Renault second (mostly Dauphines), while Ford of England and Mercedes duked it out for third place. By 1961, Volkswagen had 87% of the imported vehicle market. Alfa never even made the top ten.
Alfa has neither presence nor cachet to the average auto buyer, even those who consider themselves auto enthusiasts. To put the Jeep brand in jeopardy in order to support Marchionne's Alfa delusion is sheer madness. Car Gurus quipped, "Alfa Romeo is the unicorn of the United States automotive market. For years we've heard rumors of its existence, but very few people here have ever actually seen one. That has started to change with the arrival of the 4C, but it's still a rare beast that most people won't ever see, much less own."
Peter De Lorenzo, the Autoextremist, wrote that Marchionne's plan "resonates to a level of flat-out stupidity that is simply impossible to comprehend."
Crazy Sergio may well go down in history as the man who not only killed off Chrysler-Fiat but Jeep as well. For shame. (posted 12/2/15)
---
CJ May Soon Stand For Chinese Jeep: Rumors abound that Fiat-Chrysler may be acquired by a Chinese automaker. Great Wall Motor Co. seems to be interested. This should not be a surprise - every domestic automaker has rejected the advances of carpetbagging mercenary Sergio Marchionne, who is in search of a buyer from anywhere who will provide him with a golden parachute.
At this point, foreign ownership may be the only thing that can help Fiat Chrysler survive. Jeep and Ram are probably the only two American brands which have value. The Viper is dead. The Chrysler brand has one foot in the grave and Dodge isn't feeling to well itself. It has never healed properly since its truck division was surgically removed several years ago and given its own Ram brand identity. I guess one might call the procedure a Ramectomy.
Jeep is an iconic marque but it's recent line extensions have diluted the brand and its performance in the marketplace is mediocre at best.
In the U.S. SUV/Crossover market, the Jeep Grand Cherokee (the top selling model of Jeep's line) was in seventh place in the July '17 sales race. It was outsold by a factor of more than two by the first-place Toyota RAV4. The Wrangler was in ninth place just ahead of the Subaru Outback and Forester, both of which are growing faster than the Wrangler. The Jeep Cherokee ranked 13th (experiencing a 23% year-over-year drop). The Cherokee was beaten in sales numbers by the Hyundai Santa Fe. Other Jeep models (Renegade, Compass, Patriot) did not even make the top 20 cut. The Patriot made a particularly dismal showing, placing 47th on the list with monthly sales of only 3,425 units, a year-over-year decline of 70%. FCA is discontinuing the Patriot. No wonder.
Interestingly, Jeep sales in China in the first half of this year were more than double the comparable period last year. But China sales volumes are still only one-quarter of Jeep's U.S. sales.
Jeep has suffered much under Sergio's stewardship. (posted 8/23/17, permalink)