Step-Down Design - Hudson's Last Triumph
For the 1948 model year, independent automaker Hudson - a company founded in 1909 - introduced cars with the 'step-down' look. Floorboards were lower than the doorsills and you stepped down to enter the car. This change produced a low and sleek car without sacrificing headroom. The low center of gravity and a stiff unibody structure made the step-down Hudson the best-handling American car of its time. The heft and a relatively long wheelbase insured a comfortable ride.
Mechanix Illustrated's Tom McCahill wrote, "Hudsons are ripping the feathers out of the other brands on one simple, but oh so vital, point. They are America's finest road cars from the very important standpoint of roadability, cornering, and steering. … To stay with the Hudsons on a race course, these other cars must literally pull themselves apart in the corners, while the Hudsons sail around with effortless ease."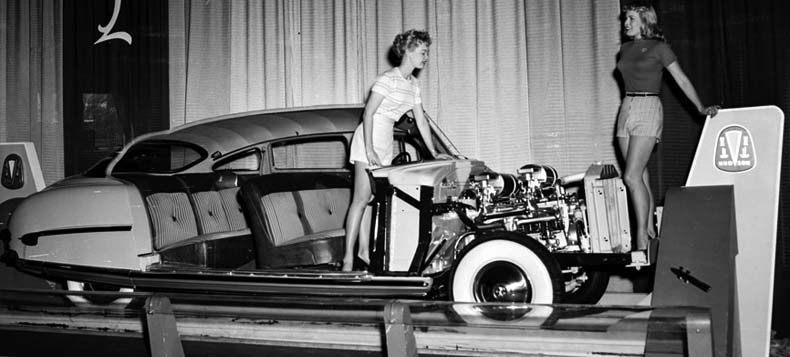 Cutaway of 1952 Hudson shows its strong structure.
---
The new Hudson was priced in the Buick price range and had a comfortable, well-appointed interior. Styling was very much in the late 40's fashion with rounded, flowing lines. The fact that Hudson was lower and wider than other cars in '48 made it a sensation at auto shows. Hudson had more orders than they could fill and the future looked bright. The new Hudson was a big success - sales peaked in 1949 with 159,100 cars finding buyers.
In 1952, the 'Twin-H' version of the L-head inline six-cylinder engine was introduced with dual one-barrel carburetors. It produced 170 horsepower. The engine could be tuned to produce 210 hp if equipped with factory modifications. Utilizing talented race drivers - Marshall Teague, Herb Thomas and Tim Flock, the Hudson Hornet won 27 NASCAR races. In AAA racing, Teague drove a stock Hornet to 14 wins during the season, bringing the Hornet's season record to 40 wins in 48 events, a winning percentage of 83%, a remarkable feat for a six-cylinder car.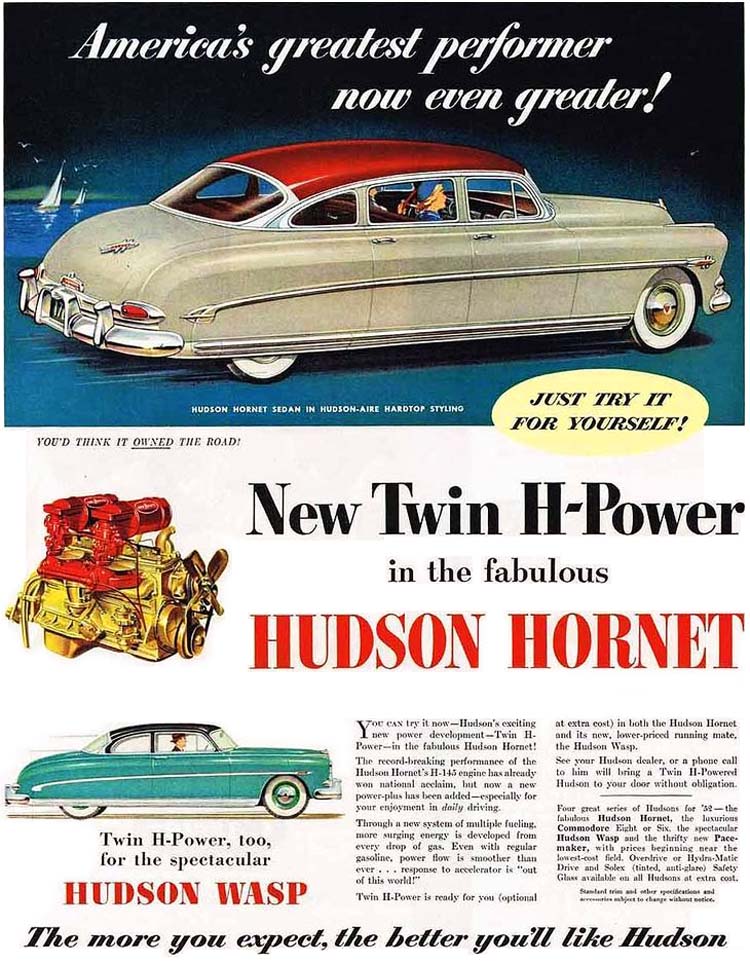 Despite all the acclaim and publicity, by 1952 the bloom was off the rose. In 1949, Hudson had moved up to 9th place in the sales roster of U.S. brands. By 1952, it had fallen to fourteenth place with sales down over 50% from peak. The once-advanced styling was looking dated. The Hudson shared some of the same bathtub-look style that initially worked so well for Packard, Lincoln and Nash in the early postwar years. Then the squared-off, three-box shoebox look took over and the inverted bathtubs of the late '40s didn't look so stylish. Additionally, the medium-priced field was moving to V8 engines, many with modern overhead valves.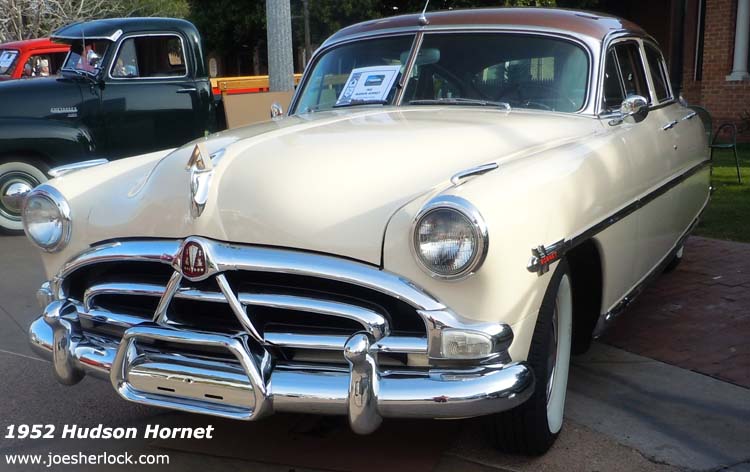 The Hornet was the most popular model in Hudson's line-up. Hudson had added a Hollywood hardtop coupe bodystyle in 1951 to little avail. The 1952 Hudson Pacemaker entry-level four-door sedan was priced at $2,311, while the more upscale Hornet sedan started at $2,769.
In 1953, Hudson added the ill-fated Jet compact car but overall sales still dropped. In 1954, sales of the Hudson brand fell to only 50,670 vehicles.
Hudson merged with Nash in 1954 to form American Motors. The 1955 Hudson models were essentially restyled Nash Ambassador/Statesman cars. The Jet line was discontinued. Hudson dealers also sold badge-engineered Rambler and Metropolitan models under the Hudson brand. (4,357 Metropolitans were badged and sold as Hudsons.) When sold by Hudson dealers, both cars were identified as Hudson vehicles via hood/grille emblems and horn buttons. Hudson Ramblers also received 'H' symbols on fuel filler caps (and, in 1956, also on hubcaps). Hudson sales continued to decline. The last Hudson - a Nash by any other name - rolled off the assembly line in 1957; only 3,876 Hudsons were made during the shortened '57 model year. (posted 10/13/21)
---
Other Pages Of Interest
| blog: 'The View Through The Windshield' |
| greatest hits: index of essays & articles | blog archives | '39 Plymouth |
| model train layout | about me | about the blog | e-mail |
copyright 2021 - Joseph M. Sherlock - All applicable rights reserved
---
Disclaimer
The facts presented on this website are based on my best guesses and my substantially faulty geezer memory. The opinions expressed herein are strictly those of the author and are protected by the U.S. Constitution. Probably.
If I have slandered any brands of automobiles, either expressly or inadvertently, they're most likely crap cars and deserve it. Automobile manufacturers should be aware that they always have the option of trying to change my mind by providing me with vehicles to test drive. I'll dutifully report my road test impressions on this car blog.
If I have slandered any people or corporations, either expressly or inadvertently, they should buy me strong drinks (and an expensive meal) and try to prove to me that they're not the jerks I've portrayed them to be. If you're buying, I'm willing to listen.