General Motors has gone bankrupt after a long, painful decline. The corporation may 'survive' as a downsized, money-draining, quasi-government entity (think Amtrak) but The General we used to know is dead.
GM's bankruptcy signals the end of the American Car Century. It began just over 100 years ago with the introduction of the Model T Ford and concluded with the fall of Chrysler and GM in 2009.
The Model T debuted in the fall of 1908, priced at $850 for the standard 4-seat open tourer - in an era when competing vehicles often cost $2-3,000. Henry Ford's goal was to make a car for Everyman and he succeeded. Over the years, he managed to cut the price of the T by eliminating brass trim, using assembly lines to improved productivity and offering only one color - a fast-drying, low-cost, durable black. By 1913, the price had dropped to $550; in 1914, Ford produced more cars than all other automakers combined. By 1918, half of all cars in America were Model Ts.
Before the T, cars were mere playthings for the rich. Henry's T didn't just put America on wheels, it put the world on wheels.
General Motors, founded in 1908, surpassed Ford Motor Company in sales during the 1920s - thanks to the leadership of Alfred Sloan. While Ford continued to refine its manufacturing process to reduce costs, Sloan paid special attention to consumer desires. GM offered style and a variety of colors - at a more expensive price, of course. Its focus was on comfort and product improvement - a contrast to Ford's penny-pinching on the now-dated T design which old Henry deemed 'good enough.'
General Motors cars could be bought on credit, thanks to consumer financing via GMAC - founded in 1919. Ford did not offer loans; Henry was a cash-on-the-barrelhead guy.
The General also served up lines of cars in different price ranges from the entry-level Chevrolet, to the mid-priced Pontiac and Oldsmobile ranges, to the near-luxury Buick and LaSalle topping out with the legendary Cadillac brand. General Motors engaged in aspirational marketing - start out with our little Chevrolet then move up to our nicer Pontiac and later, our big, comfy Buick. Or our stylish, posh LaSalle. It worked.



In the 1940s, carmakers turned to profitable war work. President Roosevelt called Detroit the Arsenal of Democracy. During World War II, GM's Electro-Motive diesel engines were important in American submarines and destroyer escorts. GM was the top manufacturer of U.S. Army one and one-half ton 4x4 vehicles.
In postwar America, General Motors thrived. By the 1950s, GM was the largest automobile producer and largest manufacturer in the world, with operations all over the globe. It had over 100 manufacturing plants in the U.S. alone.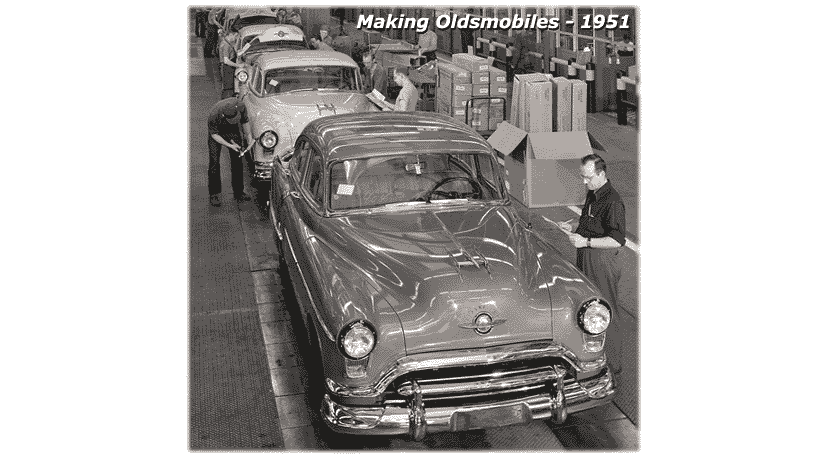 In addition to cars, GM produced many of its own components including spark plugs, headlights, tail lights, speedometers, air cleaners, radiators, oil filters, shock absorbers, ignition systems, starters, batteries, ball bearings, car radios, steering wheels, fuel system components, heaters and air conditioners. General Motors manufactured trucks of all sizes, buses and earthmoving equipment. The company also produced locomotives, oil burners and furnaces, home refrigerators, air conditioning equipment, industrial diesel powerplants.
At the time, GM was one of the largest employers in the world – only Soviet state-run industries had more workers. In 1955, General Motors became the first American corporation to pay taxes of over $1 billion.
Over the years, General Motors showed off its industrial might with a series of product exhibitions. GM's exhibit at the 1933 Chicago World's Fair was one of the show's biggest and most popular, featuring a working vehicle assembly line. Also on display was a sleek, custom-bodied Cadillac V-16 AeroDynamic Coupe, featuring what the company described as "teardrop design." The company also showed other show cars, including six specially-prepared LaSalles in eye-catching colors and trim.
At the 1939 New York World's Fair, the legendary Norman Bel Geddes designed a Futurama ride for General Motors, showing the world of 1960 - including automated highways and vast suburbs.
In 1947, General Motors debuted its Train of Tomorrow, a concept all-dome car train which racked up 65,000 miles as it crisscrossed the U.S. and Canada. It made many stops along the way, wowing a curious and excited public.
During the 1930s and '40s, General Motors proudly displayed its latest automotive wares at annual Industrialists' Luncheons held in New York City. Attendance was strictly by invitation; the audience was primarily bank executives, stock analysts, prominent GM stockholders and other movers 'n shakers. The 1938 Y-job, GM's first dream car, debuted at one of these meetings.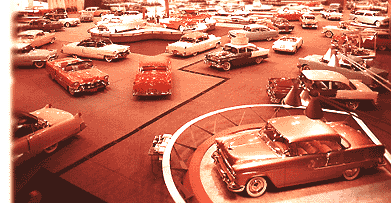 In 1949, GM presented Transportation Unlimited - its first postwar show. It was the precursor to the famous Motorama extravaganzas and was open to the public.
The Motoramas began in 1950, ending in 1961. They were spectacular product showcases and usually included GM's latest Dream Cars. Typical sites for these public shows were the ballroom of the Waldorf-Astoria hotel in New York and the Pan Pacific auditorium in Los Angeles. The displays were elaborate, with animated displays and cutaways, elegant female models and, sometimes, song & dance routines.
Charles Wilson, then GM's president, was named by Eisenhower as Secretary of Defense in 1953. When asked during Senate hearings if he could make a decision adverse to the interests of General Motors, Wilson answered affirmatively, adding that he could not conceive of such a situation because he believed that "what was good for the country was good for General Motors and vice versa." This was the kind of confidence exuded by GM execs in the firm's prime.
In those heady postwar days, General Motors was the envy of the industrial world; by the 1960s it had over 50% of the North American passenger vehicle market.
A new GM Futurama exhibit appeared at the 1964 New York World's Fair, depicting life 60 years in the future.
Scenes showed a lunar base of operation, an Antarctic Weather Central climate forecasting center, undersea exploration, a Hotel Atlantis for underwater vacationers, desert irrigation and land reclamation, road construction in a jungle and a City of the Future. Visitors rode past the scale dioramas in three-abreast chairs on a Disneyesque ride. Elsewhere in the exhibit building, sleek concept cars - like the Corvette Mako Shark - were displayed. The future looked bright.
So, what happened? What caused the downfall of this mighty corporate juggernaut? Ask twenty car guys and you'll get twenty different answers.
My take is that car makers (and many other industries) took their eyes off the ball. Companies sacrificed long-term goals for the sake of short-term pleasure-profit-efficiency-selfishness-convenience-laziness-greed-expediency-compromise.
Customer focus and passion were replaced by internalized navel-gazing and cost-cutting. Just as General Motors ate Ford's lunch in the 1920s by being customer-driven and focusing on marketable product improvements, Honda and Toyota cleaned The General's clock by doing exactly the same thing in the 1980s and '90s.
It seems to me that General Motors began to lose its automotive passion when the government got seriously involved in regulating automobile design and performance in the early 1970s. Things slid downhill from there.
There's a rule for success in business: "Do what you love; love what you do." GM went bankrupt because it didn't love cars anymore.
Rest In Peace.
---
Links
| blog: 'The View Through The Windshield' |
| essays: greatest hits | blog archives | '39 Plymouth | model train layout |
| about me | about the blog | e-mail |
copyright 2009 - Joseph M. Sherlock - All applicable rights reserved
---
Disclaimer
The facts presented in this blog are based on my best guesses and my substantially faulty geezer memory. The opinions expressed herein are strictly those of the author and are protected by the U.S. Constitution. Probably.
Spelling, punctuation and syntax errors are cheerfully repaired when I find them; grudgingly fixed when you do.
If I have slandered any brands of automobiles, either expressly or inadvertently, they're most likely crap cars and deserve it. Automobile manufacturers should be aware that they always have the option of trying to change my mind by providing me with vehicles to test drive.
If I have slandered any people or corporations in this blog, either expressly or inadvertently, they should buy me strong drinks (and an expensive meal) and try to prove to me that they're not the jerks I've portrayed them to be. If you're buying, I'm willing to listen.
Don't be shy - try a bribe. It might help.
---