Discovery Plastics - A History
Part 2: Showcasing Food (posted 4/7/12)
Some of Discovery Plastics' early display offerings included Plexiglas dispensers for coffee, candy and other bulk products. Discovery supplied thousands of clear acrylic bins to various stores and supermarkets during the bulk-food fad of the 1980s.
---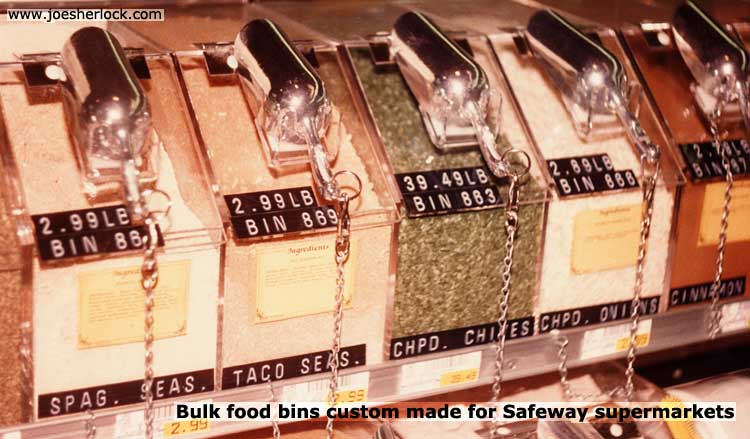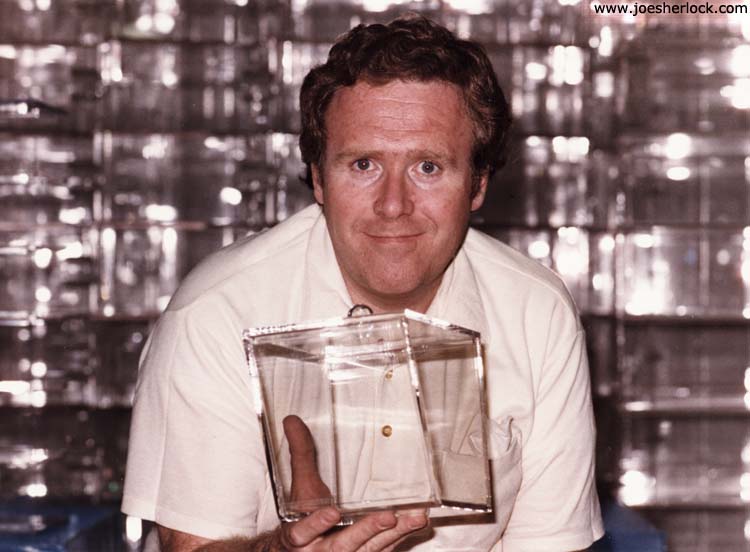 Joe Sherlock holds a custom display in 1981 with more bulk food bins in background.
---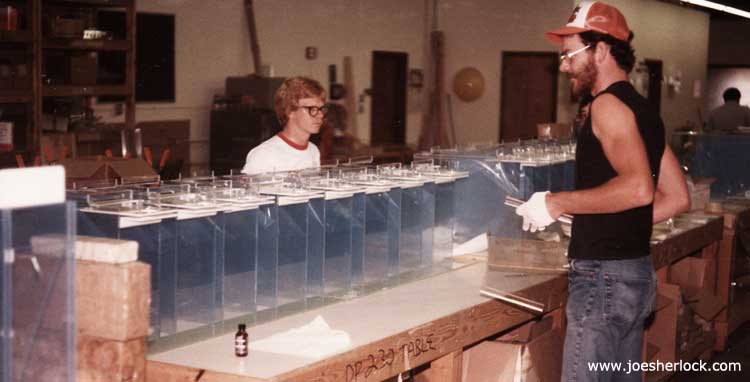 Bulk food bin manufacturing line - transparent blue film covers the clear acrylic sheet to prevent scratching during assembly.
---
In 1983, Discovery Plastics was selected as exclusive supplier for Jelly Belly's acrylic displays. The clear acrylic bins made efficient and attractive storage/display units for retail candy stores. Discovery even supplied jellybean dispensers to the famed Harrods department store in London.
---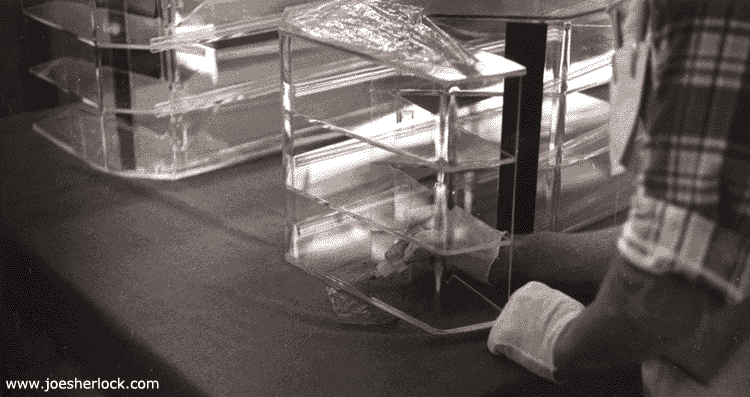 Gluing a Jelly Belly displayer/dispenser using a needle bottle
---
In the same year, Discovery began making custom Plexiglas displays for Vernell's Fine Candies, a confectionery producer with a nationwide following.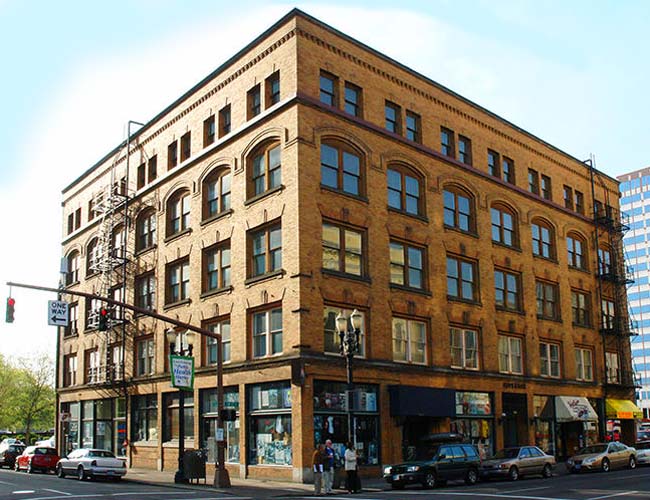 In 1983, we hired a Portland-based rep to handle acrylic food dispenser sales and service. We rented an office for him in the Governor Building, a five-story brick office building built in 1906 and located on SW 2nd St. near SW Stark in downtown Portland, OR.
---
During the first year, Vernell's business represented 38% of Discovery's total sales. But the plastic company knew that Vernell's would depart someday because their merchandising needs were dictated by changing styles and fads. So DP took some of the profits and expanded its catalog of stock display products. The broad-based catalog side of the business grew quickly which lessened Discovery's dependence on any single account.
When the national candy account departed four years later, they represented less than 8% of DP's overall business. Joe Sherlock commented, "We sure hated to lose Vernell's - they were nice folks - but their departure didn't sink our company."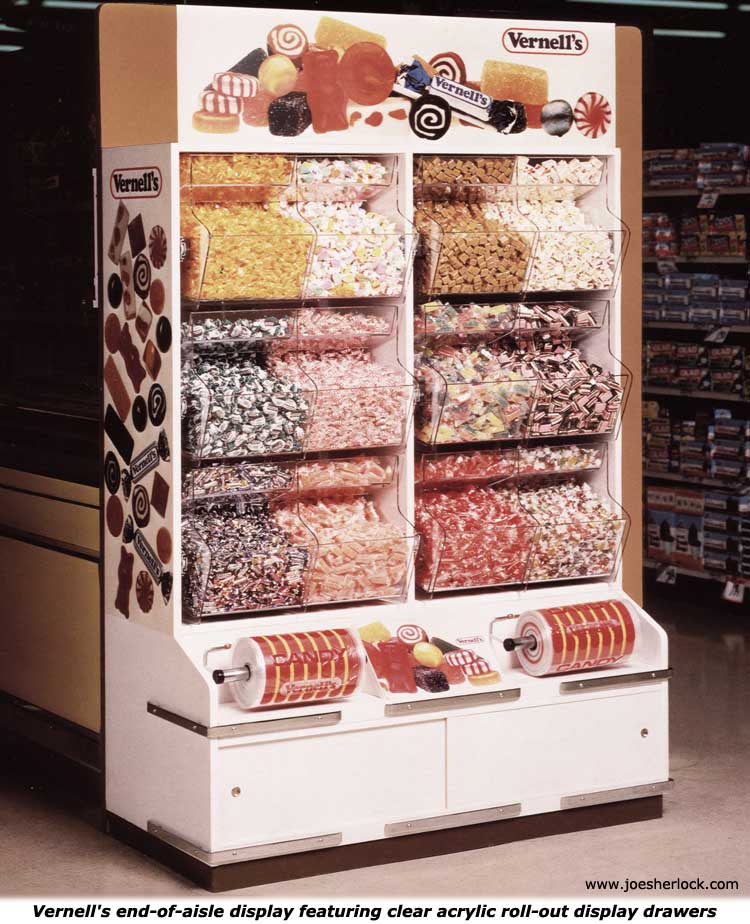 ---
Increased sales caused the addition of a second production shift to meet increased customer demand as well as a need for even more space. In early 1984, the company moved from Corvallis to a modern 16,000 square-foot manufacturing facility in Tangent, Oregon. (By 1989, the facility had been expanded to 38,000 square feet, running three shifts per day.)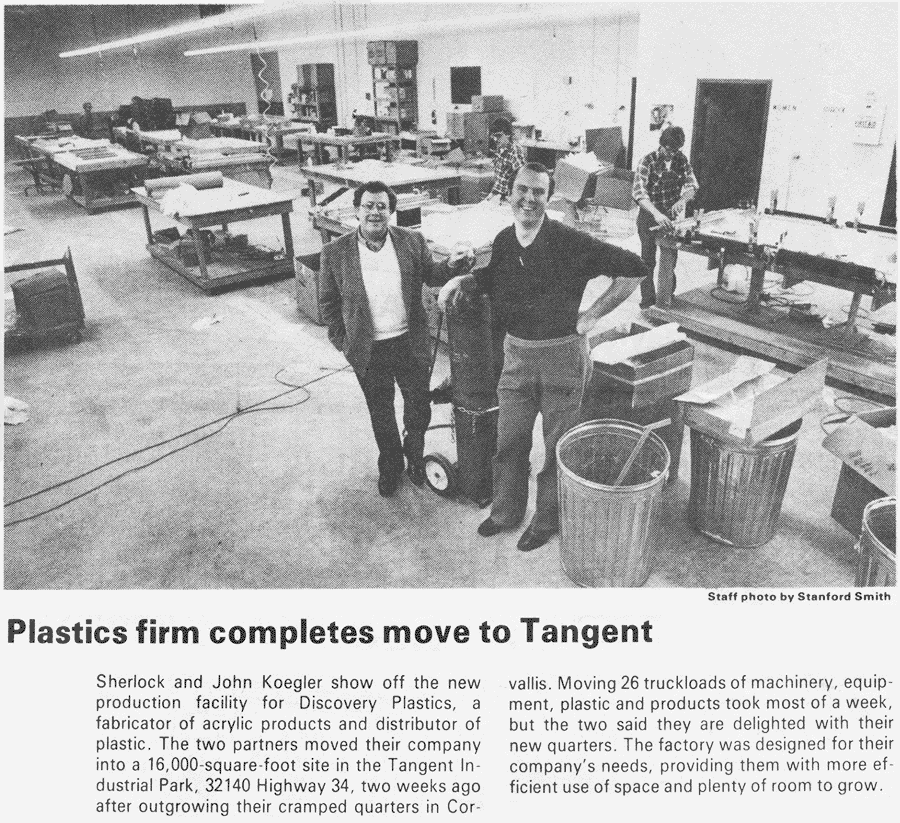 ---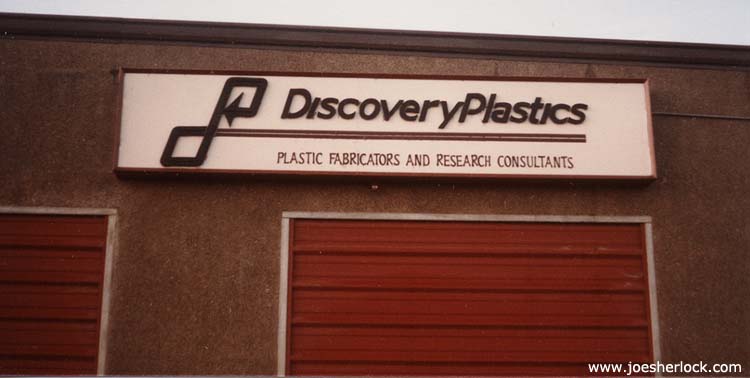 Originally mounted over the little 2nd St. Corvallis store-front locale, then the 9th St. steel building, the refurbished, internally-illuminated Discovery Plastics sign was installed on the company's newest home in the Tangent Industrial Park on Highway 34.
---
Displays, including in-stock, ready-to-ship designs from Discovery's widely-circulated catalog, meant more room was needed for warehouse storage of finished goods. Thankfully, the new facility made that possible and allowed the firm to continue to grow.
New plant equipment - off the shelf (edge finishers, overarm routers) as well as self-developed (autoflame polishing system, kiss-cut routing machines) - as well as continuing process and work-flow improvements made the manufacturing process more efficient and improved DP's bottom line.
| next: Part 3 - On Display Nationally |
---
Other Pages Of Interest
copyright 2012-21 - Joseph M. Sherlock - All applicable rights reserved
---
Disclaimer
The facts presented on this website are based on my best guesses and my substantially faulty geezer memory. The opinions expressed herein are strictly those of the author and are protected by the U.S. Constitution. Probably.
Spelling, punctuation and syntax errors are cheerfully repaired when I find them; grudgingly fixed when you do.
If I have slandered any brands of automobiles, either expressly or inadvertently, they're most likely crap cars and deserve it. Automobile manufacturers should be aware that they always have the option of trying to change my mind by providing me with vehicles to test drive.
If I have slandered any people or corporations, either expressly or inadvertently, they should buy me strong drinks (and an expensive meal) and try to prove to me that they're not the jerks I've portrayed them to be. If you're buying, I'm willing to listen.
Don't be shy - try a bribe. It might help.
---