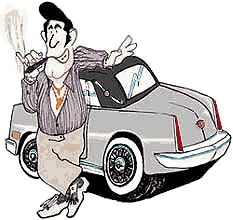 Remember The '70s? Pierre Cardin stitched his name on ties and charged high prices for them. Calvin Klein and Ralph Lauren rose from anonymity more or less simultaneously to tackle the question of designing clothes for the men and women of the 'me' decade. For them, the 'me' meant 'them', since it was their names stitched on your clothes, not yours.
Back in those days, when asked why I didn't wear designer ties, I told business colleagues that I'd gladly pay the extra bucks for a Cardin tie if Pierre would send me a photo of himself wearing a tie with 'Joe Sherlock' stitched on it. As you mosey around the various areas of this website, you'll find photos of me here-and-there wearing knit shirts, usually in vacation photos. There are initials embroidered on the pockets - mine. Not someone else's.
In the early 1980s, I picked up a nice yellow Jimmy Connors sweater super cheap at a Meier & Frank markdown table in Portland. It had a discrete navy 'JC' embroidered on the front. When people asked about that, I told them that I bought it at the Vatican gift shop and that it was a Jesus Christ designer sweater. (I hope He has a sense of humor.)
In the '70s and even '80s, everything was designer this-and-that. I once bought a exceptional off-white Pierre Cardin three-piece suit from a store with no name in a run down strip mall near Burlington, NJ. $49 - no tax. Cash only. I think it had "fallen off the truck."
In those days, many designers also lent their names to special editions of cars. Gucci was one of the first, putting his name on a special-trim edition 1972 AMC Hornet. Lincoln was also an early adapter, with the designer edition Mark IVs offered in 1976.
Bill Blass once said that he'd put his name on anything, except caskets. I remember his "nautical-themed" 1979 Lincoln Continental Mark V, which featured small anchors incorporated into the exterior accent striping and interior accents within the Blass back-to-back "B" design theme. It kinda made sense because those big Connies and Town Cars were certainly boat-like - real land yachts. P.J. O'Rourke once wrote, "I always rent Town Cars for that nostalgic "Avast, matey! Right full rudder!" road feel."
If you didn't like the Blass Boat, there was a Emilio Pucci Edition Mark V. If you wanted a designer imprinted car but didn't like Lincolns, there was a Gucci Cadillac Seville available in 1979. Lincoln also offered Gianni Versace, Hubert de Givenchy, and Valentino designer editions during the 1970s and 1980s.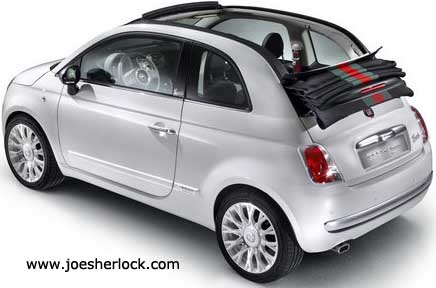 Fiat now seems intent on bringing back the 1970s by offering the Fiat 500 Gucci edition. According to a press release, the car marks "the celebration of both the 150th anniversary of the unification of Italy and Gucci's 90th anniversary." The Gucci Fiat features, among other things Gucci's name in chrome on the B-pillars and seats with the iconic red and green Gucci stripe inserts - just like the 'ol Hornet had.
Irony alert: Early Gucci-adapter AMC was merged into Chrysler, which is now owned by Fiat, which now offers a Gucci Fiat. Go figure. The world spins wildly sometimes but pretty much returns to the same place - eventually. For better or for worse, depending on your taste.
Most of the aforementioned designer brands are aimed at the mid-market segment. That's where the bulk of the business is. But the consequence of chasing unit volume is deterioration of the 'uppity' brand image, as production often becomes overproduction because of the wildly-oscillating market swings characteristic of the rag trade. That's why you'll see Ralph Lauren stores at discount outlet malls and can sometimes buy his Polo sweaters for $11 at Stein Mart.
Other designers have tried to remain on a loftier elevation. Louis Vuitton, the French fashion house, is a good example. It limits volume with firm pricing and sells its products through controlable stand-alone boutiques and leased departments in high-end department stores. The LV trademark logo has never been seen on a special-edition production automobile and you won't find Vuitton's handbags in a discount mall.
Today, Gucci seems best known for ladies watches and handbags and is one of the most knocked-off brands in the world (along with Louis Vuitton), with counterfeits hawked by seedy vendors on certain street corners. Some of those counterfeits probably fell off a truck, too. (posted 3/14/12)