For most of the 20th Century, Cadillacs carried a certain cachet. In the old days, Cadillac really lived up to its slogan, 'Standard of the World'. If you look at period newsreel footage, you'll see potentates, dictators, popes, celebrities and gangsters being ferried about in shiny black Caddys.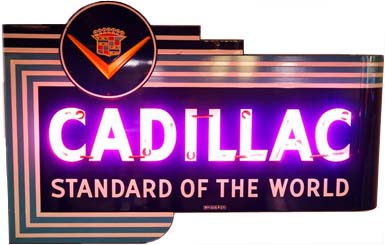 In the movie 'Donnie Brasco', made in 1997 but set in the early 1980s, Al Pacino's mob character, Lefty Ruggerio, compared the brand to lesser cars, remarking, "Fuggedaboutit. A Cadillac's got more acceleration, more power, it's got better handlin', it's got more legroom for your legs."
In the early '90s, Cadillac still had lots of fans. Auto pundits like to reminisce about the "invasion" of the American market by European luxury cars but, the fact is that, in 1993, Mercedes-Benz sold only 61,899 cars in the U.S., compared with 255,869 Cadillacs and 177,208 Lincolns that same year.
Nevertheless, the Cadillac Seville was a top-of-the-line premium offering with the smaller exterior dimensions expected of European automobiles. It was designed with the idea of winning back young, well-heeled import owners. That was the premise when the Seville made its debut as a separate model line in 1975. It had crisp styling, clean lines and enough unique sheet metal and interior and exterior trim to disguise its humble Chevy Nova platform.
The second generation Seville, introduced as a 1980 model, was an acknowledgement that the model had failed to capture those buyers of Euro-luxury machines but instead was being bought by older women who wanted a Cadillac in a smaller, more maneuverable size. The result was a bustle-backed, overstyled Caddy which was a bit smaller than the DeVilles and Fleetwoods.
In 1986, Cadillac downsized all their models, including the Seville. The cars offered undistinguished styling and Seville sales fell by half. In 1992, Cadillac introduced a new Seville, with taut, crisp European-inspired lines. The wheelbase was 111 inches while overall length was 204 inches. The Seville weighed 3,850 pounds. Looking like a sharp, well-tailored suit, the latest Seville was a hot seller and styling was little changed through the models run from 1992-97.
The fourth generation Seville offered front-wheel-drive with a transverse-mounted 4.6 liter V8 coupled to a four-speed automatic transmission. In 1992, the new European-flavored Seville Touring Sedan was Motor Trend magazine's Car of the Year and made Car and Driver magazine's Ten Best list.
In 1993, the Seville was fitted with the Northstar quad-cam 32-valve aluminum V8. In 1994, the Seville Luxury Sedan (SLS) had a 270 horsepower Northstar as standard equipment, while the Seville Touring Sedan (STS) offered a more robust 295 horsepower Northstar motor. The STS also had wider tires, a firmer suspension and a more driver-oriented cabin. 0-60 mph times were 7.4 seconds for the SLS and 7.1 seconds for the STS.
Prices for the '94 Cadillac Seville started at $40,990 for the SLS and $44,890 for the STS model.
1994 Seville production was 46,714 sedans, handily outselling the less expensive Eldorado coupe (24,970 produced). In 1994 Cadillac sold 219,486 automobiles, beating its main competitor Lincoln by 11%.
The 1994 Cadillac Seville is a handsome car that still looks good today. (9/29/15)