---

1952 MG TD - England Comes To America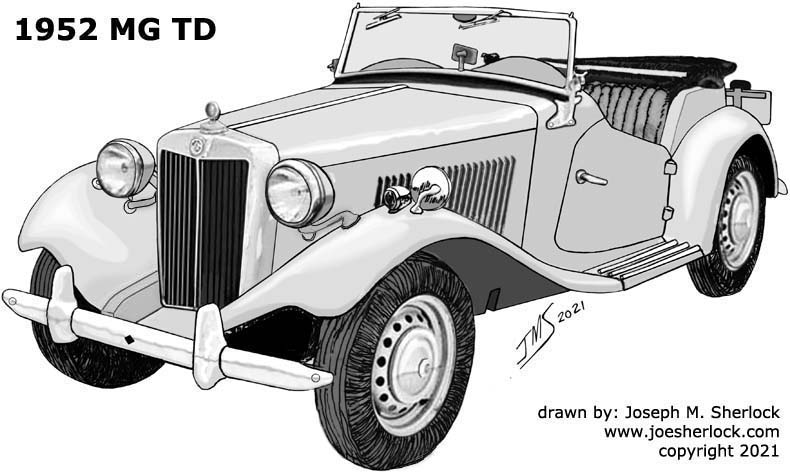 MG traces its lineage to 1895, when William Morris started a bicycle repair business in a shed at the back of his parents' house. He soon moved on to automobiles and named his firm Morris Garages, later known as MG. While MG produced sedans, it is best known for its sports cars.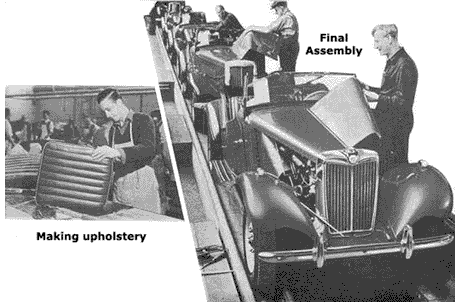 Prior to World War II, sports cars were virtually unknown in America. U.S. manufacturers didn't manufacture them and the relatively few imported cars were mostly posh machines for the very wealthy. U.S. service members got their first exposure to small, nimble roadsters during their deployments oversees. Many of them were fascinated by these little sportsters and wanted to own something like them when they returned home. Thus, the U.S. sports car market was born, and names like Jaguar, MG, Triumph, Alfa Romeo Austin-Healey became well-known to American car enthusiasts.
After the war, MG introduced the TC, a small sports car. While it found markets in South Africa and elsewhere, it was not designed for the North American market. It was offered in right-hand drive only and had neither front nor rear bumpers.
In 1947, only six were imported to the U.S. Production was low, typically, 1,300 to 1,400 TCs per year.
The MG TD replacement was far more successful in the UK and North America. The TD was available in LHD and offered proper bumpers, more power and a smoother ride. It rode on 15-inch wheels, rather than the TC's cartoonish 19-inchers and it came with creature comforts such as a heater and a radio.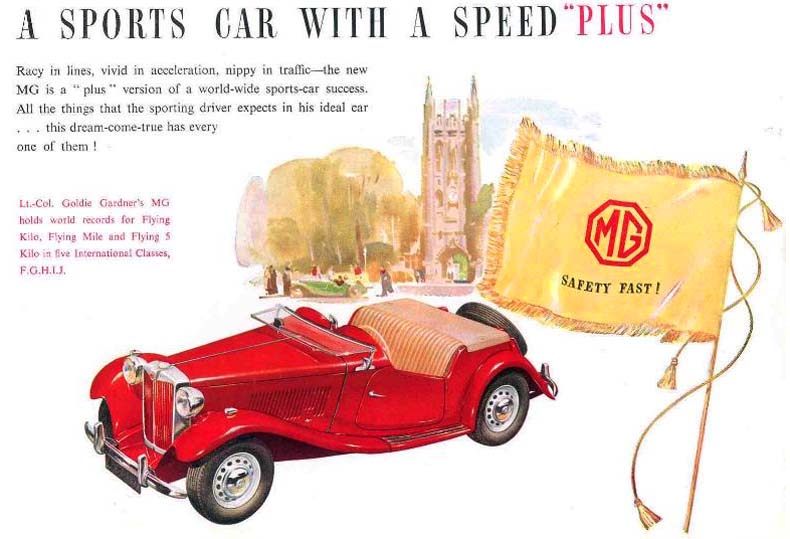 Priced at $1,850, 29,664 MG TDs were produced from 1950 to '53. 24,444 - 83% of production - were exported to North America, mostly the U.S. The TD helped satisfy America's postwar craving for low-slung sporty cars and Britain's need for money from exporting its products. A Mark II version of the TD was introduced during its production run, offering more power - 57 bhp - resulting from a higher compression ratio and bigger carburetors.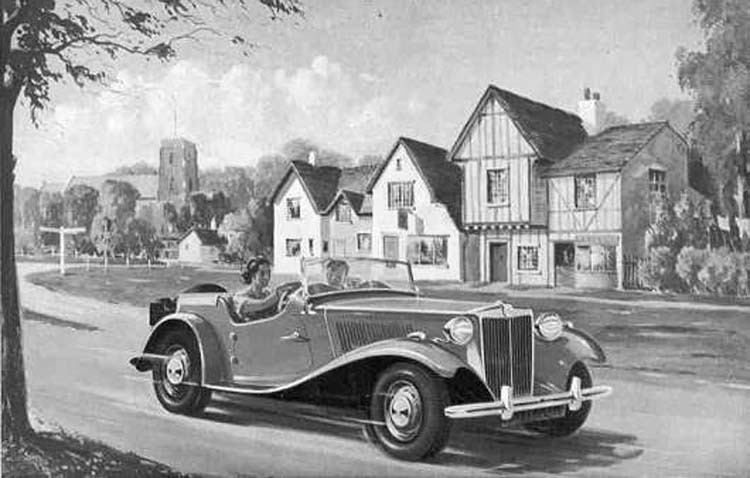 Most MGs were sold on the East and West Coasts, although Stanley H. 'Wacky' Arnolt sold quite a few in the Chicago area. In the east, J. S. Inskip Inc. of New York City acted as a master distributor. Inskip also handled Rolls Royce distribution. He established dealerships in Southern New England, New Jersey, Pennsylvania and Delaware. In addition to functioning as an importer and distributor of automobiles and spare parts, Inskip had his own retail dealerships in mid-Manhattan and in Providence, Rhode Island. Inskip's clientele included the elite of American industry, entertainment and society.
In the Philadelphia area, Philadelphia Royston Motors, Inc. at 20th and Chestnut Sts. and Sport Cars, Inc. 572 Lancaster Avenue, Bryn Mawr, PA were early dealers. When the MG Midget was introduced, Roth Motors, a former Edsel dealer, sold Midgets and Austin-Healey Sprites. Roth's showroom was located near the Bridge St. terminal on Frankford Avenue.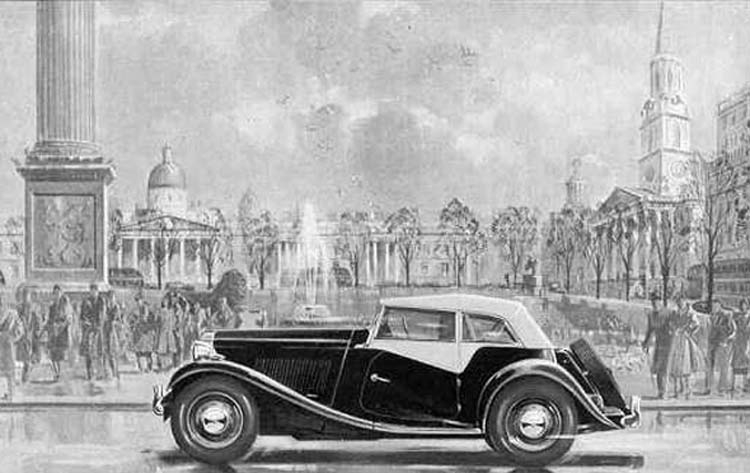 By late 1952, there were over 600 MG dealers in the United States alone. Many of the dealers did not just sell MG's but a variety of British cars, as well as other sports cars and even domestic automobiles.
My college friend Mike Stevenson had a '52 British Racing Green TD. It was so low that it seemed we were going much faster than the actual speedometer reading as Mike blasted around the back roads of Philadelphia's Main Line. Because you sat so low in the TD, the hood seemed impossibly long, like that of a '30s Duesenberg.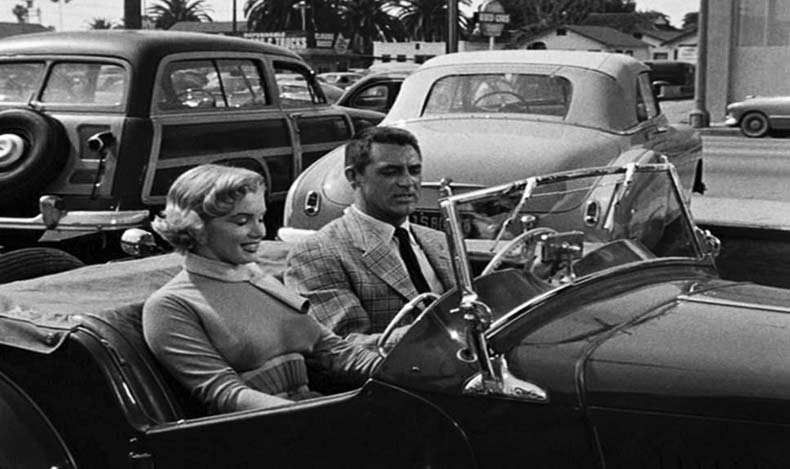 An MG TD was featured in the 1952 film, 'Monkey Business', which starred Marilyn Monroe, Ginger Rogers and Cary Grant. "The red MG TD has a prominent role during much of the film. The car was 'purchased' on the spot by Cary Grant's character to impress Marilyn Monre's character (his boss' secretary) and to entice her to go with him for a ride. What follows are a series of escapades driving through the streets of Los Angeles." In 2011, the movie TD was auctioned as part of a collection of movie memorabilia owned by Debbie Reynolds. The car was sold for $210,000 plus $48,300.00 in buyer's fees.
---
The TD's replacement, the MG TF was a more powerful, slightly more-refined model, but sales of the boxy MG roadster were in decline - production dropped to 1,499 in 1954 and only 661 were sold in the U.S. Then the sleek MGA model was introduced in Fall 1955 and priced at $2,195 in the states. It pepped up sales again. In 1964, U.S. sales of MG peaked, with 24,128 cars imported.
More information about the MG TD can be found at Christopher Couper's website. (posted 2/25/21)
Remember When: 1952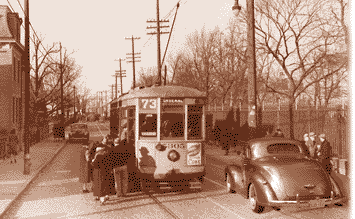 In 1952, Elizabeth II became the Queen of England and the United Kingdom after the death of her father King George VI in February. In July, King Farouk of Egypt was ousted by a military coup. General Mohammed Naguib assumed power.

The United States tested the first hydrogen bomb during November at the Marshall Islands in the Pacific Ocean. 56 million watched VP candidate Richard Nixon's 'Checkers speech' on TV. Mother Teresa opened a home for dying and destitute in Calcutta. First jetliner service inaugurated by BOAC between London and Johannesburg, South Africa with its Comet jetliner.

An estimated 4,000 to 12,000 died from respiratory tract infections in just 4 days when thick smog envelops London. The dense smog was caused by widespread use of dirty grades of coal for heating homes and buildings.

Packard introduced power brakes on its line of automobiles. Crosley Motors ceased production. A gallon of regular gas cost 20¢.

New products included Kellogg's Sugar Frosted Flakes and Sugar Smacks, Holiday Inn motels, paint-by-numbers painting sets and chlorophyll as an ingredient in various products, including mouthwashes, toothpastes and deodorants. Mr. Potato Head toy was introduced and became the first toy to be advertised on television.

New words included hot-rodder and printed circuit. In 1952, the average price of new house was $9,050. The average annual U.S. wage was $3,850.

Top-selling records included 'Wheel of Fortune' by Kay Starr 'Half as Much' by Rosemary Clooney, Jo Stafford's 'You Belong To Me', Eddie Fisher's 'Wish You Were Here', 'Glow-Worm' by the Mills Brothers and 'I Saw Mommie Kissing Santa Claus' by Jimmie Boyd.
Television's first magazine-format program, the 'Today Show', debuted on NBC with Dave Garroway hosting. Other new TV programs included: 'The Adventures of Ozzie and Harriet', 'Dragnet', 'Our Miss Brooks', 'Mr. Peepers' and 'This Is Your Life'.
The English version of Anne Frank's 'The Diary of a Young Girl' was published. Ernest Hemingway's 'The Old Man and the Sea' was also published in 1952.
Top grossing movies of 1952 included 'The Greatest Show On Earth', 'High Noon', 'The Quiet Man', and 'Singin' In The Rain'. 'An American In Paris' won the Academy Award for Best Picture. Actor Ronald Reagan married actress Nancy Davis.
The New York Yankees won the World Series, defeating the Brooklyn Dodgers, 4-3. Hill Gail won the Kentucky Derby.
More AutoSketch car drawings can be found here.
---
Other Pages Of Interest
| blog: 'The View Through The Windshield' |
| greatest hits: various essays & articles | blog archives | '39 Plymouth | model train layout |
| about me | about the blog | e-mail |
copyright 2021 - Joseph M. Sherlock - All applicable rights reserved
---
Disclaimer
The facts presented on this website are based on my best guesses and my substantially faulty geezer memory. The opinions expressed herein are strictly those of the author and are protected by the U.S. Constitution. Probably.
If I have slandered any brands of automobiles, either expressly or inadvertently, they're most likely crap cars and deserve it. Automobile manufacturers should be aware that they always have the option of trying to change my mind by providing me with vehicles to test drive. I'll dutifully report my road test impressions on this car blog.
If I have slandered any people or corporations, either expressly or inadvertently, they should buy me strong drinks (and an expensive meal) and try to prove to me that they're not the jerks I've portrayed them to be. If you're buying, I'm willing to listen.
---
---