Once a large pig pen behind a butcher shop, Pig's Alley is now in the gentrified part of Philadelphia's Fairmount section and is full of small charming homes, some with whimsical porcine decor.
---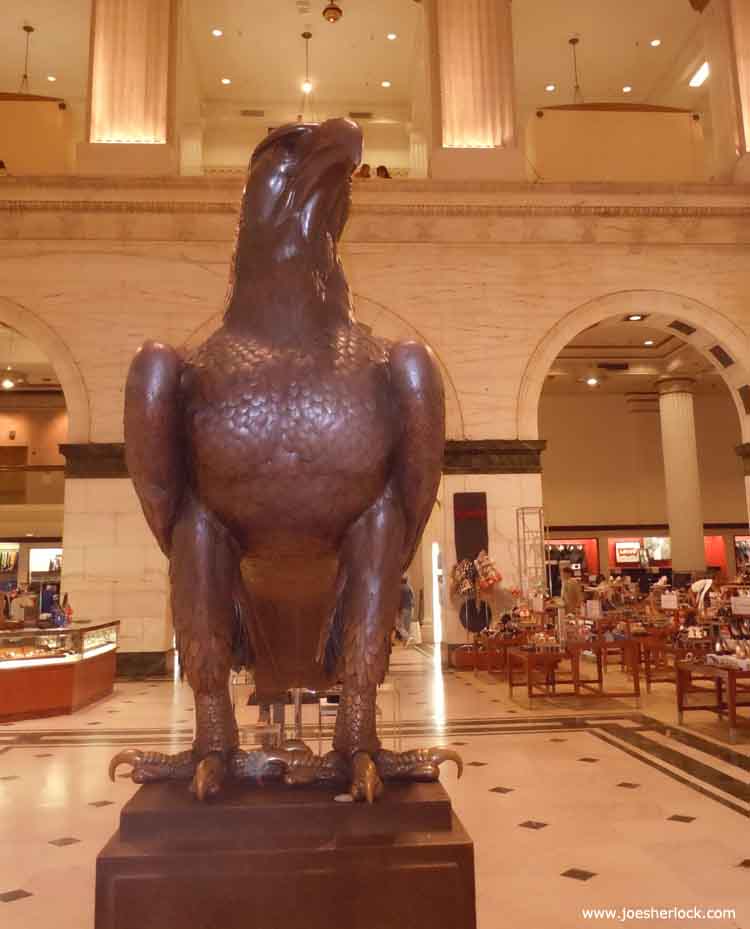 Now that Wanamaker's - the first department store in Philadelphia, Pennsylvania and one of the first in the U.S. - is just a memory, the famous Wanamaker's Eagle has become the Macy's Eagle. The Great Eagle was purchased by John Wanamaker from the 1904 St. Louis World's Fair and has been a fixture in the Grand Court ever since the store's opening. The eagle weighs 2,500 pounds and sits atop a 4,500 pound granite pedestal. "Meet me at the Eagle," is a phrase still well-known to Philadelphians.
---
The Ben Franklin Bridge, as seen from the Duck Boat - what's left of Camden, NJ is visible at right.
---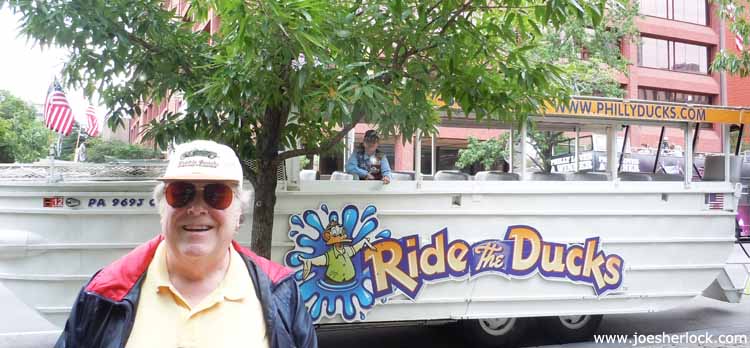 Even the splash and chop of the Delaware River couldn't dislodge Joe's
Miracle Hat
during the Duck Boat Tour. It's another miracle!
---
While grabbing a cheesesteak at Campo's on Market St., we were treated to 'lunch theater', since the Food Network was shooting an episode of a new show, 'Heat Seekers' - hosted by Aaron Sanchez. While Campo's has been around since 1947, we preferred the cheesesteaks we enjoyed at
Jim's Steaks
and
Toner's Beef & Ale
. Or, for that matter,
Philly Bilmos
.
---
During our visit, my cousin Fred organized a Cousins Dinner for me. It was a most enjoyable evening, trading stories, catching up and reconnecting with relatives I hadn't seen in decades. Thanks, Fred.
---
Carol at the National Memorial Arch at Valley Forge National Historical Park. It was constructed in 1912. The 60-foot high granite Arch was designed as a simplified version of the Triumphal Arch of Titus in Rome. On the inner walls of the Arch are bronze plaques with the names of the general officers at Valley Forge.
---
Gwen, husband Joe and Carol at Valley Forge - Gwen and Carol have been friends since they were preschoolers.
---
Gwen, with Joe and Carol at the Isaac Potts House, which was George Washington's Headquarters at Valley Forge during the encampment of the Continental Army in the winter and spring of 1777-78.
---
This bucolic Reading Railroad station was completed in 1911. It is now being used as a museum and information center. The back of Isaac Potts House is visible at left.
---
My friend Ray told me that he once dined at this site which was then an elegant Ft. Washington restaurant with four railroad dining cars, claimed to be part of President Eisenhower's campaign train. The establishment has now devolved to two aging rail coaches which are home to a lowly Subway franchise - an example of real-life entropy.